Lagos Building Collapse: Statements From Family Members of Victims
Some family members of victims of the Ikoyi building collapse have opened up on their pains and frustrations
According to a woman who lost her son n the tragedy, this is the second time she is experiencing in a space of three months
Some family members of another yet-to-be accounted victim of the collapse told Governor Sanwo-Olu that they were yet to know the fate of their family members
A middle-aged woman and mother of one of the victims of the collapsed 21-storey building located on Gerard Road, Ikoyi Lagos, has claimed she has lost two children in a space of three months.
The woman who was weeping profusely and begging that her son should be brought out of the rub­bles either dead or alive said barely three months ago, one of her sons whom she identified as Ade passed on and now, Sesan, another of her son has been involved in the inci­dent that has left more than 21 peo­ple dead already.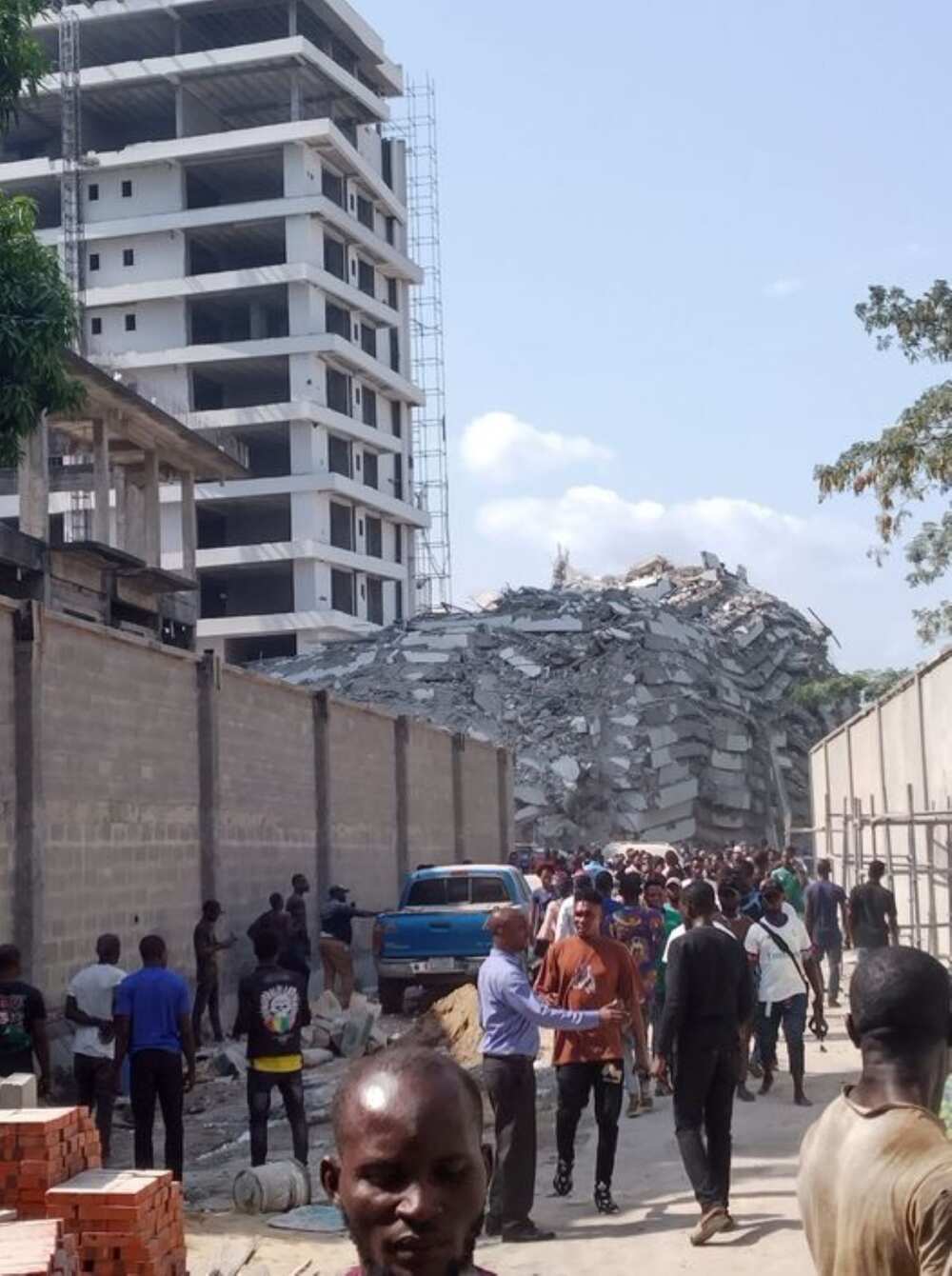 "I never knew what happened at the site, in this massive building until I got here. My son usually comes home every Sunday; he was involved in this unfortunate inci­dent the day he arrived at work. I am begging the government and the people involved to help me bring my son out either dead or alive, so that I can know my fate," she said.
Also, another family member of the victim of the collapsed building, who identified himself as Idowu Ad­eyiga, said the owner of the build­ing is a big brother to him and sev­eral others in their home town in Ikene, Ogun State.
PAY ATTENTION: Install our latest app for Android, read best news on Nigeria's #1 news app
He described Femi Osibona as a great philanthropist who was well loved by all.
"My younger brother, Hammed Adeyiga, whom many know as Mi­chael has been acting as a Personal assistant to Osibona whenever he is in the country and he was with him on the day of the incident. We have lost two brothers in the same family," he lamented.
Earlier, two other family mem­bers also informed Governor Ba­bajide Sanwo-Olu while address­ing journalists that they were yet to know the fate of their family members.
One Jude Obochukwu said, "My brother was still in there; all we want is closure to this case, but they have refused to allow us to get close to the site. We are in serious pain; all we need is early closure.
Also, Abel Godwin said he came from Abuja to look for his son who was among the workers in the col­lapsed building.
"My son is one of the victims; he is 18 years. I got here since I heard the news. I have not been able to as­certain whether my son is alive. I have been to General hospital and I still was not given access," he lamented.
Ikoyi building collapse: Developer's 26-year-old PA trapped under collapsed high-rise 1 week after employment
Meanwhile, days after the collapse of the 21-storey building in Ikoyi, Lagos, Onyinye Enekwe, a second personal assistant to Femi Osibona, owner of Fourscore Homes, is trapped under the rubble.
Enekwe, a graduate of the Nnamdi Azikwe University, had on Monday, November 1, left for Ikoyi where she worked.
According to Chinedu Enekwe, her cousin, she had joined Fourscore Homes the week before.
US Returnee, Bob Oseni, falls victim on planned return day
In a similar development, a United States-based Nigerian businessman, Wale Bob-Oseni is reportedly among the victims of the building collapse.
The real estate dealer was said to be on his way back to the US on Monday, when he got a call from the owner of Fourscore Homes, Osibona, to check out the ongoing development at Ikoyi.
Bob-Oseni's sister, Damilola Otunla, age 29, sat on the pavement across the street engaging in a three-day vigil for her brother who was believed to have been inside the high-rise building when it collapsed.
Bricklayer escapes being killed in Ikoyi building collapse, celebrates victory over death, many react
A bricklayer who was one of those working in the 21-storey building that collapsed on Gerard Road, Ikoyi area of Lagos, has celebrated escaping death.
Taking to his LinkedIn page, the man identified as Innocent Amos Denavide said he was working on the 12th floor of the building but stepped out to order for more plaster and sand because they exhausted their supply.
In his words:
"I was working on floor number 12. I just stepped out to order for more plaster sand so we can continue our work cos we have exhausted the one give us in the morning. I was standing not far from the pillar that gave the cracking sound.
"I ran immediately away while the building came down. Still nursing my right ankle. Didn't know what happened to me there. It's affecting my right thigh as well. But I'm fine."
Source: Legit.ng