Big Brother Titans Live Updates: 20 Nigerian and South African Housemates Storm Biggie's House in Grand Style
Big Brother Titans started on Sunday, January 15, 2023, as Nigeria and South Africa collaborated for the first time to bring contestants from both countries into the same house.
Nigerian host, Ebuka Obi Uchendu and South Africa's Lawrence Maleka will be the joint presenters of the show that the organisers likened to a fusion of Afrobeats and Amapiano.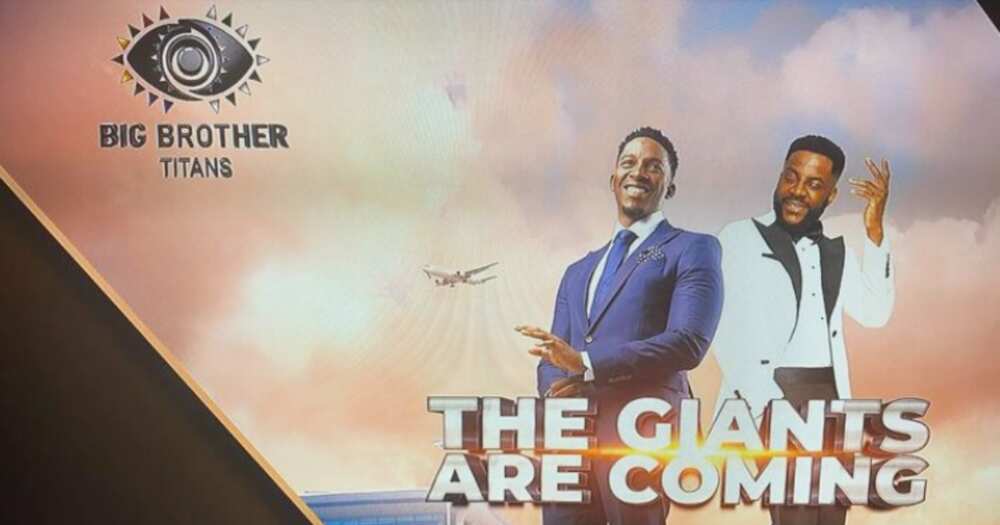 Ebuka and Lawrence close the show
The Big Brother Titans show hosts, Ebuka Obi Uchendu and Lawrence Maleka eventually reunited on stage to close the show.
According to them, even though the live show has ended, the reality show has just begun seeing as all the 20 contestants have already been let into the house.
The housemates later gathered round after the show hosts appeared on their screen and asked them who they think the first to leave will be.
Lawrence advised the housemates to make sure to have fun and remember that the cameras are always watching and this might just be a life changing experience for them.
20th housemate Yvonne from Nigeria
The 20th housemate, Yvonne, is a 27-year-old from Akwa Ibom in Nigeria. She is fierce, competitive and her family will say she is stubborn. She is a model and skin care enthusiast. People find her intimidating. Loud people irritate her but it's okay to be heard once in a while. She knows she has the charisma to win Big Brother.
She promises to bring undiluted drama, vawulence and fun. Nothing at all can intimidate her as she goes into the house. Yvonne will like to be remembered for her vibe, winning all the challenges and the tasks.
19th housemate Justin
This 19th housemate, Justin, is a 21-year-old photographer and content creator. He is a cool and laid back guy and at a party he usually sits at a bar and is quiet till he has a few drinks. He wanted to be on the show for representation because he has not seen many people like him on Big Brother. He hopes to win and help his parents pay off their debts. He is the last born of his family.
18th housemate Kanaga Junior from Nigeria
Kanaga Junior is from Abia state, Nigeria, describes his style as happy and cool. He has always been the child to look good while growing up and is used to stealing people's attention when he steps into a place. He got on stage and collected the microphone from Lawrence then proceeded to hailing the crowd with some popular slangs.
17th housemate Tsasii introduced
Tsasii, a 24-year-old from Pretoria, says she is a Titan because she is beautiful, and carries a chill vibe. Her plan is to become a bio-engineer. She calls herself a sympathetic person and gives the greatest advice. She likes guys who work out. She likes cooking and eating on a good day and on a bad day she will be found sleeping.
16th housemate Jenni O from Nigeria
Jenni O says she intimidates people but she is like a teddy bear and is quite emotional. She is 25 and from Imo state in Nigeria. She is a health and safety specialist. She takes risk and doesn't always weigh it out. She does what she wants to do and does not care who is in her way. According to Jenni, her strong head will push her through.
Jenni admits she will cope fine on the show despite being stubborn and people will love it. She calls herself a great cook.
15th housemate Khehla aka Lukay comes on stage
The 15th housemate, Khehla aka Lukay, is a 31-year-old from South Africa and was born in Free State. He works in sales. He is a honest and straight forward person and most people call him an as*shole but he is used to it. He is the life of the party even though he cannot dance. He has no strategy but he knows who he is, knows what he will say and knows he will win the show. Khehla calls himself a Titan and says he is on the show to collect what is his which is the money. Even though he is not great with people, on the show it is all about love and unity of Africa.
14th housemate Ebubu from Anambra, Nigeria
Ebubu, a 28-year-old from Anambra in Nigeria is a model, an actor and a creative enthusiast. He has experienced most things in life but he has not really found good friends or people he can connect with so he hopes to find love on the show. He rates his personality 8/10.
He got on stage with his Igbo traditional attire and explained he is elated to be on the show. Ebubu is on BBTitans for wahala because he plans to scatter the place. He is also on the show to learn about South Africa.
Ebuka comes back on stage to introduce more contestants
Ebuka reemerged on stage then proceeded to reading comments on social media before introducing more contestants on the show.
The 13th housemate, Yaya, a 31-year-old, says she hopes nobody on the show will plan to use her peace of mind to get famous. She is into modelling. She is no Michael Phelps but she loves swimming and she likes showing skin.
Yaya explains she will be in a swimsuit all the time to distract others while planning the game. Speaking on relationships on the show, she plans to see how it goes because she is here for the money.
She is excited to learn about Nigeria's culture, dance and the boys.
Dbanj performs on Big Brother Titans stage
Much loved Nigerian singer, Dbanj, was the second celebrity to perform for the night. The music star started with a brief music introduction before performing his hit song, Emergency, while dancing on stage with fellow performers.
From Emergency, he proceeded to sing another of his hit tracks, Fall In Love, while the excited cheered him on. Dbanj appeared to perform a remix of his songs with only short renditions of them at a time before seamlessly easing into the next song.
Ebuka shares special message from INEC
Multichoice showcased a message from INEC telling Nigerians to get their PVCs while sharing the dates this can be done and more important details.
It was explained that only people with PVCs will be able to vote during presidential elections as they told Nigerians to visit their wards and local government offices to collect theirs.
12th housemate JayPee from Lagos Nigeria
JayPee is 25, she is from Lagos, Nigeria, and is a nurse by profession. Her idea of a good time is banging outfits, loud music and a lot of friends. She generally does not get along well with females and has a lot of male friends. She is looking forward to getting to know the South African guys on the show.
Jaypee expects to have a great load of fun on the Big Brother show and is looking forward to Saturday parties and the good looking men.
Jaypee says she will miss her phone, all the memes and skits from Nigeria because social media is a great place to be. She will also miss her mum and men but then, there will be men on the show.
11th housemate Thabang from Soweto
Thabang, a 21-year-old from Soweto is not so passionate about his job but is passionate about entertainment and modeling. He has pet peeves and cleans a lot. He does not know what to expect on the show and plans to use the lessons from life to get as far as he can.
Thabang will like to go into presenting and probably acting and perhaps start his own YouTube channel. He is on the show for the prize money. He is also single.
Lawrence Maleka back on stage to introduce 10th housemate Marvin
29-year-old Nigerian housemate, Marvin, from Port Harcourt, is not just the guy with the muscles, he is also the guy with the brains. He is a chemical engineer and his mum is a great fan of Big Brother so he has always wanted to be on the show. He is single and looking forward to taking a girl back home to his mum.
He is going into the house to be himself and will see how that plays out because he does not have a strategy.
9th housemate Ipeleng introduces self
Ipeleng is a law student, an upcoming content creator, an introvert and her strategy is to lay low but her height makes her seem intimidating. She hasn't thought of what to do with the prize money yet. Ipeleng came on the show to experience Nigeria, try out the jollof and learn the culture. She calls herself an SA girl and is sticking with South Africans as far as relationships go because Nigeria is too far.
8th housemate Nana comes in
The next housemate, Nana, a 22-year-old from Kaduna in Nigeria, says she is a dropout because of financial problems but she is into business and sells bags and shoes. She says she needs the money because it will do a lot. She does not have a strategy because she might easily forget. Nana is single and ready to mingle.
Being on the BBTitans show is a dream to her and she came on it for the money and to enjoy herself as well as for the fame. To her, enjoyment on Big Brother is eating, playing games, interacting with the housemates and flirting.
she is looking forward to discovering South African food and learning their dance steps.
7th housemate Mmeli introduced on the show
The seventh housemate, Mmeli, is 25, a content creator, a model and his personality trait is that he can relate with anyone in the hood and can also be posh. He is looking forward to winning the money but it's important for him to have fun and let everyone gravitate towards his energy. He will like to learn about Nigeria's culture, the people and he wishes to visit the country some day and even becoming from the country.
6th housemate Blaqboi from Jos in Nigeria
Blacqboi Vick is 26, a content creator and a filmmaker. He is from Jos in Nigeria. He finds it hard to express his feelings to people he cares about. He is not a great cook, he loves adventure and is good at reading people. He thinks he has what it takes to win the Big Brother show.
Blacqboi also calls Messi the GOAT even though he respects Ronaldo. He believes the BBTitans show will be a walk in the park and very fun for him. This is his first time out of Nigeria.
He is bringing adventure, creativity, content and competition to the show.
5th housemate Nelisa introduced
South African star, Nelisa, is 25-years-old. She thinks women are intimidated by her because she exudes confidence. She wants fans to expect chaos because it seems to follow her. According to her, she likes tall, dark and handsome. Nelisa says she can handle trouble if it follows her. She does not have a game plan because she is the main character. Her relationship status is single and her spec is definitely dark and handsome.
Lawrence Maleka introduces next batch of housemates
Lawrence Maleka first read some of the comments from social media and a number of them commented on Khosi's good looks while others didn't waste time in shipping her.
The next housemate, Olivia, from Nigeria, is 23-years-old. She's an actress and an influencer. She says she makes friends easily and her biggest achievement is buying a piece of land in VGC, Lagos.
Olivia does not have a strategy and only plans to be herself and play the game.
While speaking to Lawrence, Olivia admitted that she is glad to be on the show. She explained that if she wins the $100,000, she will take care of her family first and help the needy because she was once there.
Olivia says she will miss her mum, her siblings and her phone most while she is on the show.
Yemi, Khosi and Juicy Jay finally enter Big Brother Titans mansion
The first two housemates to be introduced on stage, SA's Khosi and Nigeria's Yemi, were the first to enter the Big Brother Titans mansion. They gushed over the beautiful interior and how beautiful the house looks.
Khosi quickly grabs herself a drink as she gets to know Yemi. She likened him to Yemi Alade, the popular Nigerian singer.
The third housemate, Juicy Jay, eventually joined them and complemented Khosi's looks.
Housemate number 3 Juicy Jay speaks
South African housemate, Siya aka Juicy Jay, is 24-years-old and he is pretty much out there. He described looking at himself in the mirror and gushing over his good looks. Siya plans on just being himself in the house. He is a semi-professional rugby player and has been playing since he was a kid. He plans to go on the show and adapt to whatever comes his way. He came on the Big Brother show to try something new and challenge himself. He plans to learn about Nigeria's culture, food and music because it is a good vibe.
Second housemate and first Nigerian comes on stage
Yemi Cregx, a young Nigerian from Ekiti state says he is a fashion enthusiast big on competition and he is looking forward to representing Nigeria 100%.
He finally came on stage to speak with Ebuka and explained his bedroom voice. According to him, he is chill and calm. Yemi however explained that he will play the game and people won't see it coming because he is chill and calm. He is looking forward to spend time with South Africans on the show.
Ebuka finally brings out first batch of housemates
The first housemate, a South African named Khosi, describes herself as authentic and ready to live her truth. She opened up on being single and ready to mingle. Khosi said the biggest misconception about her is that she is a slay queen but that she is very educated, has two degrees and is working towards her masters. She describes herself as an academic, a hard worker who happens to slay everyday. The South African star said she is looking forward to learning to cook Nigerian food.
Ebuka Obi Uchendu, Lawrence Maleka come on stage
Shortly after the electrifying performance from the South African stars, the show hosts, Ebuka Obi-Uchendu and Lawrence Maleka, the two presenters of the much anticipated show finally came on stage.
They explained that it was the first ever show of its kind with two of Africa's biggest countries.
The new house where the housemates will be living was also displayed with its unique interior being on display.
South African stars Deep London and Boohle kicks off show with performance
Popular South African music stars, Deep London and Boohle, kicked off the Big Brother Titans show with their electrifying performance of hit song, Hamba Wena.
They got the crowd cheering along and dancing to the Amapiano track as the professional dancers also rocked the stage.