"Beautiful Place": Hardworking Lady Shows Off Her New Beginning With Photos of Her Home
A young South African woman took to social media to share photos of the inside of her new house
Phëńomenal Kcee Carol Ndlangamandla showed off her bedroom, bathroom and kitchen, which she is still busy decorating
Her online friends were pleased with her abode and took to the comments to show her love in the comments section
Moving into a new place brings a sense of a fresh start with so much to look forward to.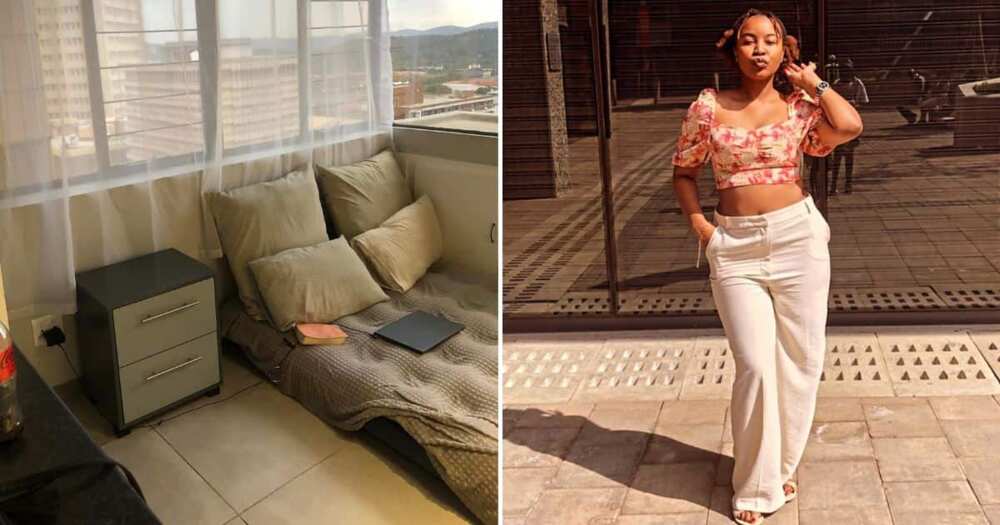 One South African woman, Phëńomenal Kcee Carol Ndlangamandla took to social media to share her new abode by sharing photos with her online friends.
In a Facebook post, she posted images of her bedroom with an inflatable mattress, bathroom and kitchen area which she is still busy decorating and putting together.
"New place, new beginnings. Will post an update once I'm done with the place," she captioned the post.
SA peeps show the lady's house love
It is always inspiring to see young people accomplishing their dreams such as moving into a new home or even building a house. It is a milestone worth celebrating!
Ndlangamandla is a homemaker who is hard at work turning her little space into a cosy home with what she has. Netizens were impressed by her work in progress and flooded the comments with positive feedback.
Murriel Chrissie Makhubele wrote:
"Looking nice, just hope you get a bed soon coz that one deflates at night you wake up on the floor... I had it in my small beginning phase."
Mbony Ximba Mbony Ximba commented:
Waw very nice yo. I really like the plan can I please come and stay with you lol."
Dimpho Mametse II responded:
"Beautiful place, which flats are they? I'm currently looking ."
Zie Gatsheni wrote:
"Very nice ❤️."
Judith Ndlovu replied:
"The fact that you have a Bible God will lift you up darling."
Lee-n Mokoena commented:
"Wow beautiful and I also like the view ."
PR Khomz reacted:
"❤️We all start somewhere.....nice♥️."
Young man builds 1 room, installs POP, decorates it with nice chairs
A young Nigerian man showed how good interior decor could change the look of any place.
The man built a room and transformed it. At the beginning of the clip, the man's room looked unplastered and without a ceiling. Everything in the room was out of place as labourers worked.
Moments later, the clip transitioned and showed a room with a beautiful POP. The space was well managed, with chairs well placed in it.
Source: Briefly.co.za