Elevating Your Style: 5 Distinctive Signs That You Need to Revamp Your Closet
Looking good and feeling good have a great deal to do with the kinds of clothes you wear
However, there are people who experience wardrobe fatigue which is a tell-tale sign for a wardrobe change
In this article, Legit.ng takes a look at five important signs that prove you need a wardrobe change
At one point or the other, every person has experienced having to let go of their favourite clothing and for the right reasons too.
Sometimes, the clothes either don't fit or reflect our current frame of mind or career changes. When this happens, it means it is time for a wardrobe change.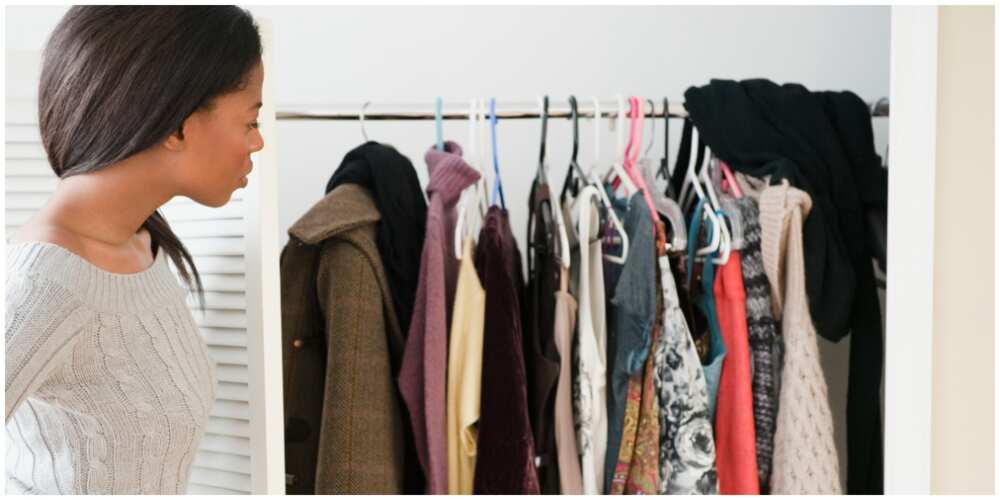 By shopping, one doesn't have to break the bank stocking up on designer brands. Getting clothes that reflect your lifestyle and boosts your self-esteem should be priority.
In this article, Legit.ng spotlights five signs that show you need a wardrobe change.
PAY ATTENTION: Share your outstanding story with our editors! Please reach us through info@corp.legit.ng!
Check them out below:
1. Last time you shopped was over a year ago
This is one of the obvious signs you need a wardrobe revamp. A lot of things can happen in a year and the clothes in your wardrobe getting newer is not one of them.
2. Overworn and damaged
As a follow-up to the previous point, going a long period without shopping new clothes translates to you repeating clothes in your wardrobe. Over-wearing clothes leads to fading and weakness of the fabric.
3. Never having anything to wear
Your closet is full but it takes you forever to find an outfit. If the bulk of the clothes in your wardrobe aren't comfortable then it's time to change your wardrobe.
Feeling indecisive is one thing but not struggling due to a lack of options is an entirely different thing.
4. More than 5 core items no longer fit
As we go through life, our bodies go through changes. And that is okay. However, if your go-to are t-shirt and jeans, Little Black Dress or maxi dresses and these items don't fit, it is time for a change.
5. Does not reflect lifestyle changes
Whether it involves changing careers, becoming a mum, ditching the old you for an improved version, your clothes often have to reflect these changes.
If they don't, it means you need to do something about that!
World trend: Cargo pants, 4 other fashion items style lovers are rocking in 2023
Fashion is ever-evolving and the constant thing about trends is change. Change from the present or one that draws from the past. With a lot of vintage trends making a comeback and new trends emerging, it can be tricky to keep up.
If you're a fashion enthusiast then the hottest trends are something you're familiar with.
With fashion style, people of today's era are not afraid to experiment with pieces nor embrace retro fashion.
Source: Legit.ng