Lady Shares How She Glammed Up Daughter for School, Netizens Crack Up Over Girl's Look After Class
A woman has left social media users cracking up with laughter after sharing a story about her daughter
The mum recounted how she dressed the daughter up for an event at school, and how she looked by the end of the activity
Several internet users have taken to social media to share funny comments about the video
Sometimes, the desire to have fun outweighs the need to look and stay pretty. A video of a little girl humorously serves as an example.
Digital content creator, Muva Lainey, shared a video of her little girl, which has since gone viral on Instagram.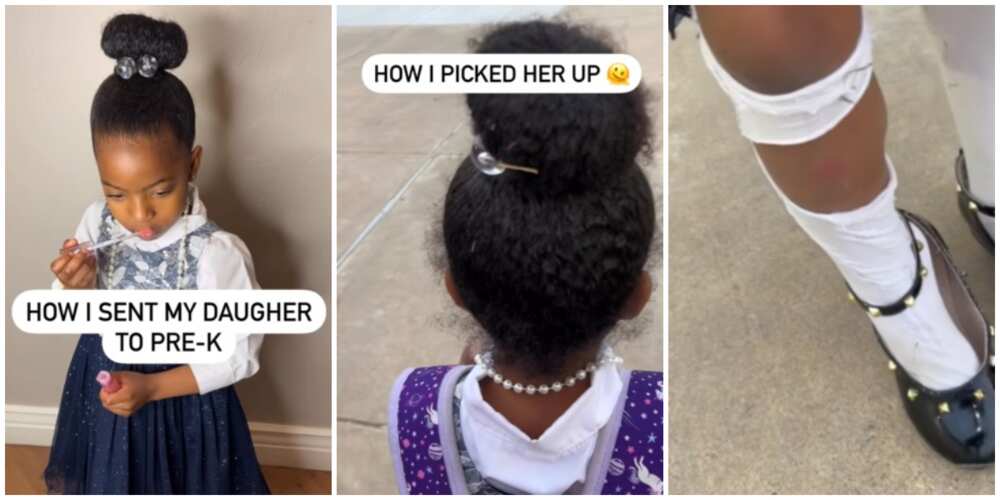 In the first part of the video, she showed a clip of her daughter all dressed up for a programme at her school.
However, at the end of the video, which showed the little girl after the programme, she looked nothing like the stylish baby girl that she was earlier.
PAY ATTENTION: Follow us on Instagram - get the most important news directly in your favourite app!
Her stockings were torn, and her shoes were missing some studs.
The caption read:
"Wtheck goes down on the playground?! They had a Q&U wedding at Dylan's school and they had to dress up. I knew what I was getting into, but she picked her entire outfit out, including hair, so I thought she'd act classy?! NOPE. I reminded her that she had on a dress and nice shoes—to make sure she acted as such. Child please, the shoe lost a stud, the stockings—rest in peace- and she said she fell off the tire swing, which is why the grass and wood are in her hair and stockings. Why are kids like this."
Check out the video below:
How netizens reacted to the video
alossforw_rds:
"At least the bun was still in tact but the stockings mmm baby they NEVER stood a chance."
yesikajoseph:
"Like seriously what do kids do at school once they get dropped off."
mgbang:
"Did she fight lions"
heaven.noel19:
"I said that's not that ba… everything was good until you got to her legs."
Fashion for kids: Photo of little girl in stylish bubu gown leaves fashionistas in awe
Everyone seems to be jumping on the bubu trend, and it appears children are not left out either.
Fashion designer, @styledbyvalentynoh, shared some photos of her daughter dressed in a gorgeous bubu dress.
The adorable little girl posed with a phone in her hands. She rocked the popular maxi dress style with a matching headwrap tied in two different ways.
Source: Legit.ng