6 Ways Ladies are Rocking Queen Anne Neckline, Designer Says Classiness Reason For Upsurge in Trend
The Queen Anne neckline is gradually taking over the Nigerian fashion scene as many asoebi style lovers have embraced the trend, each adding their twist to it.
This regal neckline was first embraced by Queen Anne of Britain herself, who popularized the look during her reign in the 1700s.
Traditionally, a Queen Anne neckline features a high collar in the back and a scoop, v-neck, or sweetheart neckline in the front.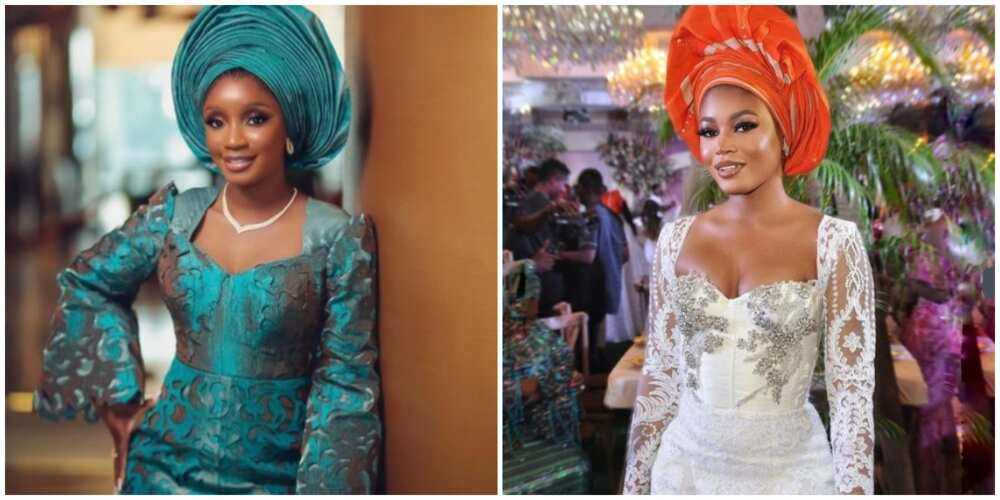 However, the look has been modernized to keep up with today's trends. In Nigeria, the sweetheart neckline prevails.
Speaking with House of Hajjewels Couture on the increase in popularity of the style among Nigerian women, she had this to say:
"It gives dresses elegance and sophistication in a graceful way."
Below are six looks featuring the famous neckline, to be inspired by:
Asoebi look 1
The look featured the classic Queen Anne neckline, gorgeous sheer lace long sleeves and an intricately designed corset bodice.
The bodice was bedazzled with pink pearls, and the lower part of the dress had a tulle drape detailing.
Asoebi look 2
Here, this gorgeous lady keeps it simple and classy in this low-cut variation of the neckline.
The dress featured an embellished bodice with long sleeves.
Asoebi look 3
The Queen Anne neckline is pretty popular among traditional Nigerian brides.
Like many bridal asoke designs, this lady sports the classic look, exuding grace and class in the dress.
Asoebi look 4
Porsha Williams rocked a gorgeous white dress for her mother-in-law's burial ceremony.
This look, which featured a lacey side opening, was also created by Couture by Tabik, and she paired it with gold headgear and some coral beads.
Asoebi look 5
Here, this fashionista infuses lace into her brocade dress design.
The look features black lace sleeves and a cleavage-revealing neckline.
Asoebi look 6
And finally, this lady most definitely commanded attention in this peach look.
The design, which featured an exposed corset bodice and long sleeves, spelt perfection!
Ankara fashion: 7 fabulous looks classy fashionistas should be inspired by
There are many ways to look beautiful in ankara styles. Coupled with the availability of numerous styles on social media, picking one to slay in has been made easy.
However, when it comes to styles that make you look classy and elegant, there are certain factors to consider.
From picking the right neckline to the length of the dress, you need to be particular about the details to achieve a classy and modest style.
Source: Legit.ng