Astro Boots: Nigerian Style Influencer Eni Adeoluwa Shares 9 Ways He Styled Popular MSCHF Footwear
Popular Nigerian influencer, Eni Adeoluwa, has taken to his Instagram page to share his take on the MSCHF boots
The infamous footwear, which was released in February, has been spotted on some celebrities
Recently, Mavin artiste, Ayra Starr, shared photos of herself in a pair of the boots tagged the Big Red Boots
American Art Collective, MSCHF, may have received trolling over their latest footwear design, Big Red Boots, but it has done nothing to stop it from trending.
Joining the list of Astro Boots owners is Nigerian influencer, Eni Adeoluwa.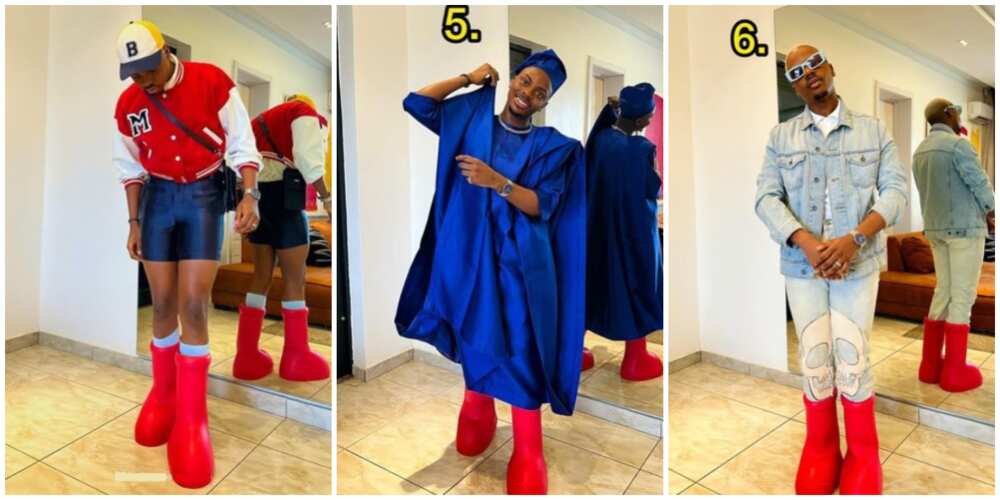 The beauty and fashion content creator shared photos of himself rocking the eccentric footwear in a wide range of outfits.
And it is interesting how well the boots went with each look!
In nine photos, the digital content creator paired the boots with outfits ranging from a pair of tights, cargo pants, denim, long coat, bomber jacket, sweater, sheer top, pantsuit, and most interestingly, agbada.
Check them out below:
"Considering how long I waited for these shoes, I be wearing them everywhere, even to sleep!" Adeoluwa wrote about his excitement over owning a pair of the red boots.
Entrepreneur reports that the boots made their debut online in February at $350 (N161,154) and sold out within minutes.
However, the boots are currently on sale for $600 (276,264) on StockX.
Sabi girl: Singer Ayra Starr gives streetstyle take on viral N276k 'Astro boots'
Earlier on, Ayra Starr also copped for herself a piece of the MSCHF footwear.
The Mavin artiste shared new photos - and no, she did not wear a micro mini skirt in them.
The singer gave a classic Gen Z take on streetwear fashion in her swaggy garb in the new Instagram uploads. She sported a red face cap and a cropped blue jacket over a black 'hot person at work' t-shirt.
For her bottoms, she tucked in her pair of combat pants into the viral 'Big Red Boots' by MSCHF, also known as Astro Boots.
Other celebrities who have rocked the boots include American rapper, Lil Wayne, singer Ciara and singer/actress, Janelle Monae.
Source: Legit.ng