Corset Style: How Trend Continues to Rule Asoebi Fashion
Corset dresses have continued to flood the Nigerian fashion scene as many style lovers have embraced the trend in different ways. In this article, Legit.ng takes a look at how and why this trend continues to win the hearts of ladies.
This is the era of vintage trends making major comebacks and it appears that the corset trend is the mother of all vintage trends, seeing as it has been around since the 16th century.
What started out as an undergarment to shape the body has now become a trend that has transcended through time.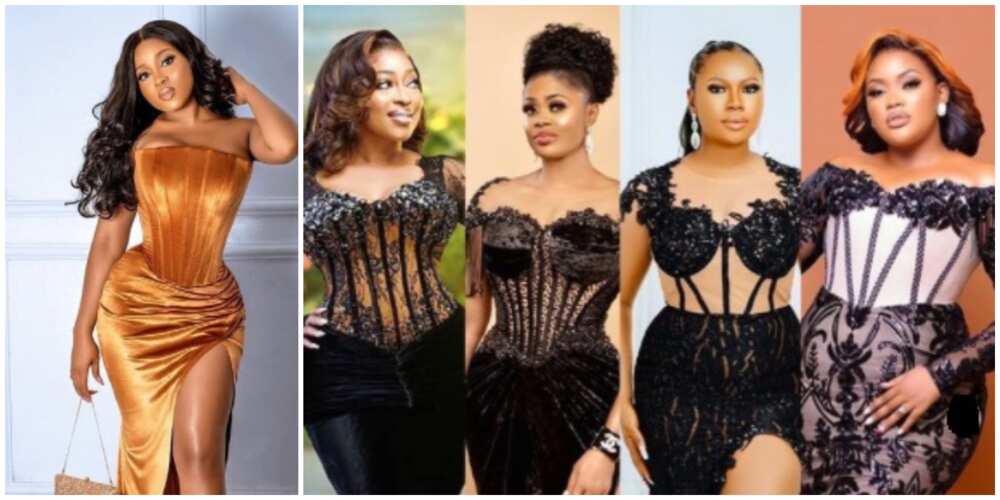 With corset tops and dresses flooding the western fashion scene, it comes as no surprise that this trend is mirrored in the Nigerian fashion scene.
Every owambe party sees most of the ladies - if not all - draped in dresses with corset bodices. The silhouette that a corset creates for a woman explains why most ladies opt for this style.
Brief history of the corset trend
Corsets have been used for centuries among certain tribes of the Caucasus: Circassians and Abkhaz. They were used to "beautify" women and also to ensure modesty.
For most of the sixteenth and seventeenth centuries, corsets were known, in English, as bodies or stays. These garments could be worn as under or outerwear.
The French court's women regarded corsets as indispensable to the beauty of the female figure.
The corset trend reached the height of its popularity in the victorian era when Jean Werly, a Frenchman made a patent for women's corsets made on the loom.
This type of corset was popular until 1890 when machine-made corsets took over.
Although dress reformists and men of the 1800s, as well as a protest against "instruments of female torture" in 1968 by feminists at the Miss America protest, kicked against corsets, the trend still thrives till date.
How to perfectly slay a corset
In today's fashion world, almost every lady is in love with the curvy silhouette that a corset creates on a woman's body.
However, not everyone knows how to slay in them. Recall a while, a bride got social media users buzzing with reactions over her tight dress.
While the dress appeared to be well-tailored, the bride looked anything but comfortable.
Well, there are many factors to consider when opting for a corset dress and in a previously published article, a fashion designer shared some tips to help, one of which spoke to body types best suited for the style.
For many people, the waist-hip ratio is the epitome of classic femininity and the corset promises just that.
Just like punishing shoes, wearing a corset might not be the most comfortable situation but that discomfort pales in comparison to the feeling of artificial feminity that it gives.
So, if you fall in the category of people who are tired of seeing the trend, you might want to buckle up and work on your tolerance level because the croset trend is far from over.
Viral video of bride in gorgeous green outfit leaves many stunned: "The corset is corsetting"
When it comes to wearing the perfect fit for their special day, a lot of brides are not willing to give that up for anything.
A bride recently got social media users talking after a video from her traditional wedding ceremony surfaced online.
Identified as Khadijah, the beautiful lady opted for a bejewelled green dress with a corset bodice that has left many people in awe.
Source: Legit.ng