Mixed Reactions Trail Photos of Lady's Blue Dress Online Order: "Same Thing, Different Body Shapes"
Yet another lady has fallen victim to online dress orders and the photos have sparked mixed reactions
In the post shared by @asoebi_studion on Instagram, she had requested a blue and white dress but the fitting was not right
Many people who saw the post took to the comment section to share their thoughts with many blaming the customer
Sometimes, you get nothing like what you ordered online and sometimes, you get it but not the fitting you envisaged.
This appears to be the case for a lady who ordered a dress online.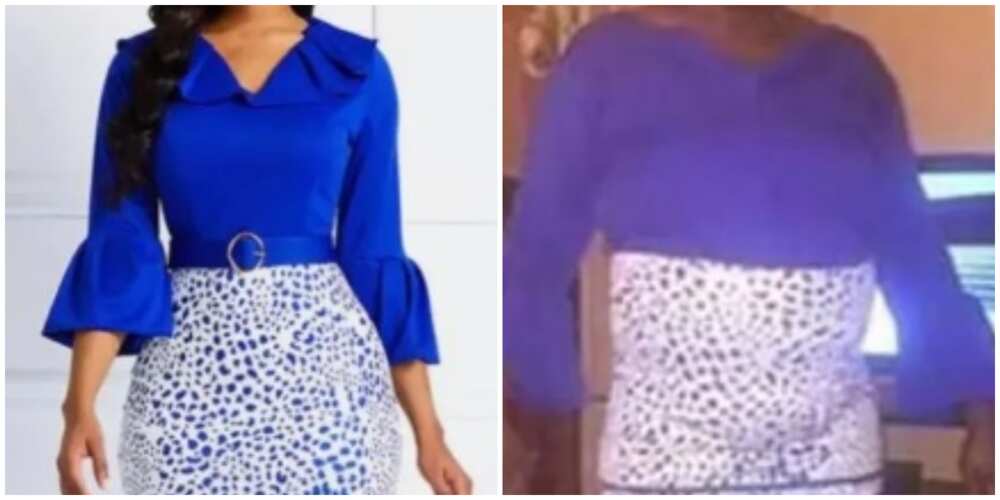 The look which comprised a blue top and a blue/white skirt got her order quite all right, but it didn't sit on her as flattering as it looked on the model.
While the model wearing the look had an hour-glass look, the customer had a bulkier frame.
Check out the post below:
Mixed reactions as lady shares photo of online order
ennie_gold:
"There's no need for thoughts at all. The person obviously bodied it wrongly . Simple!!!"
i_am_soma:
"Her shape is inverted... The down part is up... She wanted to join a trend and ended up casting herself "
nma_kyrian:
"The tailor got the dress but the lady is the issue."
ronklassevents:
"She forgot to order the hourglass shape too. Blame no one "
meekay__:
"She dsnt have same body type as the model.. it's absurd to expect same fit"
frosty_baby_blue1:
"You got exactly what you order you just didn't fit."
ahanonuhenriettachizoba:
"You got same thing just that you don't have her kind of shape..."
sommyugo2:
"The shape is the wahalurrr."
fabrics_joint:
"U for order the shape too mtchewwwww."
What I ordered: Lady who wanted Sharon Ooja's dress replication ends up with funny version
Sharon Ooja's Glamour Girls' premiere look caught the attention of many fashion lovers including one lady who decided to replicate it.
However, things did not go as planned for her. In a video posted by @asoebiladies, what she got was a far cry from the original.
The replicated version was devoid of fitting around the corset bodice as well as the bust area.
Source: Legit.ng