How I Got a big Offer in Israel after Doing a Free Show for My Friend - Nigerian MC Reveals
A young man identified as Ayodele Okundalaye has lifted the lids on how doing a free-of-charge show for his friend got him connected with a bigger client
The accounting and data processing graduate revealed that after the show, he got connected with a renowned architect who travelled him to Israel
The event host encouraged people to do things for free as many opportunities are connected to things done without charges
A University of Ilorin graduate, Ayodele Okundalaye popularly known as MC Saco has said that a ceremony he mastered free-of-charge gave him an opportunity to travel to Israel.
Ayodele, who dumped accounting and data processing for Master of Ceremony (MC), made this explanation exclusively known in an interview with Legit.ng's correspondent Adewumi Adeoye in Lagos.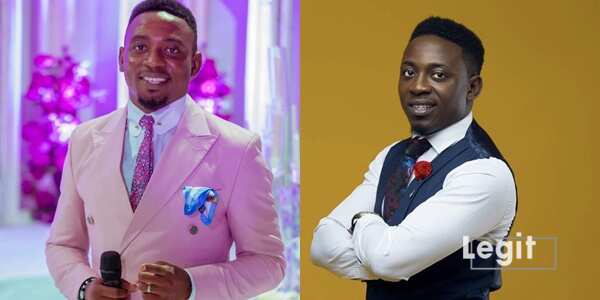 Okundalaye explained he overlooked the fact that his friend was not going to pay him for the job and did all his best to make the show a memorable one.
He was later connected
He noted that God connected him to a renowned Architect, Mrs Jumoke Adenowo, who was thrilled by his performance at that same event and changed his life by giving him lucrative shows to anchor thereafter.
The Rising MC added that the same woman called him to anchor her birthday in Israel.
"I can never ever forget an event I went to do for a friend who told me he did not have money and that I should please help him with anchoring. And I went to do the job at Civic Centre. I did it to my best without making recourse to the fact he was not going to pay me for the job.
Low and behold, a renowned architect, Mrs Jumoke Adenowo saw me at that event and appreciated my talent.
Thereafter, she gave me a call to anchor her mother's birthday in Ibadan where she paid me hundredths of thousands.
And in February 2018, I got a call from her saying her birthday was going to be in Israel and that she would like me to anchor the event for her," he said.
The event compere, therefore, urged people to learn to do things for free at times without bolstering of standards.
He said this is very important because some people don't need to know one before paying for one's service even as he cited the saying that a good turn deserves another.
Client took me out of Nigeria - Make-up artist
Earlier, Legit.ng reported that a young Nigerian graduate identified as Aderayo Adeshina has revealed that her make-up trade was responsible for her first international trip, which was to London.
Adeshina made this disclosure while speaking with Legit.ng's regional reporter, Adewunmi Adeoye, in Lagos on Tuesday, October 19.
The young lady, who studied chemistry at the university, said that the all-expenses-paid trip was to make a client up for her 50th birthday celebration.
Source: Legit.ng