Bubu With a Difference: Show Up in Rich Lagos Aunty Style Like Actress Mercy Aigbe
A constant and popular word on the street now is 'rich aunty', who is a rich aunty you ask? Well, she is someone who shows up in simple yet sophisticated gowns, made of silk or other materials.
A proper rich aunty wears her gown, carries her bag and breezes in and out of every space carrying her body elegantly.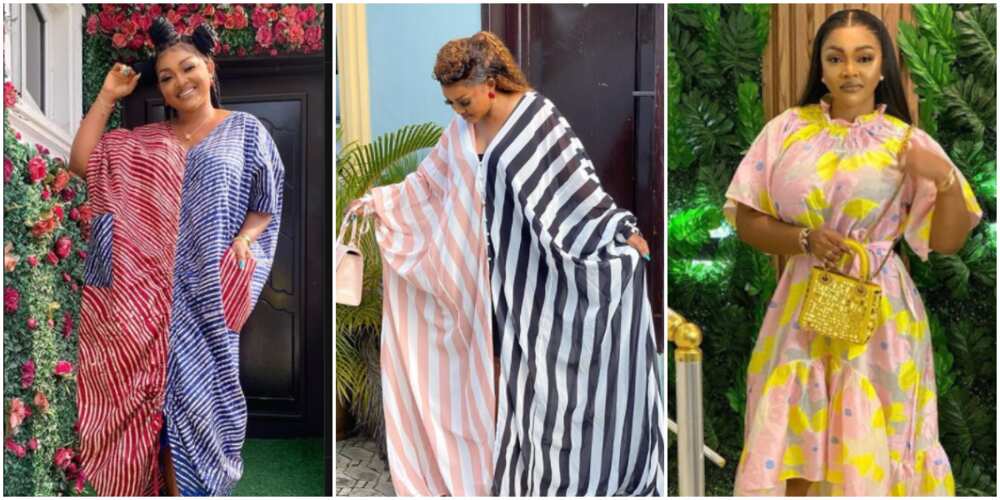 The gown of course is the rich aunty starter pack and it takes more than just wearing it to qualify for the title.
Quite a number of celebrities have taken to the rich aunty vibe and it is a delight to see on social media and one of them who comes to mind is actress, Mercy Aigbe.
Mercy Aigbe never shows up in a bad outfit no matter how casual or serious, if care is not taken she would most likely look better than a celebrant at an event.
A quick sweep through her Instagram page sees her flaunting the rich aunty vibe in different fabrics and designs, and if being a rich aunty in Lagos is something you want to try, Legit.ng has made it easier for you.
1. The two-toned
The best part of the gown is how culturally rich it is, you can go traditional and look fabulous in an adire piece like this. Peep the beautiful hair too!
2. Subtle shade
This is a fabric that will look great on any complexion as long as it is well made. Women love pockets and this piece comes with two.
3. Kimono dress
This is giving exactly what it should give, elegant and extra.
4. The bubu
Turn up without asoebi? There's no way you would show up in something like this and not turn heads or give off rich mama vibes.
5. Shorty
Not every time long dresses or gown, sometimes all you need for that brunch or hangout is a short dress.
6. Colour me
Rich aunties are vibrant and their outfits also reflects who they are.
7. High low
From church to a party or meet and greet, just show up in this piece, holy yet classy. Just like Mercy make sure your accessories bang as well.
Mercy Aigbe's ex-hubby flaunts new bride
Nigerian actress, Mercy Aigbe's ex-husband, Lanre Gentry, wasted no time in showing off his new wife, Busayo, to the world.
The new groom made sure to shower accolades on his new and younger woman after they tied the knot.
Taking to his Instagram page, Gentry shared some lovely photos from their wedding ceremony and accompanied them with a heartwarming note.
Source: Legit.ng