Agya Koo's Mansion: Ghanaian Actor Says He Used 16 Years To Build His House
Veteran actor Agya Koo recently unveiled his grand mansion in celebration of his 54th birthday, revealing that it took him 16 years to complete it
The actor shared the story behind the beautiful edifice, stating that it took a lot of sweat and tears to achieve his dream home
Videos of the grand mansion have gone viral on social media, with many fans and well-wishers congratulating the actor
Popular Kumawood actor Agya Koo has delighted fans by unveiling his luxurious mansion in celebration of his 54th birthday. The actor revealed that the grand estate took an astonishing 16 years to complete, which stood as a testament to his determination and hard work.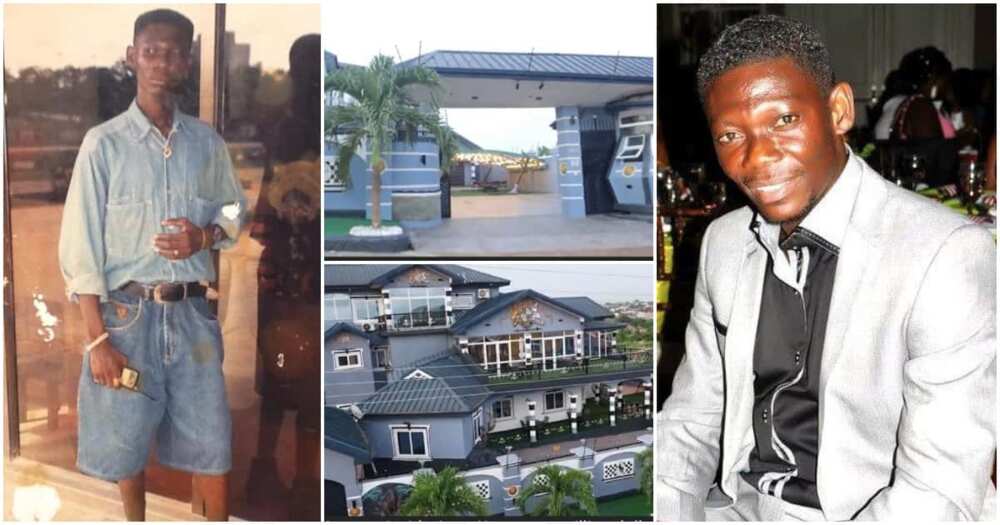 In a heartfelt interview, Agya Koo shared the inspiring story behind his magnificent abode, revealing the immense effort and sacrifices it took to realise his dream home. He expressed that the journey was filled with both sweat and tears, sharing the challenges he encountered along the way.
Since the unveiling, videos showcasing the beauty of Agya Koo's mansion have taken social media by storm. Fans and well-wishers have flocked to congratulate the actor on this remarkable achievement. The luxurious edifice boasts of exquisite architecture, elegant interiors, and lush gardens, creating a beautiful atmosphere.
Agya Koo's fans have been quick to express their admiration for his accomplishment. Many have taken to social media platforms to share their excitement and offer their heartfelt congratulations.
The viral videos of the mansion have garnered widespread attention as people marvel at the actor's dedication and perseverance.
Fans of Agya Koo praise him
Stephen Masters wrote:
May God bless all these Stars for putting smiles on our faces
giga said:
Everyone's dream s achievable in life, With God, plight, hard-work truthfulness, determination, and savings long life King
Issah Rahaman reacted:
God has bless this man! To you all God's is the best!!
Video of Jackie Appiah's mansion causes stir
Ghanaian actress Jackie Appiah bought herself a new house at Trassaco estate in late 2021. She is said to have moved into the two-storey building in December 2021.
As previously reported by Legit.ng, the beautiful house also has a swimming pool. Videos of the plush mansion popped up, showing the interior and compound.
Videos of the actress' new house show a white-painted two-storey building with a neatly tiled compound and a swimming pool.
Source: YEN.com.gh