Shameless Levy Tran bio: age, height, sister, tattoos, boyfriend
How much do you know about Levy Tran, her family and personal life? This lady is an actress and a model in America. Her slim and fit body is a dream for many girls. Moreover, while checking Levy Tran Instagram, one cannot miss noticing numerous tattoos covering her perfect silky body. Are they real? Is the model married or in a relationship? Keep on reading to find the answers!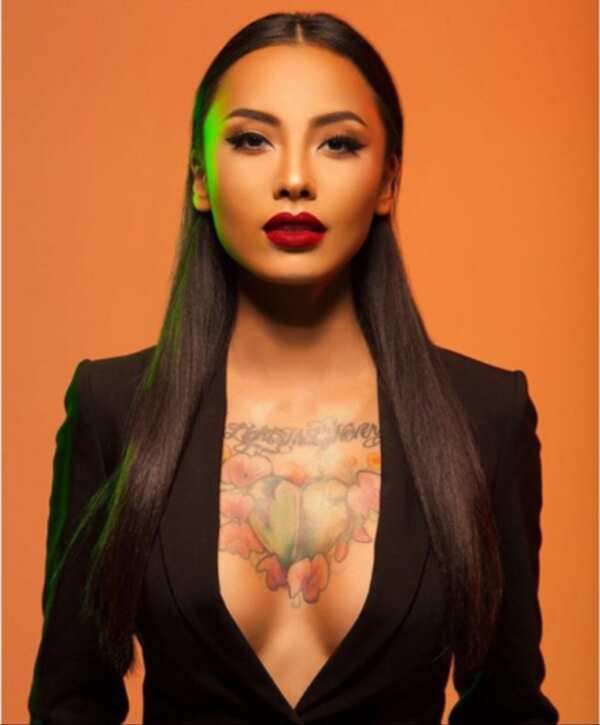 People have already liked this beautiful woman by her parts in "Fast and Furious 7", "Female Fight Squad", "Shameless", the series "The Haunting of Hill House" by Netflix and "Gun Girl". One considers her to be a unique blend of beauty and talent to acting. The problem is that a perfect picture we see on the cover of a magazine or a screen of a TV does not always reflect who they are.
Where is Levy Tran from and who her parents are? Does the actress hide any skeletons in her wardrobe?
Levy Tran bio
Name: Vy Le Tran
Nickname: Goldfish
Levy Tran born: April 8, 1983
Age: 36
Where is Levy Tran from: San Jose, California, USA
Levy Tran parents: Vietnamese immigrants
Levy Tran sister: Chi, a younger sister
Ethnicity: Vietnamese
Nationality: American
Levy Tran height and weight: 168 centimetres/57 kilograms
Profession: model and actress
Favourite food: Italian cuisine, pasta and pizza
Is Levy Tran married: No
Profiles on social media: Instagram, Facebook, Twitter
This attractive lady is a popular media personality in America. She became famous thanks to modelling and her work as an actress. One cannon miss noticing her exotic magnetic appearance that distinguishes the woman from other notable personalities in the USA.
Where does she come from? How did she manage to find a path to success?
What is Levy Tran age, height and weight?
This beauty comes from the picturesque city of San Jose that lies in California, one of the states in the USA. She opened her eyes one beautiful morning on April 8, 1983. Her parents give her the name Vy Le. However, later she changed it to "Levy." At present, the model is 36 years old.
You will probably wonder that the lady does not look like an average American. The thing is that Levy Tran parents are Vietnamese immigrants. Unfortunately, there is not much information available about the family and early childhood of a model. The only fact mentioned is that she has a younger sister. Her name is Chi.
It is quite well-known that the Vietnamese cannot boast of being tall. Perhaps, great genes did their work. The lady has a well-proportioned body: her height is 168 centimetres; her weight is 57 kilograms.
How did it all start for American Goldfish?
READ ALSO: Kaycee Rice bio: age, height and family
Seven exciting facts about Levy Tran career
Her first step in the independent life was the work in the Kindergarten school. She worked as a teacher there.
Over time, the young lady tried herself as a model. One should mention that this step was quite a successful one: it opened the doors to popularity. The world of fashion distinguished this young lady for her unique modelling style. Thus, she obtained the nickname "Goldfish." One could see her on the cover of the top magazines like Inked, Bizarre, and Tattoo Life.
Levy Tran actress career started in 2012 when she felt a potential to acting. The lady appeared in the series "Gun Girl" and "Guy Code."
Success was following her activity. In 2015, the actress started working on a thriller "Fast & Furious 7". The more she acted, the more attention she drew.
Thus, in 2016, one could enjoy her starring in "Female Fight Squad."
During the period from 2017 to 2018, the fans of a star enjoyed Shameless Levy Tran comedy series.
In 2018, we could admire her play in "The Silk Road" and "The Haunting of Hill House."
Of course, it is quite difficult to watch a movie with an actress and miss noticing numerous tattoos.
How much do you know about Levy Tran tattoos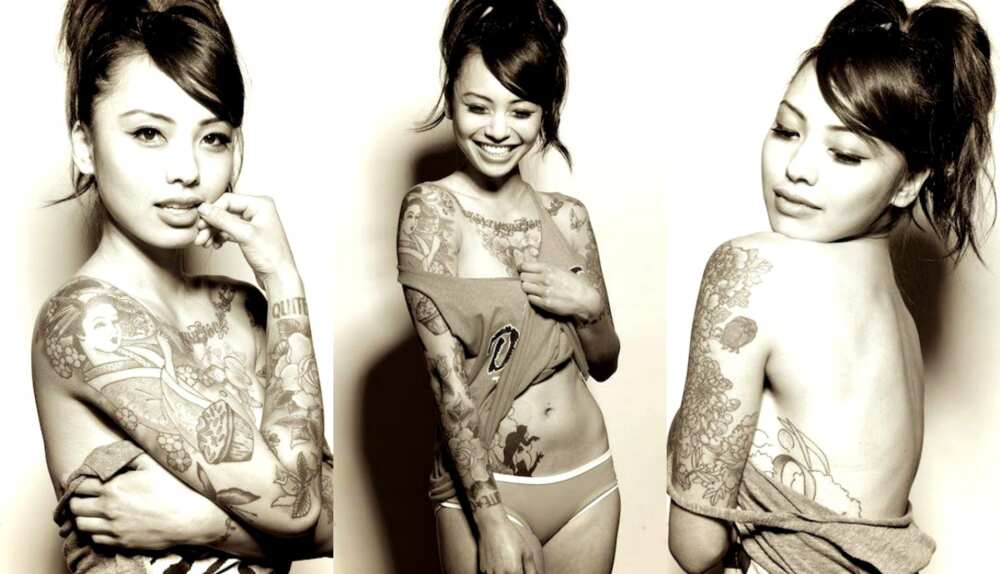 Many people question themselves: "Are her tattoos real or it is just a part of her image in the movie?" The answer is "Yes". All of them are real and devoted to a particular subject.
Levy Tran tattoo passion started from the bunch of stars she made on her back. However, she also has a favourite picture – the zombie. All the tattoos you see on her body seem to be a complete picture, each element of which supplements all other ones.
We always see many celebrity men acting next to her. Is her heart free or the actress is in love?
READ ALSO: Stitches rapper: age, height, net worth, wife, tattoos, death rumors
Who is Levy Tran boyfriend
If you look though Levy Tran hot pictures on Instagram, Facebook or Twitter, you will undoubtedly mention her exotic beauty. It is evident that no man can resist such enchanting combination of charm, beauty and talent.
Is this gorgeous lady married or in relationships? The actress belongs to a number of those celebrities who do not show their private life to the public. There were many rumours about her relationships with one of the celebrity men. However, the actress neither confirmed nor dispelled them.
READ ALSO: Luke Macfarlane bio: height, brothers and sisters, movies, net worth, boyfriend
It is hard to state whether Levy Tran is in love or not. In the past she had relationships. Perhaps, when the right moment comes, the model will undoubtedly share her happiness with fans. Currently, we have an opportunity to enjoy her fascinating pictures and movies that inspire and show her rich inside world.
READ ALSO: Who is India Love: age, tattoos, net worth, boyfriend
Source: Legit.ng