"Come & Change Our Culture Na": Queen, Eve Esin, Okon Lagos Back Hilda Baci Over Dog Eating Fest, Slam Critics
Days after clips of Hilda Baci and her close pal Enioluwa engaging in a dog-eating delicacy that has sparked reactions online, other Akwa Ibom celebrities have come out to support the chef
After the clip of celebrity chef Hilda Baci forcing her lifestyle influencer Enioluwa to eat some dog meat, there's been many outcries, especially coming from the Dog Lovers Association
However, Akwa-Ibomites celebrities like Okon Lagos, Eve Esin and Big Brother Naija's Queen Mercy Atang have all come out to defend Hilda Baci while revealing what the delicacy is called
The issues and calling out of celebrity chef Hilda Baci over her engaging in the popular, controversial Akwa Ibom delicacy 404 and forcing her pal, Enioluwa, to engage in it is yet to die.
Barely 24 hours ago, a clip of fast-rising celebrity chef Hilda Baci and lifestyle influencer, Enioluwa eating dog meat during their visit to Akwa Ibom state sparked reactions.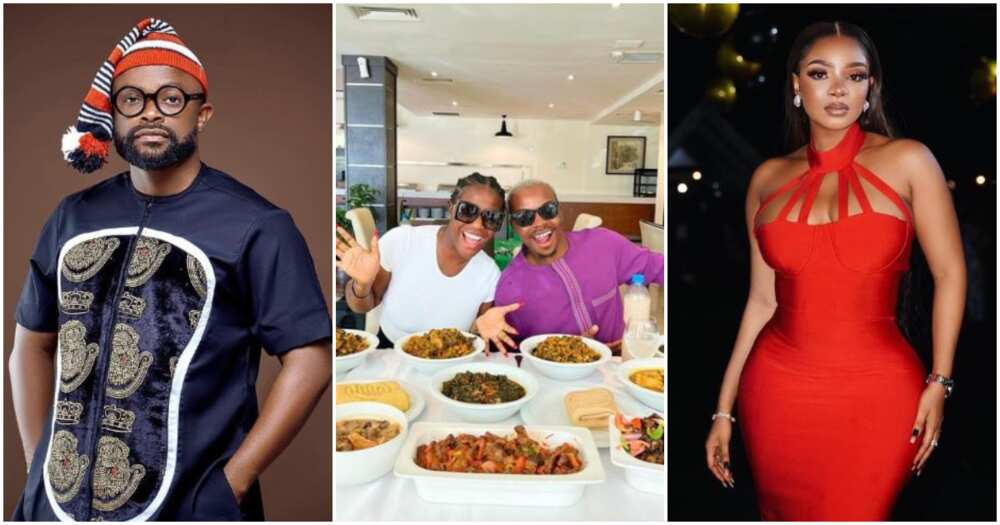 Some Nigerian celebrities from Akwa Ibom have come out to throw their weight behind Hilda Baci, noting that dog eating is part of their culture, and those criticising the celebrity chef are trying to force her to deny her heritage.
See BBNaija's Queen's post defending Hilda Baci:
See Okon Lagos' post defending Hilda Baci as well:
See the reactions that Okon Lagos, Eve Esin and Queen's posts defending Hilda stirred online
@symply_janoma:
"Hilda is international.. and shouldn't be doing things based on Akwa Ibom culture. The fact still remains that dogs are pets."
@abjluxuryhub:
"In Africa, cows are consumed, but in other regions of India, cows are revered! In Nigeria, snakes are eaten, but in other parts of Togo, they are worshipped as gods! tributes and worship offered to them! We consume fish, yet some people keep fish as pets in aquariums and feed them. I love dogs, but some people eat them. We must realize and respect the fact that one person's delicacy is another person's god forbid! Let's avoid getting too attached to these issues!"
@cocoplustwins:
"Make Guinness World Records sha no deny Hilda her title based on Animal Cruelty because these oyinbo people don't joke with that stuff."
@kennedyexcel:
"This president of dog lovers abi na president of Animal kingdom don buy market, Calabar people go drag you like suzuki generator ..."
@adaikwerre:
"Lol na every thing for your culture you still dey practice till date? It was a culture in One tribe in our country to eat human being, they ate massively in those days, till civilization came and some realised it was barbaric to eat humans and some stopped."
@finegirl.joy:
"Dog is a pet animals. It's a friend to humans. It serves the owner for security. It's useful to the hunters and the police to trapping down preys . Globally dog's are seen and regarded as friends to man."
@angelaeguavoen:
"Dog meat is so so sweet my sister I've eaten it once and I loved it By the way, Goat, Turkey and Chicken are peoples pet too but you probably eat them So be calming down."
President of dog lovers in Lagos calls out Hilda Baci, Eni for eating dog meat
Meanwhile, Legit.ng recalls reporting that the president of dog lovers in Lagos state had called out celebrity chef Hilda Baci and influencer Enioluwa over their viral dog meat video.
In the clip, which went viral, the aggrieved lady disclosed that her association and their dogs were present at Hilda's recently concluded cook-a-thon to cheer and support her.
She added that she saw what Hilda did, trying to break a Guinness Record, as an admirable feat which has put Nigeria in a good spot internationally.
Source: Legit.ng