Kim Kardashian Says Kanye West's Shenanigans More Detrimental to Their Kids Than Explicit Tape, Peeps Disagree
On the season premiere of The Kardashians, Kim Kardashian opened up about her failed relationship with Kanye West
The reality star believes Kanye West's behaviour could potentially be damaging to their four children one day
Kim also touched on her ex-boyfriend Pete Davidson and said he went through a lot during their relationship
The season premiere of The Kardashians started with a bang as Kim Kardashian weighed in on her ex-husband, Kanye West's behaviour.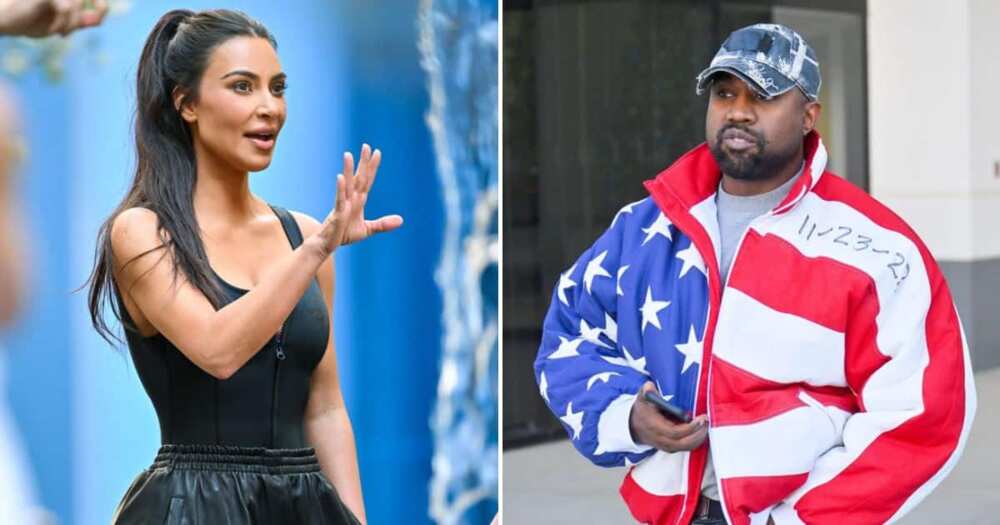 The SKIMS founder believes Kanye West's "shenanigans" could possibly be damaging to their four children one day. She further stated that her explicit tape might overshadow it.
Kim Kardashian believes Kanye West's behaviour might be far more damaging to their kids than her explicit tape
According to @Daily Loud, on the first episode of the Hulu original series, Kim Kardashian opened up about her two past recent relationships.
On her relationship with Kanye West, who is the father of her four children, North West (9), Saint West (7), Psalm West (5), and Chicago West (4), she stated that his behaviour could possibly be far more damaging to them, than her infamous tape.
The Twitter blogger quoted her saying:
"All his shenanigans are going to be far more damaging to the kids one day than my [s*x] tape will ever be."
Kim Kardashian claims Pete Davidson went through a lot during their short relationship
According to People, shortly after her split from rap icon Kanye West, Kim Kardashian got into a relationship with Pete Davidson.
Their relationship lasted for nine months, and she admitted on the first episode of Season 3, that she felt "a lot of guilt" after their split.
Daily Loud further quoted her:
Netizens weigh in on Kim Kardashian's statements on The Kardashians Season 3 premiere
@_Chzzyb said:
"She's talking like this cause Ye is married to a woman more beautiful than her."
@joejoetill added:
"No, one parent is better than the other just have to love and do your best."
@NicholasGuarin0 said:
"YE has ever missed a child support payment."
@ADS_ZAR said:
"Kanye West is literally enjoying his new marriage with no clout chasing nonsense, Kim must keep that man's name out of mouth."
@HighwayBluesArt said:
"Fundamentally, the environment they'll grow up in will make it next to impossible for them to connect with the vast majority of society."
RihYe_ added:
"The sad part is that she thinks she's right."
@rznchristopher said:
"This is definitely the biggest cap I've heard all week."
@bigbenballout added:
"Kanye inspires nearly all kids in the world and not his? Correct me, please!"
Kim claims to be struggling with parenting following her divorce from Kanye West
In a previous report Legit.ng, Kim said she has been struggling with parenting her four children ever since her divorce from Kanye.
Online users disagreed with her, stating that she has four nannies for each kid, and some said she is not a single mother since Kanye is still in his children's lives.
Reacting, someone said:
"Kim Kardashian crying about being a single parent when she probably has a chef cook every meal for the kids is funny."
Source: Briefly.co.za