"They're Teaching Kids How to Be Homo": Actress Angela Okorie on Fear of Sending Her Son Abroad, Starts Debate
Popular Nollywood actress, Angela Okorie, has caused a buzz on social media while speaking on an issue troubling her
The movie star, who was a guest on Nedu's controversial podcast, spoke on her fear of sending her son to school abroad
According to her, children abroad learn how to be 'homo', and this stirred an online debate among Nigerians
Veteran Nollywood actress, Angela Okorie, got people talking on social media after opening up on her fear of relocating her son abroad.
The movie star was a guest on media personality Nedu's podcast, where the topic for the day was parenting and the internet.
While speaking on the show, Angela explained that what they teach in schools abroad was one of the reasons she was reluctant to relocate her son.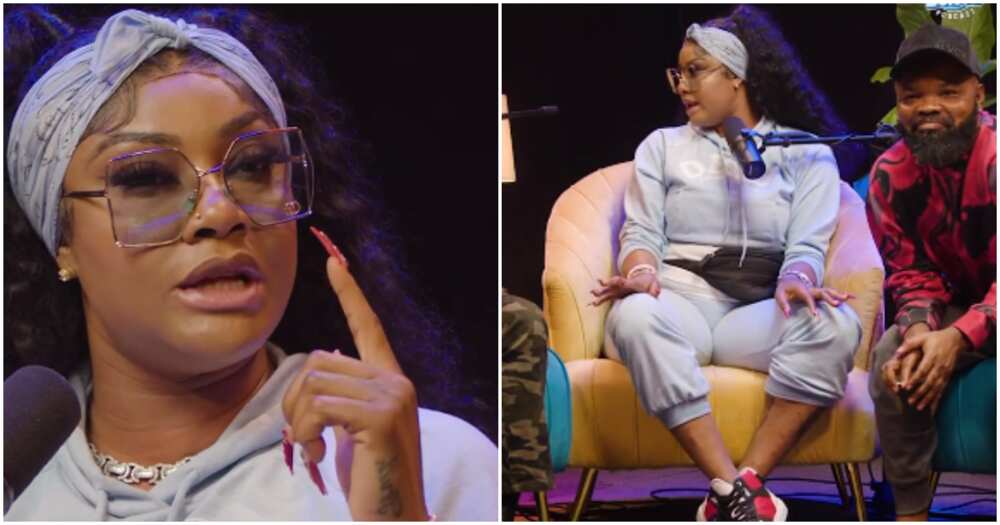 The movie star explained that in those schools, kids are thought to be 'homo' or that they can change their private parts to that of the opposite gender.
According to Angela, they teach them a lot of things she doesn't want her son to learn or become.
In her words:
"My major fear and that's the reason it was so hard for me to relocate my son abroad is because of what they're teaching children. In schools right now abroad, they are teaching kids on how to be homo, they are teaching them a lot of things on how to… you're a man you can actually live like a girl and change the other side and become a girl from being a man. They're teaching them a lot of things that I don't want my son to learn and I don't want my son to be, so it's really a problem."
See videos from the podcast below:
Angela added that parents have a big role to play in the upbringing of their children.
Angela Okorie's statement on schools abroad stirs online debate
The movie star's statement about being worried about what was being taught in schools abroad caused a lot of mixed reactions from netizens. While some applauded Angela for speaking her truth, others accused her of being homophobic.
Read some of their comments below:
_iamsheila__:
"They'll be asking them in their classrooms how they want to be identified ..Him,Her,It,Tree,or Table..choose one."
teeh_lyfstyle:
"Definitely a podcast pandemic. But at last they're saying something meaningful."
phemmypoko:
"Oh well. I still believe homeschooling your kids is the best till they are ready for high school or university."
miracles_secret:
"Your son will grow up to be what he wants to be whether they teach him or not.."
omaakatugba:
"With all they are teaching them they are still making aeroplane and creating scientific Solutions to global problems but you wey them no teach bad thing wetin you do wey don make global impact. Wetin you invent, wetin you create? Abeg!!"
she_e.o:
"Which abroad? Can she one school abroad the teach kids homosexuality? Your child definitely gonna be exposed to a lot of things( good & bad), and that's why you build the foundation at home. As if homosexuality is not in Africa."
mickydidit:
"This is a false narrative. If you want your child to school abroad you have options. There are catholic schools and there are schools were those discussions are not prevalent."
amarachukwu_baernie:
"This is so true!!!!!! Your fears are valid, I can relate pls."
slice_of__spice:
"Aunty they don't teach them that, it's a choice!!!"
iamgozioleks:
"This one is just plain ignorant. No one is teaching children abroad to be gays or les*bians. Rather, they're teaching them of the existence of gay people and teaching them to not be homophobic like y'all. With the way you're talking, the homophobia is so clear and that's what they're doing. They don't want the next generation to be homophobic like y'all are."
ms_nwanne:
"Whether you take the child abroad or not,person wey be shim be shim. They no need go school to learn am. Home or abroad."
Olakunle Churchill pens message to his son with Tonto
Popular Nigerian socialite, Olakunle Churchill, caused an online buzz after he celebrated his son with his ex-wife, Tonto Dikeh.
King Andre clocked seven on February 17, and Churchill who is estranged from his son with his ex-wife took to social media to celebrate him.
The socialite shared a lovely photo of the birthday boy and accompanied it with an emotional note where he expressed how much he misses him.
Source: Legit.ng