Beyoncé and Adele Confirmed to Sit Close to Each Other at the 65th Grammy Awards, Fans Can't Keep Calm
The extravagant 65th Grammy Awards' seating plan photos are going viral on social media and they have caused a buzz
The ceremony will take place on February 5 and will host megastars like Beyoncé and Adele, who will be seated close to each other 
Netizens are happy about the seating arrangement, especially considering Adele has shown love to Bey before
The seating plans for the 65th Grammy Awards were revealed and the BeyHive can't keep calm. Beyoncé will be in attendance at the ceremony taking place on Sunday, February 5.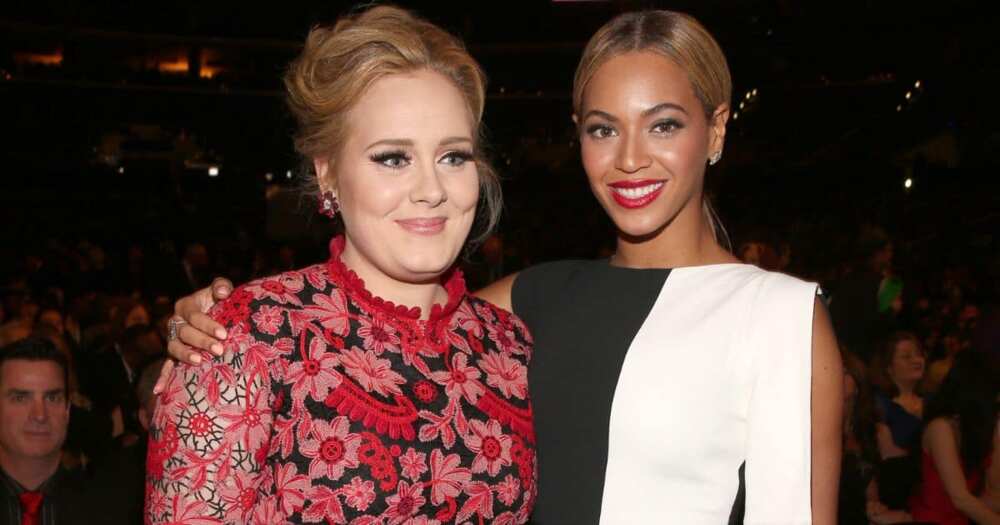 According to a Queen B fan page on Twitter, she will be seated close to Adele and Lizzo, who have publicly voiced that they are huge fans of the Lemonade singer.
@beyonceparkwood shared two snaps showing pictures of the stars placed at their designated tables with the following caption:
"Lizzo and Adele will be seated right next to Beyoncé and Jay-Z at the GRAMMYs this Sunday!"
Beyoncé fans say it's the winners' corner
Despite Beyoncé competing with Adele in the Album of the Year category, as reported by Forbes, Bey's fans anticipate sweet interactions between the stars.
@scottxdavid said:
"Oh Lizzo and Adele will be fangirling over Bey and I wanna see it."
@GenMenRdz shared:
"Taylor is sitting next to Adele. They are putting all the big names together."
@HRHDukeThomas posted:
"That whole section is gonna spend the whole night taking turns going to the mic and giving their speeches."
@JoshJay990 replied:
"Lizzo gets to finally meet Beyoncé! ✊"
@lordesson commented:
"I would sell my kidney to sit with Lizzo and Adele. Oh my God!"
@kjl7x wrote:
"The winners' corner."
@CareBear_Kara reacted:
"Their dream!! ❤️ Next to Mother!! ❤️❤️"
@hiveclownprince
"Lizzo and Beyoncé's picture is finally happening!"
@IBeenCrowned added:
"Two of her biggest fans, well deserved! ❤️"
Beyonce reportedly made over N125m per minute for Dubai performance
While many people struggle to cover their rent each month, Beyoncé reportedly earned N125m per minute for a private show in Dubai on Saturday, January 21.
The 41-year-old singer appeared at an exclusive event where she did her first live gig in four years.
To mark the opening of the city's Atlantis Royal hotel, she sang 19 tracks over an 85-minute period.
Source: Briefly.co.za