"I'd Put Her Name in the Bible if I Could": Ghanaian Adu Safowaah Obsessed With Davido's Chioma Bares It All
Nigerians naturally fell in love with Davido's wife Chioma Rowland, first, because of how much the singer is loved
Over the years, Chef Chi's good qualities and reserved nature made her gather supportive fans almost as much as her superstar husband
Chioma is also loved outside the country, and a Ghanaian actress is obsessed with her and everything she does
Adu Safowaah has been emulating Chioma's grace and calmness, the admirable qualities that drew her to the chef
Ghanaian actress and entrepreneur Adu Safowaah loves Davido's wife Chioma Rowland a little more than you'd expect.
A look through her Instagram page, and you'd see several photos of Chef Chi in posts simply gushing about her beauty and fine qualities.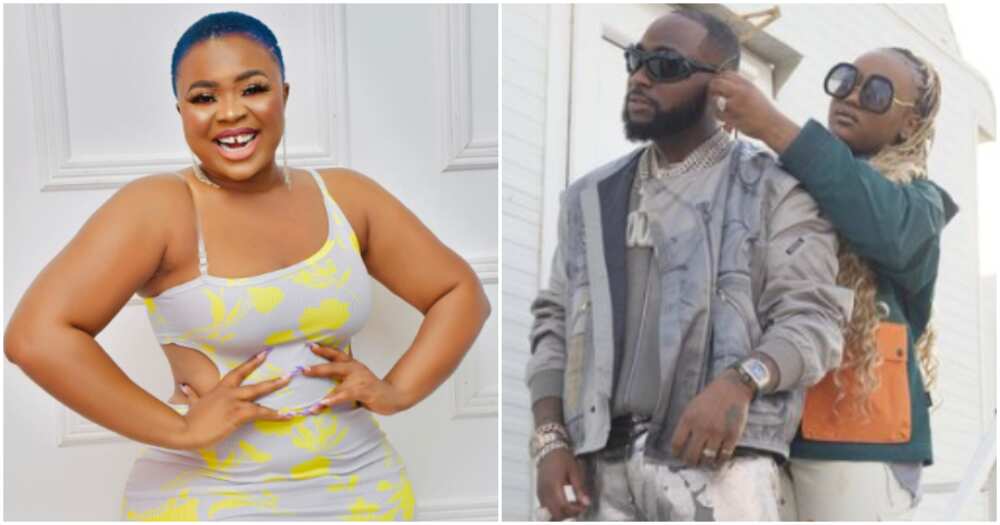 According to the Ghanaian star, the way Chioma carries herself gracefully with elegance without giving an ear to negativity or news around her is the major cause of the attraction turned obsession.
In an interview with Legit.ng, Safowaah opens up on her love for Chef Chi, the length she would go to prove her love if she could, and how she deals with trolls who come for her over her obsession with her.
Adu Safowaah says she has never met Chioma
One would think that the actress' love for Chef Chi is because they have met and grand gestures were exchanged out of recognition, but the closest Safowaah has been to Davido's woman is liking all her Instagram posts and dropping endearing comments.
"I've never met Chioma or have any encounter with her. I have been following her, like her pictures and dropping comments."
The actress who gushed about Chioma's beautiful qualities, the sole reason a lot of Nigerians like her all through the interview, revealed why even Davido is stuck on her.
"We are all unique in our own ways, I am not Davido, but I can state that everyone is attracted to quality. Davido is outgoing, jovial, and a good human being, but after all that, as human as he is, he also has qualities he wants to live with in a woman. He has things he would look at as a man and global icon with eyes on him. She has shown maturity and made the world understand that she is not one to go about fighting people behind keypads, those who wish to have her grace. Imagine being married to Davido. Everyone is attracted to a disciplined person."
Despite the fact that the couple did not make it official, it was clear that there was a time their relationship was troubled before they finally got back together and resumed their love.
Safowaah revealed that she was shocked at Chioma's level of patience and composure all through the difficult time.
"Chioma is not fake, when she and David were good, we saw it, she was real, but when there was confusion, she was calm, never said a word against him. Even in future, when there is trouble in the marriage, I can assure you that her mother won't even know. I am amazed with such a character, I have never seen it. To live in an internet world and have these qualities is not easy, and it would attract every good man looking for longevity in marriage. It is when there is trouble, you know the kind of person you are with and Chioma, has proven to be a very good woman."
Adu Safowaah speaks on how underrated Chioma is
People would go to different lengths to prove their love for those close to them, but for Chioma who doesn't even know the Ghanaian actress, Safowaah would have done a lot if she had the power.
"I admire people with qualities I don't have, and this young lady is amazing. She deserves to be a statue. She needs to be applauded. I wrote in one Nigerian blog that if it was possible to revise the bible, I want to take Esther's name out and put Chioma. Esther had favour and patience in the bible, same as Chioma.
"You're the first person I am telling this, I have built my YouTube studio, three set ups, and Mrs Chioma Adeleke's pictures are everywhere."
Chioma's love has brought Adu Safowaah some form of discomfort in the name of trolls
Being obsessed with anyone, not to talk of another woman is what most people would consider unnecessary, and for almost every post about Chioma, Safowaah gets attacked by people who think she has misplaced priorities.
"My bio is toughest girl in the game, I am used to trolls and all that, just that the person I am obsessed with, Mrs Chioma Adeleke won't utter a word to anyone. With me however, when you utter what I don't understand, I will come for you. In fact, someone came to my DM, telling me to love my family not an outsider, and I told them not to tell me what to do."
On a final note, the Ghanaian star made it clear that just loving Chioma the way she does is enough for her, even if they do not meet.
Of course, she would lose her composure and perhaps lose herself for what would be the first time in public if they do meet.
"My biggest dream is God's grace in my life, not to lose his favour in my life. Meeting Mrs Chioma David Adeleke, I will be okay and happy that someone I love so much and obsessed with is within my sight. I think for the first time, I will scream and yell. I don't know what the future holds but loving her is everything to me."
Ghanaian actress expresses love for Davido's chioma
The beautiful actress from Ghana made it clear that Davido's lover Chioma aka Chef Chi is loved in Ghana as much as in Nigeria.
Adu Safowaah made a post on her Instagram page full of praises for Chioma's admirable qualities.
She described Chef Chi, whom she would kill for, as a humble, graceful and calm woman who has also become a role model for her in changing her ways.
Source: Legit.ng