Tunde Ednut: 7 Fun Moments From Blogger's Lavish Birthday Party, Videos Show Fans Who Won N1m Cash, Car
Celebrity blogger, Tunde Ednut clocked a new age on Friday, January 20, and he was lovingly celebrated by fans and colleagues in the entertainment industry
Like previous birthdays, the former musician was celebrated across different states in Nigeria and some other countries
Legit.ng has compiled videos that highlight some of the fun moments from the blogger's carnival-like birthday
Former music star, Tunde Ednut, received an overwhelming show of love from many in the online community as he clocked a new age on Friday, January 20.
Like previous celebrations, it was an opportunity for Ednut to give back to society and for those who have benefited from his support to show their appreciation.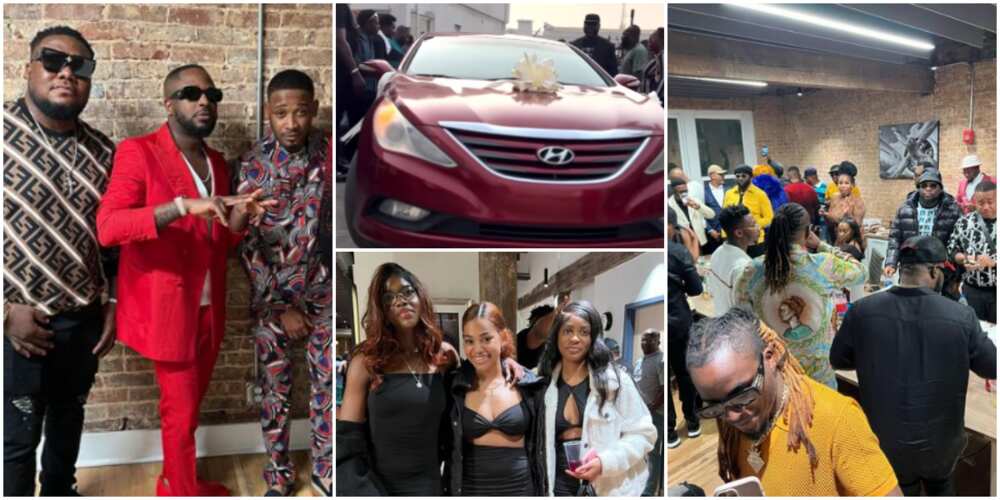 Friends in the industry and upcoming skit makers who got massive exposure from being featured on Ednut's IG page donated different items ranging from drinks, cows and money to facilitate celebrations in different parts of the country.
Interestingly, it wasn't just a Nigerian affair as Ednut's birthday celebration went as far as India, Ghana, and Sierra Leone among other countries.
Legit.ng has compiled some videos showing how the carnival-like event went down
1. Ednut and friends in Atlanta
While the celebration went down back home in Nigeria and other countries, the celebrant was joined by friends and colleagues in Atlanta.
There was a lot to eat and drink and Ednut no doubt had an amazing time.
2. Lucky fan wins N1m in Benin
The blogger's party wasn't all about eating and drinking as lucky supporters also got to smile home with gifts.
A lucky fan who attended Ednut's party in Benin participated in a draw and won N1 million.
3. Lady wins N1m in Abuja
Another video from Ednut's birthday captured the moment a lady went emotional after being announced as the winner of N1m at the Abuja venue.
The excited lady immediately fell to the floor as others cheered her up and congratulated her for the win.
4. Comedian Erkuah and Waris lead Ghana party
Content creators Erkuah and Waris who have both been featured on Ednut's page were in charge of the blogger's birthday party in Ghana.
Videos captured some of the fun moments that saw other Ghanaians supporters storming out to celebrate the Nigerian star.
5. Psquare celebrates Tunde Ednut
Music stars, Peter and Paul Okoye of Psquare threw their own special birthday party for Tunde Ednut.
A lovely video captured the moment they got other attendees to chant the name of the celebrant.
6. India goes live for Tunde Ednut
Some Nigerians in India equally took out the time to come out and celebrate the Nigerian blogger.
A video spotted on his page captured supporters gathered at a fancy spot as they had the time of their lives.
7. Lagos fan wins a car
The most interesting highlight of the day went down in Lagos where a lucky fan won a brand-new car for simply coming out to celebrate Tunde Ednut.
Videos shared online captured the moment the individual's ticket number was called and he was announced as the winner of a car.
Speed Darlington heavily drags Tunde Ednut
Meanwhile, Legit.ng reported that rapper Speed Darlington took to social media with a video post calling out Tunde Ednut.
He tagged the blogger as a failed musician who is scamming people, adding that the Federal Bureau of Investigation (FBI) should investigate his source of income.
Darlington's post, however, fetched him heated backlash from netizens with many accusing him of jealousy.
Source: Legit.ng