Carry Him: Dino Melaye Dumps Hard Guy Attitude As Comedian Zfancy Plays Food Poisoning Prank in Senator's Home
Popular senator, Dino Melaye, is the recent victim of comedian, Zfancy's prank and he surprised many with his reaction
Zfancy and a couple of guys showed up at the politician's home and on drinking the juice offered, the comedian pretended to be in pain
Dino sat there unmoved for a long time before he eventually jumped to his feet while ordering the comedian's people to carry him
Nigerian comedian, Zfancy was recently hosted in senator Dino Melaye's home and unknown to the politician, he was about to be pranked.
In the video sighted online, the senator was seen addressing Zfancy and his friends, asking questions about what they do for a living.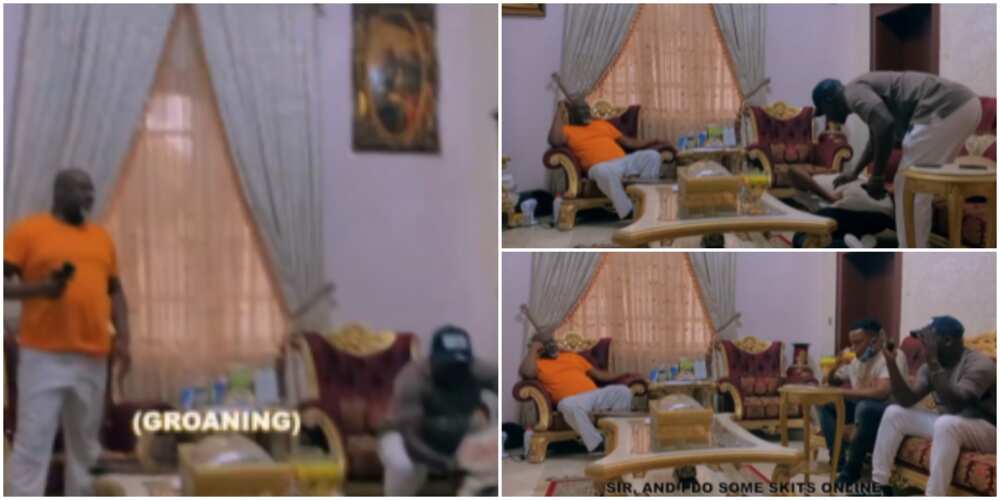 All of a sudden, Zfancy who had taken a sip of the drink offered, held his stomach in pain and it soon progressed to cries of something happening with his intestine.
Dino the hard guy or not
Despite the drama unfolding before his eyes in his home, the politician was unmoved as he kept looking.
After a while, when it looked that Zfancy might be serious, Dino jumped on his feet, picked up his phone as if to make a call and told the comedian's friends to carry him.
When Dino tried to make his way out of the room, the fear of being arrested made the boys confess that the politician had been pranked.
The politician eventually sat down with the boys when the drama ended.
Watch the video below:
Nigerians react
scoobynero:
"Dino Dey look em look "Se these ones come here for Acting AUDITION ni."
emmycomedy_arena:
"Dino wasn't really moved, he seemed unbothered about everything."
olamip0si:
"You can't move politicians like that. They are hard core. They have seen it all."
qmarshals:
"He no funny at all sha, Dino wasn't moved. Na luck you get if not na guard room u for sleep."
bahmipe:
"At first he was like are they serious or joking but he later became frightened."
Bobrisky gets pranked
A Nigerian comedian called Zion shared a video showing how he pranked popular crossdresser, Bobrisky.
Bobrisky was walking into a place with a few friends when Zion approached him and asked if the male barbie's phone is an iPhone 13.
As soon as Bobrisky replied in the affirmative, the comedian asked to touch the phone as he had not touched one before, a feature Bobrisky did not allow.
Zion later resorted to force while raising his voice to say that his girlfriend paid the male barbie the sum of N7m and he has not been answering his phone.
Source: Legit.ng