Here is How You Can Choose Joy Every Day this Festive Season!
Nobody will argue with anyone who comes in screaming, "thank God 2021 is almost over!"
However, this year was great in a way that gave us hope. We continued to push through each day, fight to build back businesses, support each other, and put behind the stress of 2020. Only a few days before we get to say, "Happy 2022!" and we are excited! It may have been a long year, but we have every reason to celebrate and be joyful.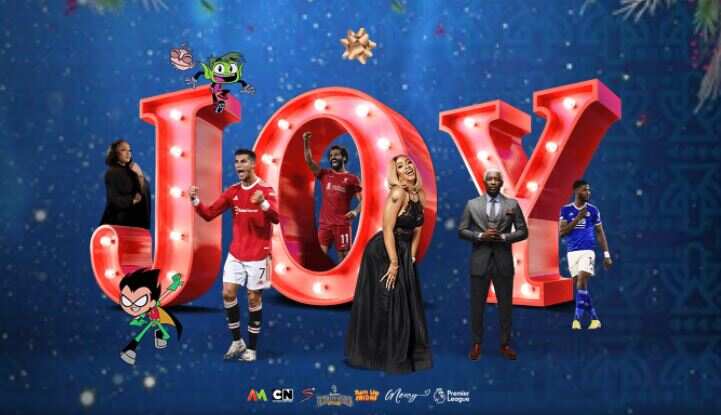 Here are 7 reasons to choose joy with DStv this festive season.
1. Great movies selection: DStv has a great selection of movies across the various M-Net movie channels, TNT, LifeTime, KIX and more. They cover movies of all genres, and there is something for everyone, no matter what they love, their gender or age. All DStv packages have the best of everything from action to rom coms, animation, and comedy. Even better, there are several dedicated channels for children. Nickelodeon, Disney, and Disney XD have movies and series the whole family can watch.
2. Africa Magic Series: For many, who prefer longer forms of content and films, DStv has a ton of series across its various channels. Most importantly, they have curated four great local series, written, produced and shot by Nigerians for Nigerians. You can catch the new series Dilemma, Venge, and Movement Japa on weekdays from 8 pm on Africa Magic Showcase. Those who cannot access Africa Magic Showcase can watch The Rishantes. The series is set 7 years after the end of Halita.
3. The biggest sporting titles: If you are not a great lover of movies and films, DStv has plans to keep even you covered. Sports lovers can catch ALL the Premier League, Serie-A, La Liga and Champions League games scheduled for the rest of the year. They will also be able to access all NBA games set for the rest of the year, even the Christmas special.
4. AM Lockdown Parties: If you just want to stay home and have a lit weekend, DStv has a way for you to turn up big time. With as little as a few drinks, some snacks, a few friends, and maybe some games, you can have a Friday or Saturday 'lituation' situation on your hands. All you have to do is join Dotun for TurnUp Friday or Tee-A for Owambe Saturday on Africa Magic Urban or Family from 9:30 pm every Friday.
5. VVIP access to the biggest shows in Nigeria: DStv has a dedicated events channel (ch 198) for the season. They cover a wide variety of festivals, carol services, and concerts. You do not even have to leave your house and get in traffic, stand in a queue, wear a mask or be out all night. DStv will bring the best of everything right to your living room.
6. Special Festive Offer: DStv has put together the most exciting sale of the season. You can get a DStv decoder, dish, and a month's Compact subscription for just N13,900. The offer also comes with a free 25-metre cable for better installation available at any MultiChoice office or dealer outlet closest to you. This is a limited time only offer.
7. DStv Add ons: You can do so much more and get the whole experience with Box Office, Showmax, and Catch-Up. With Box-Office, you have access to blockbuster movies at the tap of the button. Showmax, on the other hand, is an online streaming service that gives you access to the best HBO shows, documentaries, reality shows, exclusive series, original content, and even more sports content. You already have full access to the streaming service if you are a Premium subscriber. However, you will need to pay half the subscription fee if you use any other package from Compact Plus and below. Lastly, Catch-up allows you to follow up on any of your series if you missed them when they initially aired.
It's the best of entertainment on DStv and the perfect way to get into the festive season. Choose Joy this season with all the amazing entertainment DStv has lined up for you and your loved ones. From exciting football matches from the biggest leagues and tournaments, riveting local and international series, Showmax entertainment and blockbuster BoxOffice movies. Let DStv be your official holiday companion. So make sure you're never disconnected from your favourite shows by downloading the #MyDStv app and renewing your subscription without stress.
For more information, visit www.dstvafrica.com or download the MyDStv app to reconnect and other self-service options.
[Sponsored]
Source: Legit.ng