ExamGuide Computer Based Testing (CBT Software) and Learning Application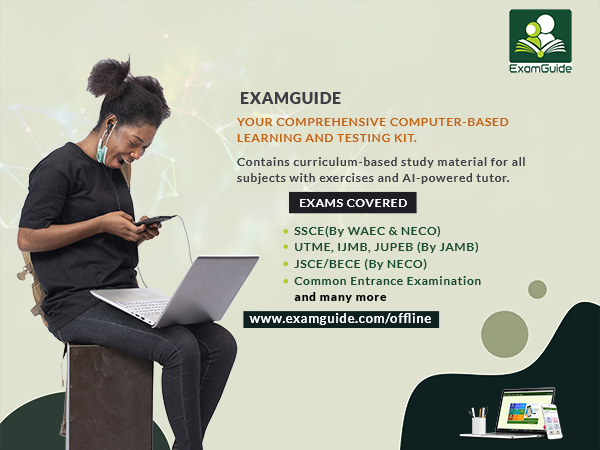 ExamGuide is an innovative computer-based testing and learning application meticulously designed to empower students with a comprehensive study experience. It offers syllabus-based lecture notes enriched with exercises that encapsulate each topic comprehensively, personalized AI Tutor assistance always ready to guide the student through any confusing subject matter, a vast repository of real exam past questions spanning over three decades with detailed answers and explanations, complimented by an extensive bank of syllabus-based model questions and answers with elaborate details. ExamGuide learning App redefines exam preparation, ensuring thorough understanding and assessment of student readiness for success.
Watch video below:
JAMB CBT SOFTWARE
ExamGuide JAMB UTME practice app, a computer based testing (CBT SOFTWARE) and learning software designed for students sitting for Unified Tertiary Matriculation Examination conducted by Joint Admission and Matriculation Board. It is an application that can help the user score 300 and above in JAMB Exam.
ExamGuide JAMB UTME CBT past question Application contains real UTME past questions and correct answers, with detailed explanations for over 30 years of the examination. It also contains syllabus-based model questions covering all scope of work for senior secondary school. Each question contained in the practice app is tied to a topic and a student can choose to filter questions by topics. A candidate preparing for JAMB UTME with ExamGuide JAMB App will hardly see any question in the main exam that he/she has not come across in the application.
ExamGuide UTME CBT SOFTWARE includes a platform named Classroom. This is a transformative study suite with vast study notes designed to meticulously align with the JAMB UTME syllabus across all subjects. These materials are not merely supplementary; they are comprehensive enough to serve as the primary texts for student study. Each subject is presented with unrivaled clarity and depth; ensuring students have a thorough grasp of every topic. Following each meticulously detailed topic, students will find a series of exercises crafted to encompass the full breadth of the material covered. This ensures a 360-degree understanding, reinforcing knowledge through practical application. ExamGuide UTME Learning App tracks your progress in this section, showing you what you have covered and what is remaining.
The ExamGuide JAMB App aids the learning experience with its customized AI Tutor, seamlessly integrated within the Classroom section of the application. This intelligent tutor stands ready to demystify complex concepts, providing tailored explanations and give clarity when called upon. The AI Tutor is designed with a focused scope and engages students only within the parameters of their current studies, eliminating distractions and ensuring relevance with in-depth learning. The personalized AI tutor becomes an interactive companion when taking end of study exercises in the classroom section, guiding students towards the correct answers not by revealing them, but by jogging their memory with reference to the study materials. This methodical approach is crafted to encourage active learning and engagement, guaranteeing that students not only seek answers but also understand the foundational knowledge behind them, thus enhancing their educational journey.
ExamGuide offline JAMB practice Software contains a summary of all jamb prescribed literature text for the exam, with model questions from the texts for a robust exam preparation. The JAMB application enhances the learning journey with a suite of educational games, each carefully designed to infuse joy into the study process. Its user interface is exceptionally user-friendly, incorporating a built-in dictionary and a sophisticated question search feature, all while emulating the UTME authentic interface, and complete with the full functionality of JAMB's 9 KEYS feature. Beyond practice, ExamGuide JAMB UTME app boasts an advanced performance analysis tool. This cutting-edge feature meticulously evaluates your progress, pinpointing specific areas that need improvement, thus streamlining your study sessions for maximum efficiency and effectiveness.
The ExamGuide UTME Software comes with a Career and Institution Guide feature, meticulously crafted to serve as your compass in navigating the crucial decisions of selecting an institution and course of study. This tool delivers an extensive suite of information, including the requisite JAMB UTME subject combinations for each course and the SSCE SUBJECT and grades requirements specified by institutions. It delves deeper, presenting a detailed analysis of the candidate volumes for courses across various institutions, alongside their corresponding scores, offering a clear view of each course competitive landscape. This wealth of data ensures that your educational choices are informed, strategic, and tailored to align with your academic capability.
The ExamGuide App offers an exclusive opportunity to its users to participate in UTME CHALLENGE. ExamGuide UTME CHALLENGE Competition is a series of meticulously organized mock examinations that precede the main JAMB UTME. This initiative provides the ideal platform to gauge and refine your exam readiness under authentic test conditions. More than just a preparatory tool, the UTME CHALLENGE invites you to engage in a stimulating competition with the added thrill of winning substantial prizes. Spanning 12 comprehensive rounds, the challenge allows you to enter at any stage, ensuring flexibility and continuous engagement. Following each round, top 20 performers are rewarded with airtime acknowledging their excellence and effort. Upon the culmination of all rounds, the five most outstanding candidates are celebrated with a grand prize of N100,000 each. We use a combination of your actual UTME Score and your best round score in UTME CHALLENGE to determine the top 5. The UTME CHALLENGE is a chance to experience the rigor of the actual test and earn rewards while at it. It is a perfect amalgamation of preparation and reward.
To download and start using this application visit https://www.examguide.com/offline/products/utme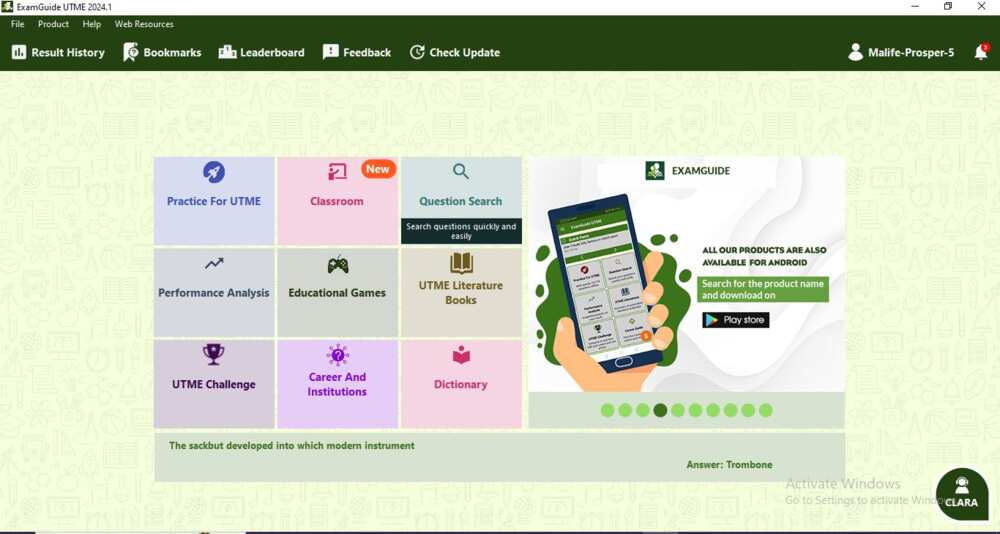 SENIOR SCHOOL CERTIFICATE EXAMINATION (SSCE) PREP APP
ExamGuide SSCE App is a computer based testing (CBT) and learning software designed to be your ultimate companion for academic triumph in senior secondary school. This comprehensive tool is specifically tailored for students gearing up for pivotal exams like the WASSCE (often referred to as senior WAEC), GCE, and NECO SSCE. ExamGuide SSCE is a complete learning solution designed to ensure thorough preparation and testing of Exam readiness. When utilized to its fullest, ExamGuide SSCE holds the potential to propel students towards passing exams in one sitting with flying colors achieving all As. Embrace the power of effective learning and turn your academic goals into a reality.
ExamGuide Senior WAEC practice app is a treasure trove of authentic WAEC past questions and answers, spanning an impressive three decades. Each question comes with a detailed explanation, transforming your study sessions into deep learning experiences. Statistics and experience have consistently shown that students who engage with past exam questions significantly outperform their peers. That is why we meticulously curated the ExamGuide WASSCE to be a vast bank for real WASSCE past questions and answers. Our top-notch explanations for each question are so comprehensive that they can serve as standalone learning materials. Students can tailor their study approach by selecting topics during study as all the questions are tied to topics. Whether you prefer to focus on specific topics or want to challenge yourself with a comprehensive range of topics, ExamGuide has you covered. This focused study method has been crafted based on insights from educational experts and the success stories of past users.
ExamGuide Past question and answer software for WAEC contains a section called classroom. Here the student using the application can access vast resources of syllabus-based study materials on the subjects covered by ExamGuide SSCE practice app. The material is designed to be elaborate, covering all possible topics in any captured subject. When a student is done studying a particular topic, there are exercise at the end to test assimilation of concepts taught. Learn differently with the Classroom, a core feature of the ExamGuide Senior WAEC software, meticulously crafted for the senior school certificate aspirants. This section is a goldmine of syllabus-based study materials, meticulously curated to cover every subject in the SSCE curriculum. Our content is very comprehensive and a deep dive into the realms of each subject, ensuring no stone is left unturned in your SSCE preparation. In the Classroom, each topic is presented with unmatched clarity and depth, touching all aspect of WAEC syllabus. This methodical approach ensures that students are not just skimming the surface, but gaining profound understanding of every possible topic within each subject. The journey through each topic culminates in a series of exercises, thoughtfully designed to test and reinforce the concepts learned. These exercises are a gauge of true understanding, challenging students to apply what they've learned in practical scenarios.
The class room section of ExamGuide SSCE past question and answer app is integrated with customized AI Tutor. This revolutionary feature is designed to be your personal guide through the rigorous work of covering the entire SSCE syllabus. After delving into our extensive study materials, the AI tutor is ready to assist you with any challenge you encounter, ensuring a clear and thorough understanding of every topic. Our AI tutor is a marvel of technology, exclusively focused on academic assistance within the scope of your study. This ensures a distraction-free, purpose-driven learning environment, safeguarding against any misuse of the technology. Its primary goal is to empower you in your academic journey, guiding you through tough concepts and enlightening you with insightful explanations. During exercises, the AI tutor transforms into a subtle guide, steering you towards the correct answers. Rather than simply providing solutions, it nudges you back to relevant sections of the study material, encouraging a deeper engagement with the content. This approach reinforces your learning and ensures that you are truly comprehending and applying the concepts.
Another very interesting feature of ExamGuide School Cert Exam Prep App is the chief examiner report. This unique section offers an unparalleled analysis of previous exams, providing a window into the minds of the examiners. Here, you'll discover how students have historically approached exam questions and the optimal ways to answer them for maximum scores. The Chief Examiner Report is a strategic guide to excelling in exams. This section help students gain critical insights into the subtle nuances of question interpretation and answering techniques that distinguish top performers. Understanding these is crucial, as often the difference between an A and a B grade can hinge on a single mark. This feature empowers you to be a diligent learner and strategic in answering exam questions. Lessons learnt from ExamGuide SSCE chief examiners report reinforces the idea that effective exam preparation transcends mere reading – it's about smartly navigating questions to ensure every effort in your study is rewarded with the best possible grades. Make the Chief Examiner Report your secret weapon and approach every exam question with the confidence and savvy of a seasoned exam taker.
Transform your SSCE preparation experience with the ExamGuide Senior WAEC Past Question Practice App, where we blend comprehensive learning with engaging interactivity. Access our expertly crafted summaries of all prescribed literature texts, each accompanied by model questions that deepen your understanding and ensures a full grasp of the material. Turn your learning into an adventure with our array of educational games. These games are not only entertaining; they're designed to reinforce your knowledge in a fun and memorable way. Alongside these interactive features, our insightful performance analysis tools shine a light on your areas of strength and weakness, guiding your study sessions to be more focused and effective. Here is the most exhilarating part, as a user of the ExamGuide SSCE App; you are invited to participate in our thrilling WASSCE Challenge series. These mock exams are a competitive arena where you can test your readiness for the WASSCE in real-time. Outstanding performers in the challenge stand a chance to win amazing prizes.
To download and start using this application visit https://www.examguide.com/offline/products/ssce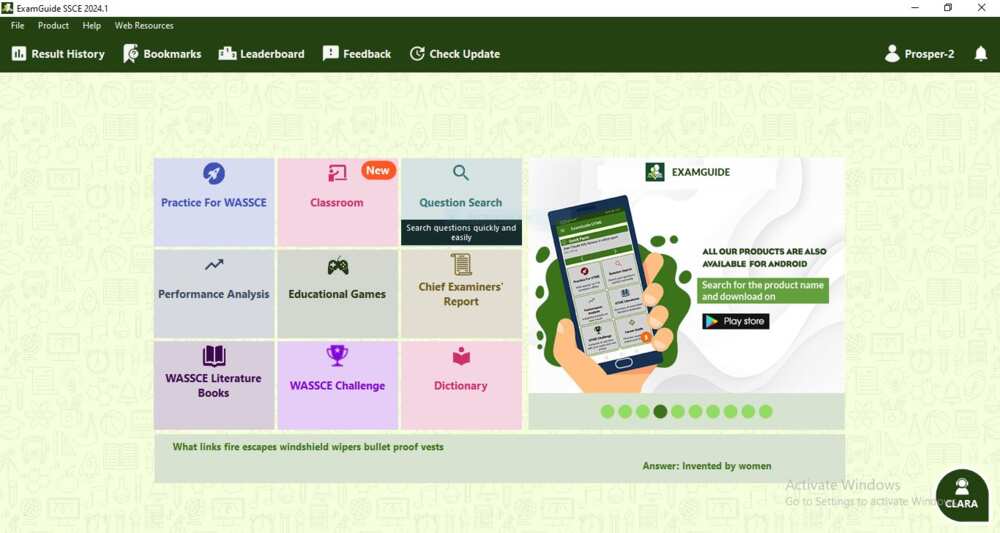 BASIC EDUCATION CERTIFICATE EXAM PREPARATORY APPLICATION
ExamGuide BECE computer based testing (CBT Software) and learning application, is the ultimate study companion for students in Basic 7 to 9, also known as Junior Secondary School. Our application is meticulously crafted to provide comprehensive support for those preparing for Basic Education Certificate Examination, popularly known as Junior WAEC or Junior School Certificate Examination. ExamGuide BECE is tailored to foster a deep and focused study experience, guiding you through every step of your preparation. With a blend of intuitive design and in-depth content, we make learning engaging and effective. Our goal is to empower you to excel with flying colors in the exam. Whether you are aiming to strengthen your grasp on specific subjects or seeking to cover the entire syllabus, ExamGuide BECE is your go-to resource. It is your partner in achieving academic excellence and securing a strong foundation for your future studies.
The ExamGuide Junior WAEC App offers a comprehensive database of authentic past Basic Education Certificate Examination questions and answers with detailed explanation. Each question is linked to specific topics in the junior secondary school certificate exam syllabus. ExamGuide BECE practice App allows students to tailor their practice sessions according to their individual learning progress. They can select questions from topics they have already covered, or they can challenge themselves with the entire syllabus if they have completed the full curriculum. This flexibility ensures that each student gets a personalized learning experience, making their exam preparation more efficient and effective.
The ExamGuide JSSCE past exam questions practice software includes a unique and comprehensive feature known as "Classroom." This section of the BECE preparation app is meticulously designed to provide extensive study materials that encompass the entire course content for junior secondary school across all subjects. The study notes are carefully structured, with each topic culminating in exercises that cover the full breadth of the study material. This approach ensures a thorough and interactive learning experience. The exercises at the end of each topic are specifically crafted to test and confirm students' understanding of the material, reinforcing their knowledge and boosting their confidence. This feature ensures that students gain a deep and comprehensive grasp of each subject, preparing them effectively for their exams.
The Classroom section of the ExamGuide JSSCE past question CBT software is enhanced with a personalized AI Tutor. This AI Tutor is a learning companion, always ready to illuminate complex concepts and assist students in areas where they face challenges. It's thoughtfully programmed to focus responses within the relevant study scope, ensuring it is used constructively and not for things outside academics. When students engage in exercises, the AI Tutor transforms into a guide, leading them through the problem-solving process. It does this by prompting recollection of relevant information from the study materials, rather than directly providing answers. This method ensures active participation and deeper engagement with the content. The AI Tutor's design is focused on fostering a true understanding of the material, encouraging students to thoroughly go through the study content. Its role is to support, guide, and enhance the learning journey, making it more interactive and effective, ensuring students understand and apply their knowledge.
The ExamGuide BECE app goes beyond traditional learning methods by introducing an exciting series of mock competitions known as BECE Challenge. ExamGuide BECE CHALLENGE Competition is designed to simulate the real junior WAEC exam environment, offering users a firsthand experience of the conditions they will encounter on their actual exam day. By closely mirroring the structure and format of the real NECO BECE, the app aims to familiarize students with the examination process, reducing anxiety and improving readiness. In each round of the BECE Challenge, participants are not only tested on their knowledge but also have the opportunity to win attractive rewards. The top scorers are awarded cash prizes in the form of airtime, adding an element of motivation and fun to the learning process.
Further enhancing the educational experience, ExamGuide BECE app includes a variety of educational games. These games transform content from the BECE past question and answer bank into engaging and enjoyable activities, making learning an enjoyable part of daily relaxation. This approach helps reinforce knowledge while keeping the learning process enjoyable. Additionally, the app is equipped with sophisticated performance analysis tools. These tools meticulously analyze user's performance across all activities within the app, providing valuable insights into their strengths and areas for improvement. By pinpointing specific aspects that need more focus, these tools help users optimize their study time and strategies, ensuring a well-rounded preparation for their exams.
Get ready to experience a new level of confidence and preparedness. With ExamGuide BECE, success in the Junior WAEC is within your reach.
To download and start using this application visit https://www.examguide.com/offline/products/jsce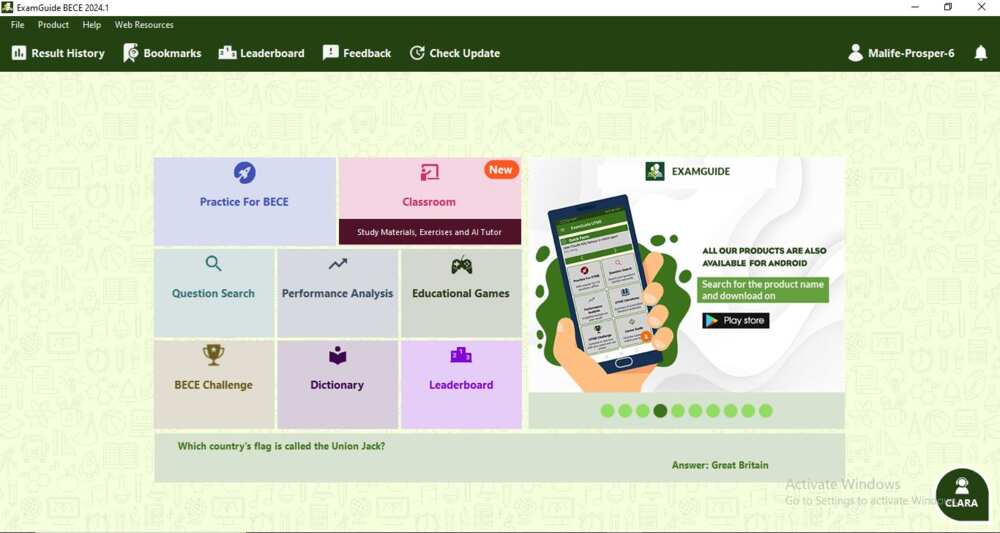 COMMON ENTRANCE EXAMINATION PREPARATORY APPLICATION
The ExamGuide NCEE application is an expertly crafted educational tool tailored specifically for pupils in Basic 1 to 6, often referred to as primary school students. Its primary goal is to provide comprehensive and effective preparation for the Common Entrance Examination, enabling students to achieve high scores required to gain admission into the secondary schools of their choice. At the core of ExamGuide Common Entrance practice software is content developed by highly experienced teachers who specialize in primary education. These educators bring a wealth of knowledge and understanding of the learning needs of young students. The content within the ExamGuide NCEE CBT Software is thoughtfully designed to align with the assimilation levels of primary school children, ensuring that it is both engaging and effective. ExamGuide Common entrance examination practice app user-friendly interface and age-appropriate material make learning an enjoyable and productive experience for these young learners. By providing resources that resonate with their learning stage, ExamGuide NCEE effectively bridges the gap between learning and understanding, paving the way for success in the Common Entrance Examination.
The ExamGuide NCEE past question practice software includes a vibrant and engaging section known as "Classroom." This area is a treasure trove of stimulating and visually appealing educational materials, meticulously crafted to align perfectly with the needs and interests of primary school students. It encompasses a complete range of coursework, ensuring a holistic learning experience. In this section, pupils gain access to high-quality study notes developed by licensed and experienced educators. These teachers are experts in understanding the unique learning patterns and requirements of young learners, and they infuse this knowledge into the creation of each piece of content. The material is informative and presented in a way that resonates with children, making learning both fun and effective. Each topic within the Classroom section concludes with a series of exercises, thoughtfully designed to comprehensively cover the syllabus. These exercises offer more than assessments as they are tools that reinforce the concepts learned in the study notes. They ensure that students not only read and memorize the material but truly understand and internalize it. This approach fosters a deeper comprehension and a more solid grasp of the subject matter, setting a strong foundation for academic progression.
ExamGuide Primary school Computer Based Testing (CBT Software) and learning App classroom section comes with a personalized AI tutor. This AI tutor is ingeniously designed to clarify and elucidate concepts that pupils might find challenging after reading through the learning materials. It acts as an on-demand educational assistant, ready to delve into explanations on topics within the student's learning scope. This feature ensures that each child receives support tailored to their individual learning needs. To maintain focus and prevent misuse, the AI tutor is programmed to address only queries relevant to the pupil's current curriculum. This ensures that interactions with the AI are educational and directly beneficial to the student's learning journey. During exercises at the end of each topic, the AI tutor proves invaluable for students encountering particularly tough questions. Rather than simply providing answers, the AI guides the student back to the pertinent sections of the study materials. This approach encourages pupils to engage more deeply with the content, fostering understanding and retention. By guiding them to discover answers themselves, the AI tutor helps in solving immediate problems and instills critical thinking and problem-solving skills. This thoughtful design ensures that pupils thoroughly review and comprehend the study materials before attempting exercises, enhancing their overall learning experience.
The ExamGuide Common Entrance App stands out with its array of educational games, ingeniously crafted to captivate pupils while imparting essential academic content. These games transform learning into an enjoyable and interactive experience, seamlessly blending education with entertainment. This feature ensures that pupils remain engaged and absorb information in a way that resonates with their natural playfulness and curiosity. Additionally, the app hosts ExamGuide NCEE Challenge which is a series of mock exams specially designed for users preparing for the National Common Entrance Examination. This initiative serves a dual purpose: it acquaints students with the format and structure of the actual exam and it also injects an element of excitement into their preparation process. The top performers in each round of the NCEE Challenge are rewarded with prizes in the form of airtime, fostering a spirit of healthy competition and motivation among pupils. ExamGuide NCEE app is equipped with an advanced performance analysis tool. This tool meticulously tracks and displays the pupils' performance trends, offering invaluable insights into their academic progress. It identifies areas where the pupil excels and more importantly, highlights those that require additional focus and improvement. This feature enables students, parents, and teachers to understand the learning journey more comprehensively and tailor the study approach to address specific needs, ensuring a more effective and targeted preparation for the Common Entrance Examination.
To download and start using visit https://www.examguide.com/offline/products/common-entrance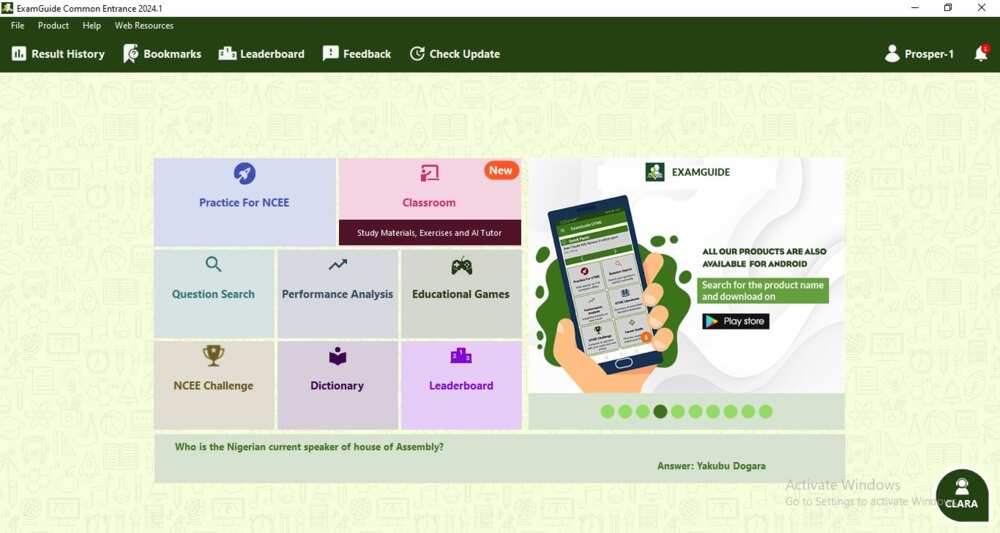 ExamGuide Learning Application covers a wide range of other examination that we did not cover in details in this write up which includes;
ExamGuide Post-UTME: This is designed for students preparing for university screening exams commonly referred to as POST-JAMB.
ExamGuide IJMB: This is designed for students wishing to participate in Interim Joint Matriculation Board Exam.
ExamGuide Cowbellpedia: This is for students taking part in Cowbell mathematics competition.
ExamGuide Bar Exam: This is for law school students preparing for LBAR Exams.
ExamGuide ICAN: This is designed for candidates sitting for ICAN Exams.
ExamGuide TRCN: This is designed for candidates sitting for Teachers registration council of Nigeria Professional qualifying Exam.
ExamGuide GAP: This is designed for candidates sitting for graduate aptitude test.
ExamGuide NARE: This is designed for persons sitting for Nigerian agencies recruitment Exams.
To download and start using any of these application visit https://www.examguide.com/offline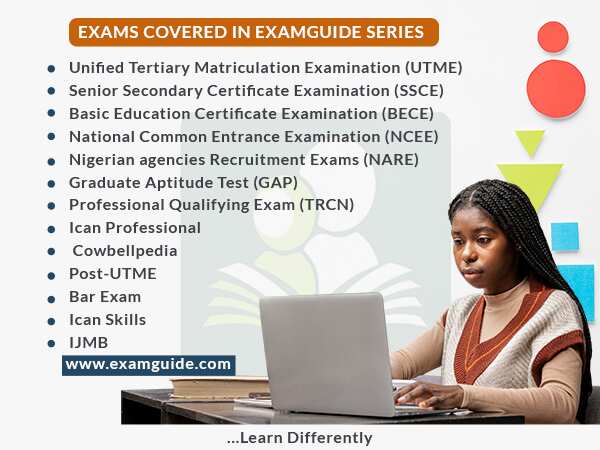 As you embark on your journey towards academic success, consider ExamGuide as your trusted companion. Whether you are a student diligently preparing for upcoming exams or a candidate striving to excel in your professional/aptitude tests, ExamGuide computer-based practice app is an invaluable tool designed to enhance your learning experience. With its extensive repository of past questions, personalized AI tutors, engaging educational games, and comprehensive performance analysis, this app is a roadmap to achieving your educational goals. Success in exams is about studying smart. ExamGuide CBT SOFTWARE helps you do just that, offering tailored learning experiences that adapt to your unique needs and learning style. Embrace this opportunity to transform your study sessions with ExamGuide practice app. It's time to elevate your learning, boost your confidence, and walk into your exams equipped with knowledge and the assurance that you've prepared in the best way possible.
[Sponsored]
Source: Legit.ng