2023 Elections: CODE Launches Campaign on Girl Child Education
Connected Development has launched a girl-child education campaign to increase enrollment and retention in schools
The civil advocacy organisation also admonished Nigerians to vote politicians who prioritise gender-responsive education
The project supported by Malala Fund, was launched with the social media hashtag - #EducationNow9ja
FCT, Abuja - With an alarming 20 million out of school children in Nigeria, Connected Development (CODE), has advised Nigerians to vote for candidates who demonstrate commitment to improving the education sector, especially for the girl child.
The Executive Director, CODE, Mallam Hamzat Lawal, gave the counsel on Monday, January 24, at the launch of the Girl-Child Education Campaign in Abuja attended by a Legit.ng reporter.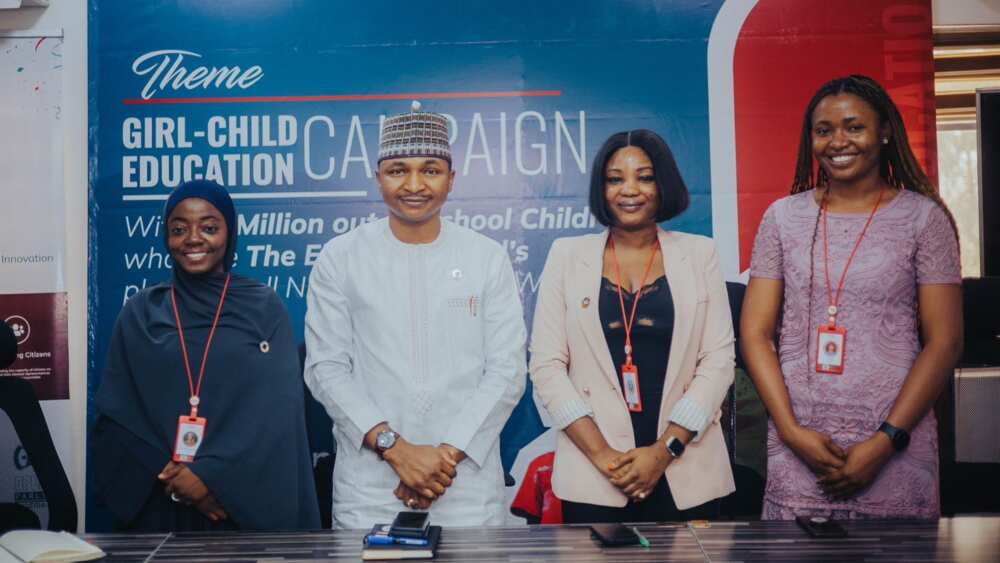 He said the forthcoming 2023 elections provide an opportunity for important engagement with Nigeria's presidential candidates on their plans to ensure safe and inclusive education across the country.
He said the campaign will ensure commitment from mostly the presidential candidates in the forthcoming election.
He lamented that the manifestoes of the main presidential candidates have not shown enough commitment in addressing education and how it affects the girl-child.
Mallam Lawal said the initiate will ensure life-long opportunities for the girl-child, especially in northern Nigeria.
His words:
"It is in light of CODE objectives of Malala Fund, that we are launching an aggressive campaign to mobilise and educate citizens to ask critical questions from all the candidates that are running for the office of the president, their agenda for girl child education.
"We believe that the Girl-child Education Project of CODE, will work and support Arewa Social Media influencers as well as prominent people in the north.
"This is because when you look at the data by UNICEF, over 20 million children that are out-of-school are mostly girls and over 90% of that data shows that these kids are based in northern Nigeria.
"When you look at the manifestoes of these candidates, we have not seen strong commitment to education and particularly to girl-child and if you look at most of the data, a lot of Nigerians have not decided who they would vote for.''
He lamented that schools are now targets for armed groups like bandits, insurgents and freedom fighters.
He added:
"Schools must be safe spaces for all, especially for the girl-child and this must be taken seriously.''
Also speaking, CODE's program manager, Zaliha Abdulhamid Lawal, noted that the project seeks to complement government initiatives towards achieving inclusive quality basic education as articulated in Nigeria's Universal Education Act, and Sustainable Development Goals.
She also noted that the objectives increasing citizens' participation in development processes; to ensure a commitment to create and implement a policy that ensures that every girl has the right to a 12-year free, compulsory and inclusive education in the focus states.
She added:
"Our basic focus is on the Senior Secondary Schools. We are calling on the national and sub-national governments to ensure that the higher schools are free for all, especially the girl-child.''
On her part, the head of media, publicity, and public relations, CODE, Ms. Seun Durojaiye, appealed to media professionals to intensify advocacy for girl child education to change the narrative.
She urged journalists to give more coverage on the girl child education, noting that it would trigger more conversations and commitments from various stakeholders, including politicians.
2023 elections: Huge number of registered young voters in Nigeria remarkable, says Damon Wilson
On his part, Damon Wilson, president and chief executive officer of the National Endowment for Democracy, says Nigeria's large number of registered young voters ahead of the forthcoming general elections is remarkable.
Wilson made the comment while chatting with a Legit.ng reporter and other journalists at a recent meeting in Abuja.
He added that the fact the forthcoming presidential election is unpredictable makes it even more exciting.
2023: UN, ECOWAS caution Nigeria against election violence
In a related development, the United Nations and the Economic Community of West African States on Tuesday, January 17, warned Nigeria against violence in this year's general elections.
They gave the warning in Jos, Plateau state, at a mediation training and interactive engagement with some stakeholders.
The international organisations also stated that Nigeria can't afford any crisis because it would also affect the West African region.
Source: Legit.ng