End Period Poverty: Legit.ng Donates Menstrual Kits through Bridge-D-Gap Initiative
Legit.ng partners with Bridge-D-Gap Initiative to donate high-value menstrual care kits to girls from low income homes in Lagos state.
Legit.ng joins its voice to increase awareness about period stigma and poverty, and shows commitment to the cause by ensuring that these girls have access to period hygiene packages like their counterparts in urban areas.
Legit.ng donated a sizable sum of money which was presented to the Bridge-D-Gap Initiative's founder at the Legit.ng office on Friday, October 6, 2023.
Legit.ng has vowed to continue to support efforts that ensure the fulfilment of the UN developmental goals and targets.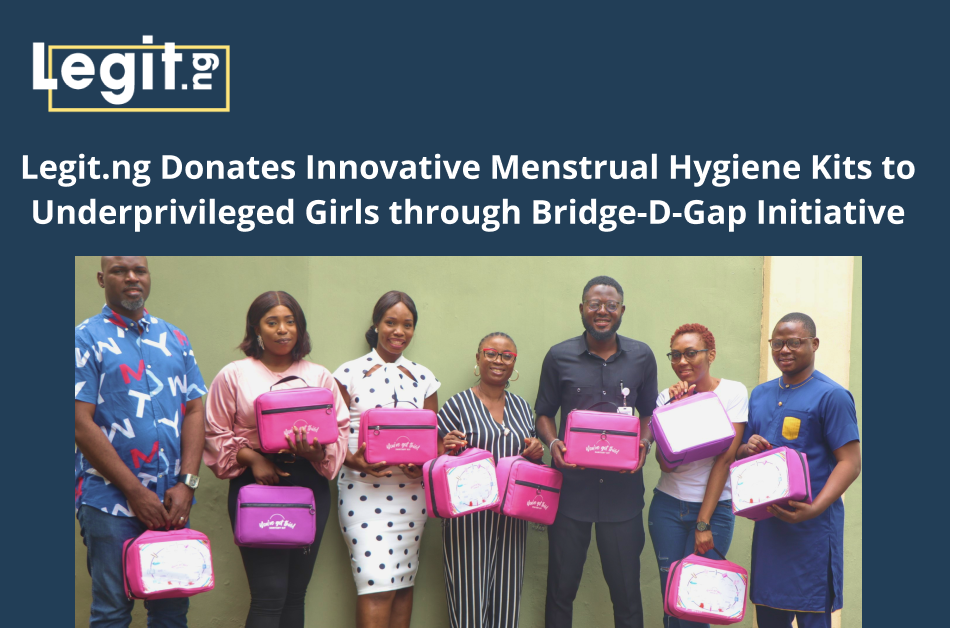 Lagos, Nigeria – On October 6, 2023, Legit.ng, Nigeria's leading digital media and news platform, donated to Bridge-D-Gap Initiative.
This contribution aligns with Legit.ng's corporate responsibility mission. It is dedicated to taking a proactive role in the restoration of Nigeria's vulnerable population and sharing their stories to drive positive change.
This gesture has solidified a meaningful partnership between Legit.ng and Bridge-D-Gap Initiative, an organisation that stands at the forefront of child welfare and protection projects within Lagos state.
Legit.ng made this decision in response to the urgent call for extensive public awareness regarding the issue of period poverty in underdeveloped and developing nations.
The former minister of women affairs, Dame Pauline Tallen, argued that more than 37 million girls and women cannot afford menstrual hygiene products in Nigeria. Every month, more than 37 million girls and women are unable to safely manage their periods. They can't normally study, work and live their lives. Legit.ng wants to change this and raise massive awareness about the issue.
Legit.ng sought to help the society understand that period is normal, and women should be supported while on their period. Through a three-part vox pop, Legit.ng passed a message to its readers to put an end to period stigma.
Founder of the Bridge-D-Gap Initiative, Opeyemi Maknjuola expressed gratitude and described the partnership impact:
"Legit.ng's dedication to this cause has truly been inspiring, and it's fantastic to see a major media organisation like Legit.ng actively supporting NGOs like ours. Back in June, when we launched our 10-module sex education course to raise awareness among parents and unveiled our innovative sanitary kits to improve period hygiene for women and girls, Legit.ng was right there with us, helping to spread the word. Their commitment has gone a step further with this donation, and we're incredibly thankful for their support."
Opeyemi further expressed that she would in turn be donating the innovative sanitary care kits purchased by Legit.ng from her organisation, to the students at Dream to Slum foundation, Ajegunle on October 11, 2023, to mark the 'International Day of the Girl Child'.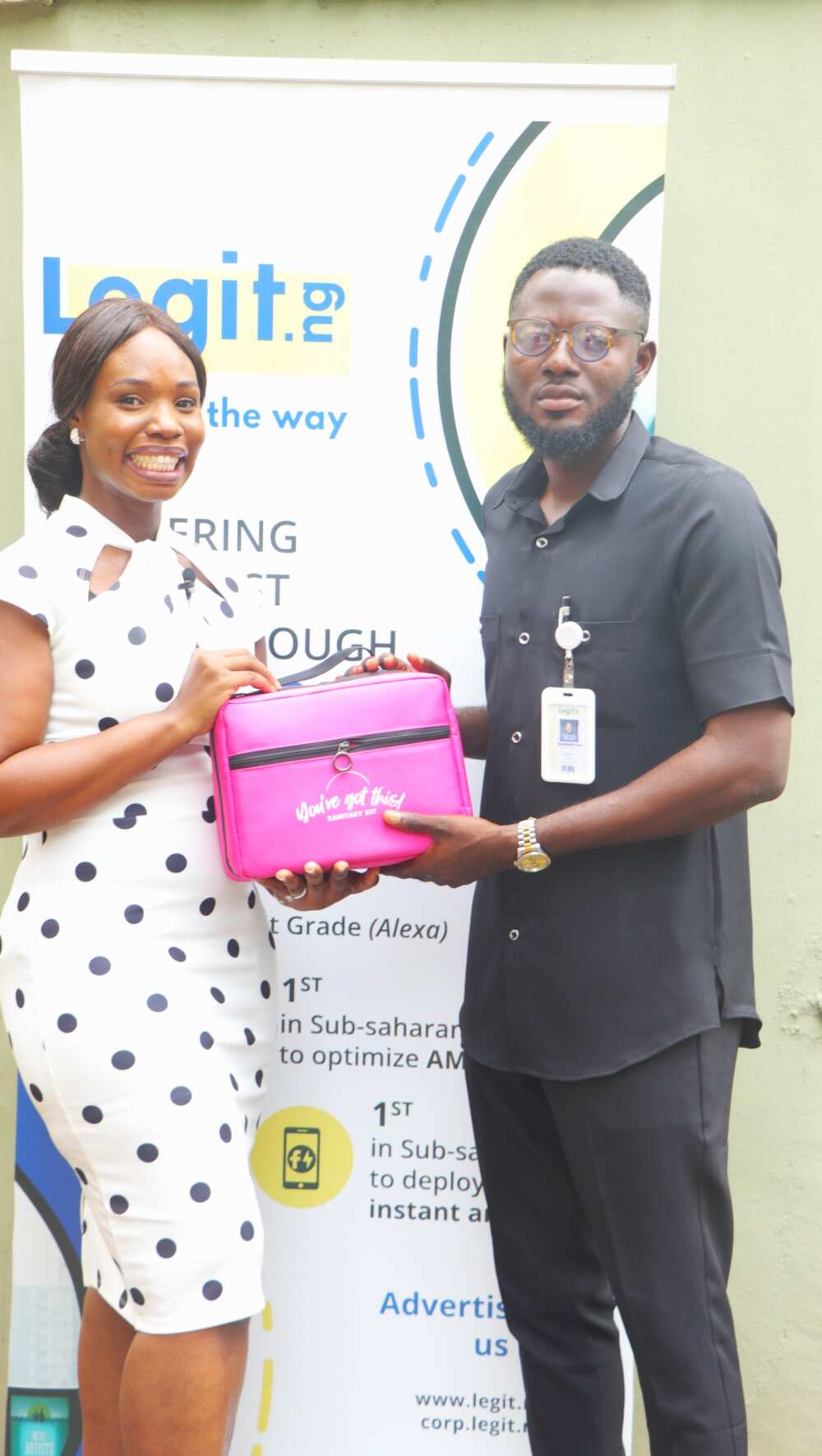 Editor-in-Chief, Legit.ng, Rahaman Abiola, talked about the organisation's dedication to meeting the SDG goals as a member of the UN SDG Media Compact: "Period poverty is a heartbreaking situation that still plagues us as a continent and as a nation. The deprivations associated with period poverty connect strongly to the SDGs, including SDG 1 (no poverty), SDG 3 (good health and well-being), SDG 4 (quality education), SDG 5 (gender equality), and SDG 6 (clean water and sanitation). These extensions show how sensitive this is, and why we must all come together to bring period poverty to an end."
He promised that the organisation will continue to support NGOs as all strived to fulfil the goals.
"As a member of the United Nations SDG Media Compact, we will continue to partake in the collective responsibility of making the world a safer and better place. Dedicated to this commitment, we will continue to support NGOs like Bridge-D-Gap Initiative, just like we did with WARIF in 2022." Abiola said.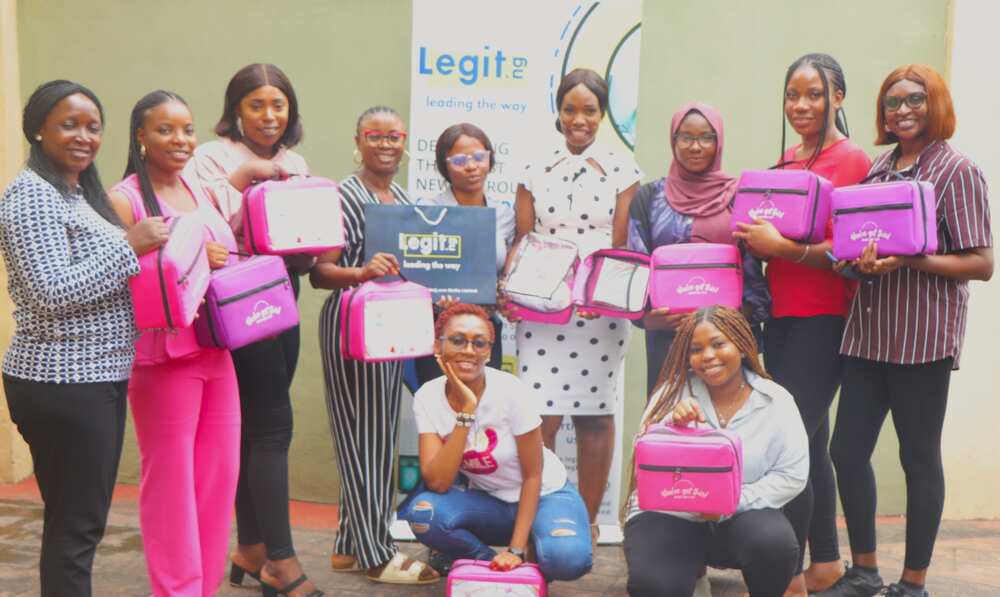 Since Legit.ng kicked off its charity initiative in 2021, the leading digital media company has gone on to call attention of individual plights to key stakeholders, as far as the corridors of the Aso rock which resulted in great change.
In 2022, Legit.ng donated to WARIF to provide proper medical attention to domestic abuse survivors. As a means of protecting the health of domestic abuse and sexual violence survivors, Legit.ng charity began an awareness campaign to provide proper medical care for women that come to WARIF center for help.
Legit.ng, through this campaign, reached a total number of 6,000,000 readers, supporting WARIF efforts to increase awareness about gender based violence and sexual abuse in Nigeria. Legit.ng also donated a sum of N432,000 to provide relief to some of the women who go to WARIF center.
Being a full digital media company, Legit.ng continues to maximise the full potential of technology and the digital world in impacting the lives of people through its large audience and readership base.
About Legit.ng
Legit.ng is Nigeria's no. 1 online and entertainment news publisher by audience,and also the world's largest news publisher on Facebook, meeting the news needs of over 10 million unique readers monthly via its website. Legit.ng's newsroom publishes various news and editorial content, including entertainment, business, politics, current affairs, and human interest stories.
About BRIDGE-D-GAP INITIATIVE
Bridge-D-Gap Initiative is a support network that actively tackles issues such as sexual reproductive health, cyberbullying, sexual violence, self-acceptance, peer pressure, child-parent conflict, substance abuse, addictions, etc. Over the years, the organisation has reached over 48,000 adolescents in schools, tertiary institutions, juvenile homes, orphanages, community gatherings, and faith-based events.
Source: Legit.ng