Indian CEOs Managing 5 Biggest Tech Companies in the World including Twitter
Parag Agrawal, an Indian immigrant, took over as Twitter CEO from the platform's founder, Jack Dorsey who resigned last week
Indian immigrant, Sundar Pichai, manages Google's parent company, Alphabet which is one of the biggest tech companies in the world
Microsoft's Satya Nadella is also an Indian; he succeeded Steve Ballmer as Microsoft's Cheif Executive Officer (CEO) in 2014
When Twitter founder, Jack Dorsey was leaving Twitter after five years, he handed the microblogging site over to Parag Agrawal, an immigrant from India. Agrawal's take over from Dorsey underscores the impact Indians are making on the global tech scene.
Who is Agrawal, the new Twitter CEO?
Until this week, Agrawal was a relatively unknown person at Twitter. He has spent over 10 years mostly as a Chief Technology Officer.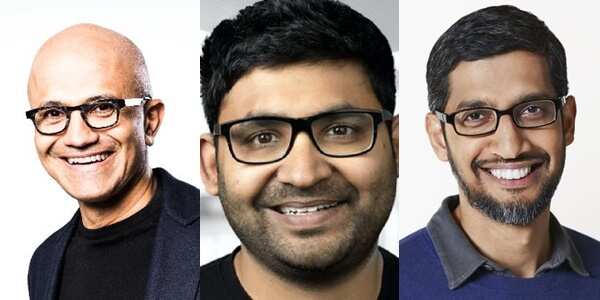 According to The Guardian, 37-year-old Agrawal came from behind the scenes to emerge as the head of one of the most used social media platforms in the world.
Do you have a groundbreaking story you would like us to publish? Please reach us through info@corp.legit.ng!
Agrawal's lack of name recognition combined with a strong technical background endeared him to the board members at Twitter who did not want to go for another celebrity CEO like Amazon founder, Jeff Bezos and Elon Musk, Tesla owner.
Google's CEO also Indian
Sundar Pichai is leading the global behemoth, Google. He moved to the United States where he studied at Stamford University and earned an M.S in material science and engineering.
Microsoft's CEO, Satya Nadella
Microsoft's Satya Nadella was born 19 August 1967 to an Indian-born American business executive. He is the executive chairman and CEO of Microsoft, succeeding Steve Ballmer in 2014 as CEO and John W. Thompson in 2021 as chairman. Before becoming CEO, he was the executive vice president of Microsoft's cloud and enterprise group, responsible for building and running the company's computing platforms.
Adobe CEO, Shantanu Narayen
A little is known about Shantanu Narayen, Adobe Systems CEO. He manages Adobe which has a market capitalisation of close to $700 million.
He grew up in Hyderabad, India and is the second son to his mother who was teaching American literature His father ran a plastics company. He attended a Public School in Hyderabad.
IBM CEO, Arvind Krishna
Arvind Krishna, an Indian-American business executive serves as the Chairman/CEO of IBM since April last year.
He began his career at IBM in 1990, at IBM's Thomas J. Watson Research Center, He was promoted to Senior Vice President in 2015, managing IBM Cloud & Cognitive Software and IBM Research divisions. He was the principal architect of the acquisition of Red Hat, the largest acquisition in the company's history.
Source: Legit.ng