"Give Away": Seven Times Femi Otedola Gave Money to Children, Schools, Churches, Others
Femi Otedola commits his wealth to helping people and organisations
The billionaire made his fortune in petrol stations, shipping, and electricity generation
Otedola's philanthropic gestures have extended to schools, communities, churches and others
Femi Otedola has a solid reputation as a successful businessman worldwide. Beyond this, his charitable work includes organisations that support children, education, and religious bodies.
The billionaire has dedicated his riches for many years to assisting people and resolving global issues.
Otedola, who amassed wealth via petrol stations, shipping, and energy production, has given tens of millions of dollars to various charities.
His wealth has been channelled along supporting public healthcare initiatives, funding the development of educational and religious facilities across the country, and paying for the medical bills of slain national heroes.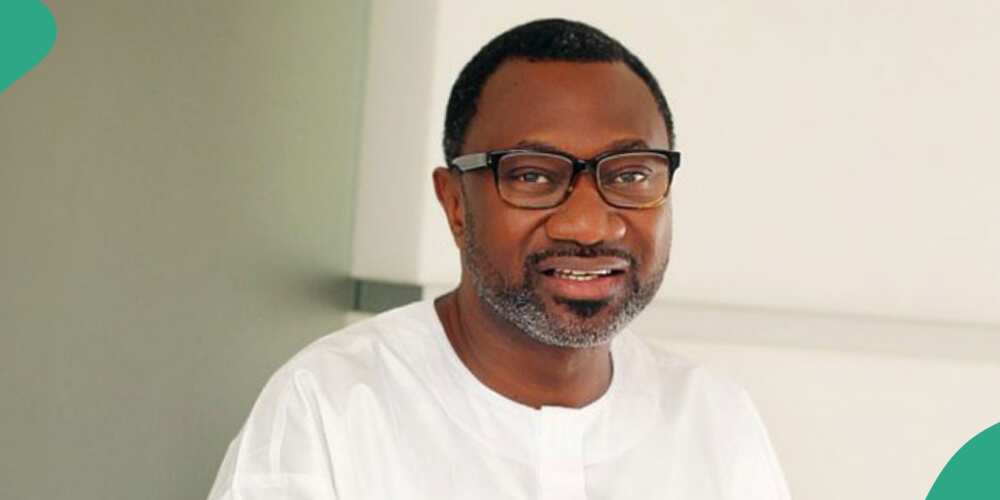 Here are the seven most significant donations from Otedola that have made waves in the media, according to Billionaire. Africa.
$14-million donation to Save the Children U.K. (2019)
In November 2019, Otedola gave NGN 5 billion (roughly $14 million at the time) to Save the Children UK. This was made through his daughter, DJ Cuppy's Foundation.
The money was used to support several intervention programmes for underprivileged children in the country's northeast. It was the most significant charitable gift ever made by a single person in Nigeria.
Donation of a $6-million building to Augustine University (2021)
Otedola donated $6 million to Augustine University in Epe, Lagos, to erect a multistory edifice as a homage to his mother, Lady Doja Otedola.
The building was later named The Lady Doja Otedola Faculty of Engineering building and is now home to one of Nigeria's best-equipped engineering departments.
In the village of Ilara, which is part of the Epe local government in Lagos State, southwest Nigeria, there is a private Catholic university called Augustine University.
$3.2-million gift to Federal University, Otuoke (2011) ¬
Otedola contributed N500 million (approximately $3.2 million at the time) towards the Federal University Otuoke's development in 2011.
The institution, which the federal government controls, is situated in Otuoke, a town in Bayelsa State's Ogbia local government area.
Under the direction of the previous president, Dr. Goodluck Jonathan, it was one of the nine new Federal Universities established by the Federal Government of Nigeria in February 2011.
$2.9-million donation to the National Ecumenical Center, Abuja (2005)
Otedola gave N375 million ($2.9 million) 2005 to finish building the National Ecumenical Centre in Abuja. Nigeria's capital, Abuja, is home to the nondenominational National Christian Centre, a Christian church structure.
Beginning in 1989, the project remained unfinished until Otedola and other well-off, charitable Nigerians donated in 2005 to secure its prompt completion.
$2.7-million donation to combat Coronavirus (2010)
At the height of the pandemic, in March 2020, Otedola gave N1 billion (about $2 million at the time) to help eradicate COVID-19 throughout Nigeria.
He sent money to the Nigerian Private Sector Coalition Against COVID-19. This group served as a clearinghouse for donations made by business people and corporations to aid in the fight against the deadly virus.
$1.5-million donation to Michael Otedola University Scholarship scheme (2005)
Otedola gave the Michael Otedola University Scholarship program N200 million ($1.5 million at the time) in 2005.
Hundreds of indigenous kids from Epe, Lagos, in southwest Nigeria, where the millionaire is from, received bursaries through the program equal to about $1,000.
$1.5-million gift to the Olusegun Obasanjo Presidential Library
The Olusegun Obasanjo Presidential Library, a repository for significant records from the administration of former President Olusegun Obasanjo, was built in 2005 with a N200 million ($1.5 million) donation from Otedola, who understood the value of preserving national heritage.
Femi Otedola's Wealth Skyrockets by Over N24bn in One Week
Legit.ng earlier reported that the billionaire experienced a substantial surge in wealth, surpassing over N24 billion.
The remarkable growth was attributed to his strategic investments in two prominent companies, First Bank and Geregu Power, where he holds the position as the highest sole individual shareholder.
According to Legit.ng's data analysis as of March 26, 2023, Femi Otedola held a total of 1,999,342,376 shares in First Bank and 2,388,922,308 shares in Geregu.
Source: Legit.ng