"Currency Abuse": Man Sent to Prison for Selling Jewellery Made From 5kobo, N1, and N2 Coins
A man in Kano has been sentenced to prison for converting Nigerian coins into jewellery for commercial purposes
The man, Ibrahim Musa Dabai, is now facing three months imprisonment or a fine of N30,000
The CBN has a strict law against currency abuse and has consistently warned Nigerians
The Economic and Financial Crimes Commission (EFCC) has successfully obtained a conviction against Ibrahim Musa Dabai in Kano state.
Dabai was found guilty of a single-count charge related to manipulating Nigerian currency.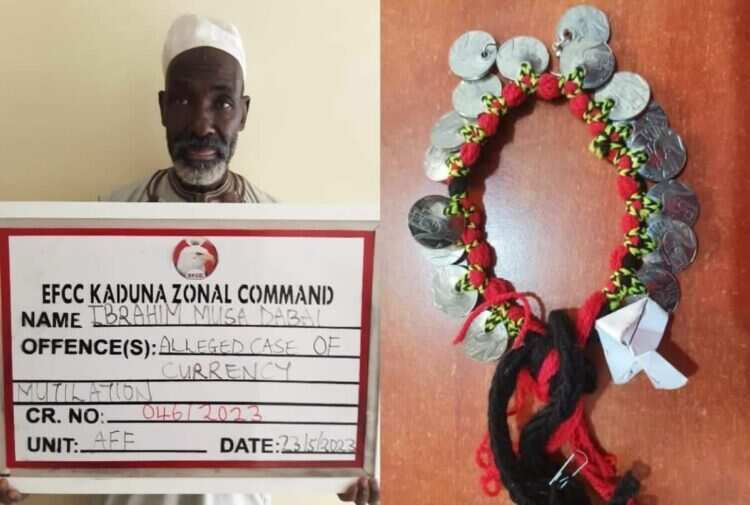 How Dabai was arrested with Nigerian currency
Leadership reports that Dabai was arrested by National Drug Law Enforcement Agency (NDLEA) officers on the Abuja-Kaduna Expressway.
PAY ATTENTION: Follow us on Instagram - get the most important news directly in your favourite app!
During one of their routine checks, the officers found a significant quantity of Nigerian coins in his possession.
When questioned, Dabai claimed that he utilised the coins for creating commercial jewellery.
Further investigations revealed that for the past 25 years, Dabai had been converting coins into different types of jewellery, such as rings, earrings, and bracelets.
Court jails Dabai for three months
Dabai was presented before Justice M.N. Yunusa of the Federal High Court in Kano, where he faced charges related to the offence.
Justice Yunusa said that Dabai actively manipulated the Nigerian currency, specifically coins issued by the Central Bank of Nigeria (CBN), by utilising them to produce jewellery for commercial purposes.
His conduct contravened Section 21 (1) of the CBN Act, 2007, and was subject to legal penalties.
CBN act reads explicitly:
"A person shall not be entitled to recover from the Bank the value of any lost, stolen, mutilated or imperfect note or coin."
Dabai pleaded guilty to the charge in defence, and the prosecution counsel, N. Salele, urged the court to convict him accordingly.
Justice Yunusa, after considering the case, pronounced Dabai guilty and sentenced him to three months of imprisonment or a fine of N30,000.
Furthermore, the mutilated currency is to be returned to the CBN for destruction in accordance with the provisions outlined in the CBN Act, 2007.
CBN removes company responsible for new naira notes from cheque printing list
In another development, the CBN has removed the NSPMC from the list of companies approved to print cheques.
NSPMC is responsible for printing Nigeria's currency, including the recently introduced N1000, N500, and N200 notes.
The updated list saw the number of authorised cheque printers significantly decrease from 14 in 2010 to only four.
Source: Legit.ng