US-Born Nigerian, Anthony Otaigbe Builds App 'Izesan! for Schools' to Help Africans Speak Native Languages
Anthony Otaigbe, a Nigerian born and raised in northern Virginia, United States, understands firsthand the challenges of learning his native language.
Having grown up far from his ancestral land, he struggled to converse in his native Esan language, spoken by the Esan tribe in southern Nigeria.
Motivated to establish a connection with his cultural roots, Otaigbe embarked on a quest to master his mother tongue.
He told Legit.ng that he reached out to his parents, uncles, and aunts, and even called his grandfather in the village to ask questions.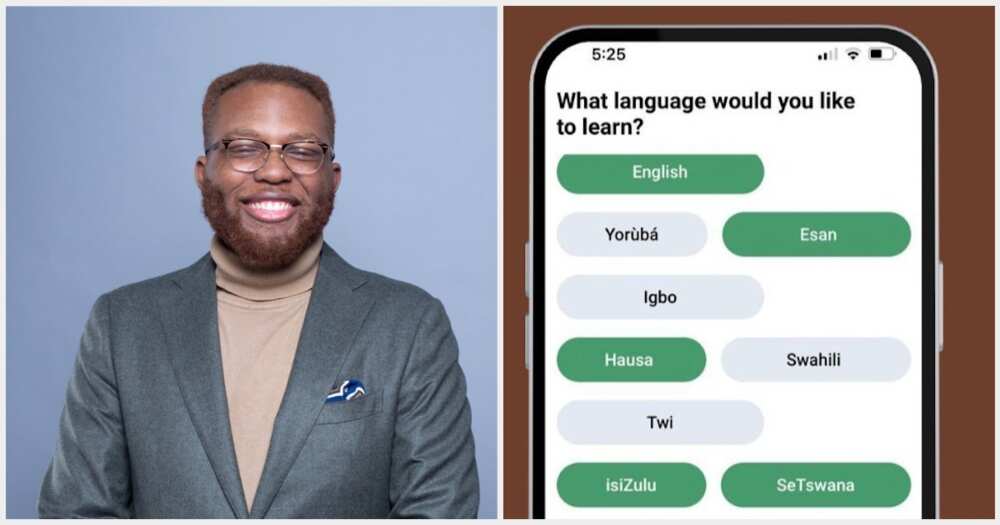 The birth of 'Izesan! for Schools' app
Inspired by his personal experience and realizing that many people prioritize English over their native languages, Otaigbe decided to find a solution that will bridge the gap.
This led him to establish Izesan Limited, a technology company headquartered in Nigeria, and the subsequent development of the 'Izesan! for Schools' app.
According to Otaigbe, the 'Izesan! for Schools' app will promote language learning and cultural preservation in Nigeria and Africa.
He added that the app is a comprehensive e-learning platform that offers interactive language-learning materials for students and powerful teaching tools for language teachers.
He said:
"By incorporating technology and innovative approaches, the app aims to address the potential erosion of culture and values resulting from the diminished focus on native languages."
Nigerian government national language policy.
In November 2022, the Federal Executive Council (FEC) approved a new national language policy.
The policy makes the mother tongue a compulsory medium of instruction for public primary school pupils.
Otaigbe expressed optimism that 'Izesan! for Schools' will play a pivotal role in achieving government objectives.
He explained:
"The app provides teachers with the necessary resources and skills to teach various subjects in Nigerian languages, aligning with the new National Language Policy mandating the use of indigenous languages as the medium of instruction.
"By equipping teachers with educational materials for subjects like civics, mathematics, computer technology, and primary school basics, the app ensures seamless implementation of the policy, fostering language learning and cultural preservation within the school environment."
"The 'Izesan! for Schools' app has garnered a significant user base, with over 20,000 individuals benefiting from its language learning resources. The app offers a comprehensive range of features, allowing teachers to create courses or classes, assign assignments and classwork, and monitor students' progress."
A confident Otaigbe also stressed that the unique interactive and engaging learning experience will not only helps students develop language skills and foster a deeper connection with their cultural heritage.
Plans for the future
Looking to the future, Otaigbe and iZesan Limited have ambitious plans for the 'Izesan! for Schools' app.
According to him, the aim is to challenge the perception that Nigerian language learning is outdated and irrelevant by taking an interdisciplinary approach to language education.
To make learning more fun Otaigbe revealed that he is developing a game and series called 'Izesanland' to make language learning more captivating and enjoyable with the app.
He stated
"By embracing technology and interactive experiences, we hope to engage and educate children, normalizing the learning of Nigerian languages and revitalizing their importance in society."
Source: Legit.ng