Arnault, Elon Musk, Bill Gates, Top Billionaires Experience Wipeout as Dangote Gains
Top billionaires across the world experienced a wealth wipeout on Monday, January 30, 2023
Bernard Arnault, Elon Musk, Jeff Bezos and Bill Gates saw their wealth crash by varying sums with Gautam Adani being the worst hit
Aliko Dangote, Africa's richest man, survived the wealth plunge and gained $8.56 million in 24 hours
It was a bloody day on Monday, January 30, 2023, for top billionaires around the world as their wealth plummeted in a global stock crash that reverberated across tech, consumer, retail and manufacturing sectors.
The top nine billionaires in the world saw their net worth decline as their stocks were dumped by investors.
The world's richest man and French billionaire, Bernard Arnault, saw his net worth drop from $190 billion to $189 billion in 24 hours.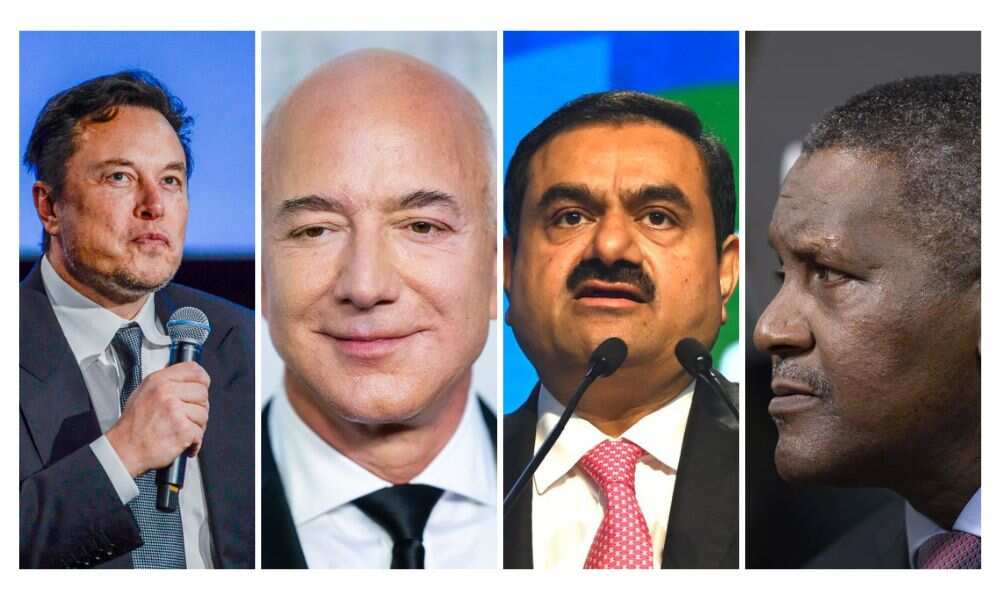 Top billionaires' wealth plunge
Tesla's CEO, Elon Musk who has seen his wealth surge by $20 billion in the past week, had $7 billion wiped off his net worth to stand at N$160 billion from $167 billion as of Friday, January 27, 2023.
While the electric carmaker, Tesla's stock dropped by about 3% cent on the stock market, having traded at 11% for most of last week.
Jeff Bezos, the Amazon CEO, lost $1 billion as the stocks of the e-commerce giant traded lower than expected on Monday, January 30, 2023.
Bill Gates who occupies the fourth rung of the ladder on Bloomberg's Billionaire Index lost about $953 million making his wealth drop to $111 billion.
Indian billionaire, Adani the worst hit
Perhaps, the worst hit was India and Asia's richest man, Gautam Adani who lost over $65 billion in a single day, sending him crashing to the 11th position on the Index.
Adani had lost his third position to Bezos in the penultimate week when he ranked fifth on the Index.
But a report by Hindenburg, a research firm and short seller dealt a further devastating blow to Adani's wealth and plunged the share price of Adani Group. This led to Gautam Adani dropping out of the top 10 richest people in the world.
According to the report, the Group's CEO pulled the world's largest con in human history.
In a 410-page rebuttal, Adani accused the firm of sabotage and threatened legal action.
Dangote survives
Meanwhile, Africa's richest man, Aliko Dangote, saw his wealth surge in 24 hours, gaining $8.56 million.
Despite falling from the 80th position to the 84th, Dangote's net worth remained at $19 billion.
This is due to investors' confidence in the share price of Dangote Cement, Africa's biggest cement manufacturer.
Elon Musk's wealth surges, makes $11 billion in two days, Dangote suffers loss
Legit.ng reported that Tesla CEO, Elon Musk's wealth surged by almost $11 billion since he started facing a civil suit over his tweet.
Bloomberg Billionaire Index reports that the SpaceX CEO's net worth surged by $10.6 billion to stand at $145.2 billion since he began testifying in court on Friday, January 20, 2023.
The latest gain is the largest two-day gain by Musk since November 2022.
Source: Legit.ng