Lagos-London Airfares Set To Become Cheaper As Air Peace, 2 Other Airlines Secure Important Licences
More Nigerian airlines have obtained licenses to operate flights between Lagos and the United Kingdom
The development will create more options for Nigerians and also competition, thereby making airfares cheaper
Over the years, Nigerian airlines have had challenges to operate international destinations successfully
Dave Ibemere has over a decade of experience covering Business and the Economy
Airfares on the Lagos-London route are expected to reduce as three Nigerian airlines are prepared to commence operation.
The Nigeria Civil Aviation Authority (NCAA) recently secured the Third Country Operator (TCO) certificate for airlines to fly to the United Kingdom and Europe.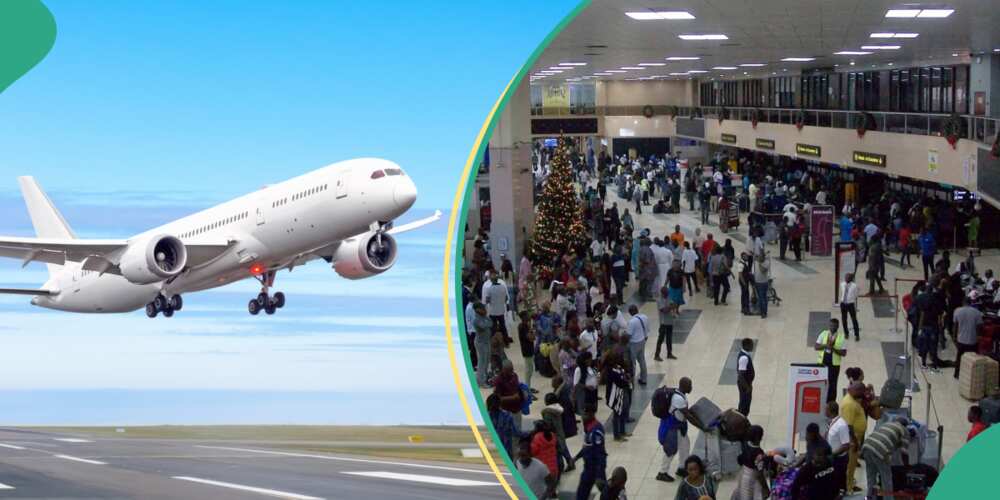 With the TCO, the airlines designated to the UK or some EU nations can apply to operate without much hassle.
PAY ATTENTION: Share your outstanding story with our editors! Please reach us through info@corp.legit.ng!
Nigerian airlines to fly to Europe, UK
Nigerian airlines that have announced approval for the operation include Air Peace, Omni Blu Airline, and United Nigeria Airlines.
Legit.ng reported recently that Air Peace disclosed that it had secured a Foreign Carrier Operator Permit, which allows airlines from other regions to fly to Europe and TCO-UK, which enables airlines to operate to the UK.
Allen Oyema, who disclosed this in a statement, said that to obtain these permits, the airline went through stringent audits to ensure that it met the high safety status, capacity and standard conditions, adding that it is now qualified to fly to the UK.
Also, United Nigeria Airlines released a statement that it has secured approval to operate international flights to the United Kingdom.
Punch reports that the airline also announced clearance for the United States of America, Netherlands, Italy, Ireland, and the United Arab Emirates.
Omni Blu Airline is another Nigerian carrier that is now certified to operate international routes.
Omni Blu Airline, another Nigerian carrier, also secured the TCO, even as United Nigeria Airlines had also been designated to fly to the UK.
Impact on airfares experts give opinion
The move by Nigerian airlines to target international routes is good news for Nigerians as it will bring competition to big players such as British Airways and Virgin Atlantic.
Aviation industry experts expect Air Peace and other local carriers to sell tickets in naira and help to reduce the 'dollarisation' of the economy, minimise pressure on the naira and earn foreign exchange for the country.
They also expect the competition to trigger a fall in airfares, which now go for as high as N2 million for the economy and above N6 million for first-clas.s
However, some stakeholders have raised concerns that just as Arik Air faced aero politics and lacked the know-how to sustain the Lagos-London route, if Air Peace and other local carriers do not deploy the right equipment and get needed support on the route, they may not be able to sustain the route when they commence flight operations.
Sindy Foster, principal managing partner at Avaero Capital Partners, said:
"It is likely over time that market forces will see competitive behaviour reducing prices on the Lagos-London route.
John Ojikutu, an industry expert and CEO of Centurion Aviation Security and Safety Consult, Nigeria, said Nigeria needs one or two national flag carriers to compete with the foreign airlines on Nigeria's Bilateral Air Service Agreements (BASA) routes.
He added:
We don't even need a national carrier but flag carriers which is more or less the global practice now. Once there is competition on the BASA routes, there would be price competition on the routes. What Air Peace must do is to make the higher classes (business/first classes) not just affordable but comfortable."
Air Peace, Dana, and other airlines announce 100% fare increase ahead of Christmas
Airlines operating local routes, including Air Peace and Dana Air, have adjusted their ticket prices, citing economic realities, Legit.ng reported.
According to the Guardian report, the airline operators blamed the rising cost of aviation fuel, which now sells for N1,000 per liter, and the naira exchange rate, currently at N1,200/$.
Domestic airlines have increased airfare by over 100% in major routes to reflect the changes.
Source: Legit.ng