Access, Zenith, GTBank, 8 Others Write Off N1.67 Trillion Non-Performing Loans
Nigerian banks have seen a spike in the amount of non-performing loans in the first half of 2023
The banking industry recorded about N1.67 trillion in non-performing loans in the period under review
Zenith Bank, Access Bank, UBA, Ecobank, and seven other commercial banks in Nigeria recorded the amount in the period under review
About 11 Nigerian banks have recorded N1.67 trillion in non-performing loans following write-offs, Global Standing Credit (GSI), and credit risk management caused by economic challenges.
The figure represents an increase of 37% from N1.22 trillion reported in the year ended December 31, 2022.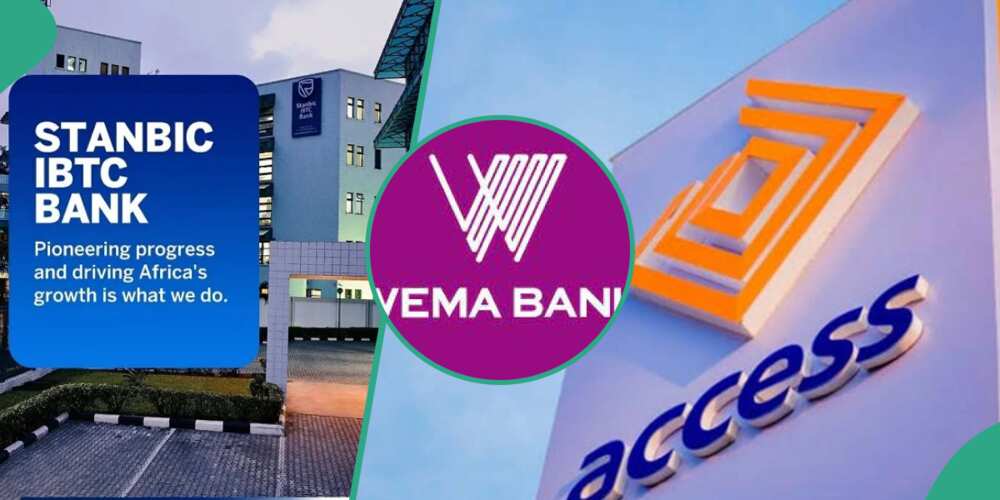 Top banks with non-performing loans in 2023
Zenith Bank, Access Bank, Guaranty Trust Bank, First Bank, Ecobank, and United Bank for Africa are the top non-performing loans for the period.
Other banks include FCMB, Wema Bank, Stanbic IBTC Holdings, Sterling Bank, and Fidelity Bank.
According to a ThisDay report, the dollar traded weaker than its highs experienced in 2022, sending volatility through worldwide markets.
Most African countries experienced currency depreciation, contributing to higher inflation and public debt figures during the period under review.
Central banks worldwide have continued to increase interest rates to either tame or manage inflation.
Checks reveal that FCMB, Wema Bank, and Ecobank recorded non-performing loans (NPLs) ratio above the regulatory 5 per cent requirement by the Central Bank of Nigeria. In contrast, GTB revealed a 4.60% NPL ratio in the first half of 2023 from the 5.19% recorded in the same period last year.
CBN records improvement in the number of banks with NPLs
CBN said that NPLs in the banking industry improved from 5.1% as of June 2022 to 4.1% in June 2023 and were below the five per cent requirement.
Ecobank recorded a 5.5% NPL ratio in the first half of 2023 from 5.20%, bringing its non-performing loans by value to N512.12 billion as of June 30, 2023, from N299.7 billion reported in 2022.
The bank's loans and customer advances were N9.31 trillion as of June 2023, a spike of 6% from N5.76 trillion in the 2022 financial year.
The bank stated that its NPLs of $612 million were one per cent lower yearly and an NPL ratio of 5.5%.
With about 4.3% NPL ratio and N5.26 trillion gross loans and advances, First Bank recorded N226.24 billion NPL in the first half of 2023 from N204.29 billion recorded in 2022.
The bank is the second-highest bank with non-performing loans after Ecobank.
Others are:
Access Bank - N218.9 billion
Zenith Bank - N209.86 billion
UBA - N154.53 billion
GTBank - N115.29 billion
CBN debits banks over shortage in CRR
Earlier, Legit.ng reported that the apex bank had debited most banks for failing to meet their required Cash Reserve Ratio (CRR) requirements in the same period.
CRR is the minimum amount commercial and merchant banks are expected to keep with the CBN from customer deposits.
It carries no interest and is not available for use by the banks in their daily transactions.
ThisDay reports that the banks' results and accounts for the period ended June 30, 2023, revealed that the 10 banks' compulsory reserve deposit with the apex bank in the 2022 financial year stood at N9.11 trillion compared with the N7.49 trillion as of June 30, 2023.
Currency outside banks spikes
The development comes amid an increase in Currency outside the banking system.
Data from the Central Bank of Nigeria (CBN) shows that Currency outside banks increased monthly by N90 billion to N2.29 trillion in August 2023 from N2.2 trillion recorded in July.
Money outside banks had risen steadily since March this year when the Supreme Court halted the implementation of CBN's demonetization policy.
The naira redesign policy of the CBN saw the withdrawal of N1.81 trillion from Currency outside the banks and crashed money in circulation to N1.4 trillion in January 2023.
Vanguard reports that banks' credit to the government increased monthly by 0.62% from N32.2 trillion in July to N32.5 trillion in August.
Access Bank, Zenith, First Bank, 6 others emerge as Nigeria's biggest banks by assets worth N90.4trn
Legit.ng reported that Nigeria houses some of the biggest banks in Africa and boasts a robust financial services sector in Africa.
These banks employ a mix of traditional and innovative banking practices to adapt to the dynamic financial environment in the country.
These leading banks have extended their services across the African continent and beyond.
Source: Legit.ng