Dangote Takes Lead as Six Nigerian Companies Shine on List of Top 100 Brands in Africa for 2023
Dangote Group, owned by Aliko Dangote, has been named the most admired brand in Africa for the sixth year
Other Nigerian companies were also selected across different categories for their different accomplishments
The survey revealed that African brands accounted for only 14 percent of the top 100 most admired brands in Africa
Dangote Group, the Nigerian conglomerate owned by Aliko Dangote, has been named the most admired African brand for the sixth consecutive year.
This is according to a survey conducted by Geopoll, Kantar, and Brand Leadership across 32 African countries.
In the survey, respondents were asked to recall an African brand specifically that appeals to them.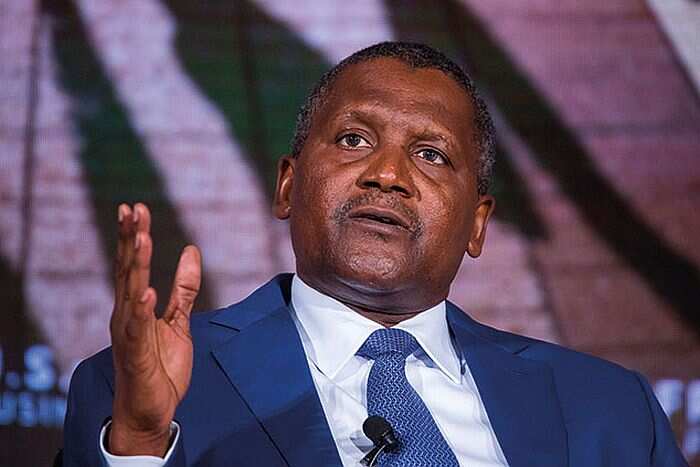 The surveyed brands were categorized into several groups, including the following: most admired African brands, African pride brands, sustainability brands, NGO brands, non-African brands, financial services brands, and media brands.
Brands on the continent.
In the ranking of Africa's most admired brands, MTN takes second place, with South Africa's Digital Satellite Television (DSTV) following closely in third position.
Recognizing brands that prioritize purpose over profit, Dangote Group secured the second position in the sustainability category, while MTN claimed the top spot.
Unicef emerged as the leading NGO, and Coca-Cola emerged as the top non-African brand.
Africa's biggest financial brands
In the specific ranking of the top 25 financial services brands, Standard Bank, Africa's oldest banking group, has secured the coveted number one position as the most admired brand in Africa.
This achievement has displaced GTBank from its previous spot.
Notably, the category is dominated by brands from South Africa and Nigeria, with each country contributing six brands, collectively accounting for 48 percent of the rankings.
Here is a breakdown of top brands by categories
Most Admired African Brands:
African Pride Brands:
Dangote
Ethiopian Airlines
MTN
Sustainability Brands:
NGO Brand:
Non-African Brand:
Financial Services Brands:
Standard Bank (most admired brand in Africa)
GTBank
Media Brands:
DSTV (most admired media brand in Africa)
BBC
Expert speaks
Thebe Ikalafeng, founder and chairman of Brand Africa, the company behind the ranking expressed concern that African brands mentioned during the survey were only 14 percent share of the top 100 most admired brands in Africa.
He said:
"It is worrisome that despite the progress made in implementing the AfCFTA and the growing sense of pride within the continent, African consumers have returned to relying on familiar, predominantly non-African brands instead of embracing African brands.
"However, this represents the current situation of brands in Africa, highlighting the critical necessity to establish trust in Made in Africa brands."
Dangote speaks on benefits of his refinery to Nigeria's economy
Meanwhile, in another report, Aliko Dangote spoke on the positive impact of his new oil refinery on Nigeria's economy.
The refinery, located in Lagos, is one of the largest in the world and is expected to be launched by President Muhammadu Buhari.
Some of the benefits expected from the refinery include export savings in manufacturing plastics and textiles.
Source: Legit.ng