"It's a Promise": Tinubu Assures Nigerians Port Harcourt Refinery Will Work, Sets Date for First Production
President Bola Tinubu has assured Nigerians that the Port Harcourt refinery would begin operation by December this year
Repair works on the refinery started in 2021, and it is being carried out by an Italian firm, Tecnimont
The Port Harcourt refinery is one of the country's three oil refineries — located in Warri, Port Harcourt, and Kaduna
President Bola Tinubu has promised that the Port Harcourt refinery will begin operations by December 2023.
Tinubu disclosed this through a statement issued by Dele Alake, the special adviser to the president on special duties, communications, and strategy, on Wednesday, August 2, 2023.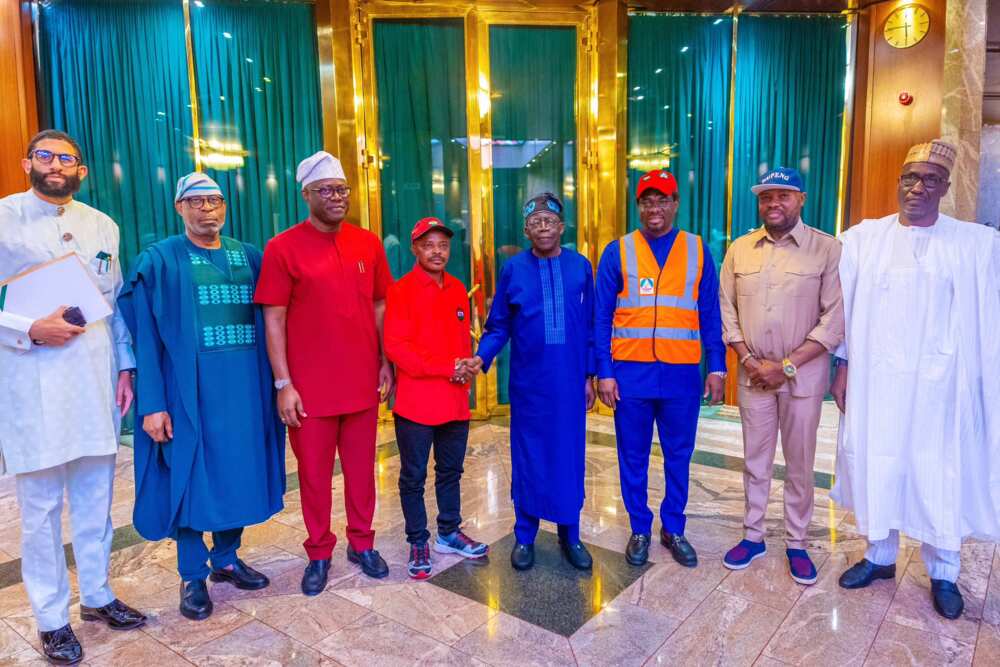 The statement noted that the president gave the assurance when he spoke at a meeting with the leadership of the Nigeria Labour Congress (NLC) led by Joe Ajaero, its president, and that of the Trade Union Congress, Festus Usifo.
Tinubu promised that production would begin after the ongoing rehabilitation contract between Nigerian National Petroleum Company (NNPC) Limited and Maire Tecnimont SpA was completed.
PAY ATTENTION: Follow us on Instagram - get the most important news directly in your favourite app!
The Port Harcourt refinery has a combination of 210,000 barrels per day, Punch reports.
Nigeria Labour Congress speaks
After the meeting, the NLC also released a statement detailing the conversation between the union and the president.
The statement read:
"It is pertinent to inform Nigerians that the extent of the success of the protest is underlined by the request of the President of the Federal Republic of Nigeria; Senator Ahmed Bola Tinub,u to meet with the leadership of the NLC and TUC in a closed-door session.
"He let out a certainty that the Port Harcourt Refinery will commence production by December this year. He pledged to ensure that agreement is reached on the wage award for Nigerian workers immediately."
Cost of repairing refineries
The ongoing repairs of the refineries were done with borrowed funds, and repayment is tied to their performance.
Checks show that the contracts for the refineries' repairs were awarded in 2021 for $2.7 billion.
The Port Harcourt refinery complex was awarded to Tecnimont SPA, an Italian firm, for $1.4 billion in March 2021.
The contract for the rehabilitation of the Kaduna refinery was awarded together with that of the Warri refinery to Messrs Saipem SPA and Saipem Contracting Limited in August 2021, amounting to $1.4 billion.
$897.6 million would be spent to repair the Warri refinery, while the Kaduna refinery would require $586.9 million.
Nigerian company breaks NNPC's monopoly, imports 27 million litres of petrol
In another development, a Nigerian company has become the first independent marketer to successfully import petrol into the country.
Over the years, the Nigerian National Petroleum Company Limited (NNPCL) has been the sole importer of petroleum products.
Since the end of the subsidy regime, the Nigerian Midstream and Downstream Petroleum Regulatory Authority (NMDPRA) has started issuing licenses to oil marketing companies.
Source: Legit.ng