From Obasanjo to Jonathan: Report Says Buhari Spent More on Petrol Subsidy in 8 Years Than 3 Presidents
President Buhari will exit office on May 2023 and leave behind huge petrol subsidy payments for his successor
Analysis reveals that his administration spent about N11 trillion on subsidy payments
Under the three presidents before him, subsidy payments amounted to N3.9 trillion
PAY ATTENTION: Сheck out news that is picked exactly for YOU ➡️ click on "Recommended for you" and enjoy!
In the next seven days, President Muhammadu Buhari will bid the presidency goodbye and take his place among past presidents whose records of achievements, analysts say, he could not scratch.
Buhari will leave behind a bloated debt profile on the neck of his successor, which many say will be the toughest legacy the Buhari administration is bequeathing to Nigerians.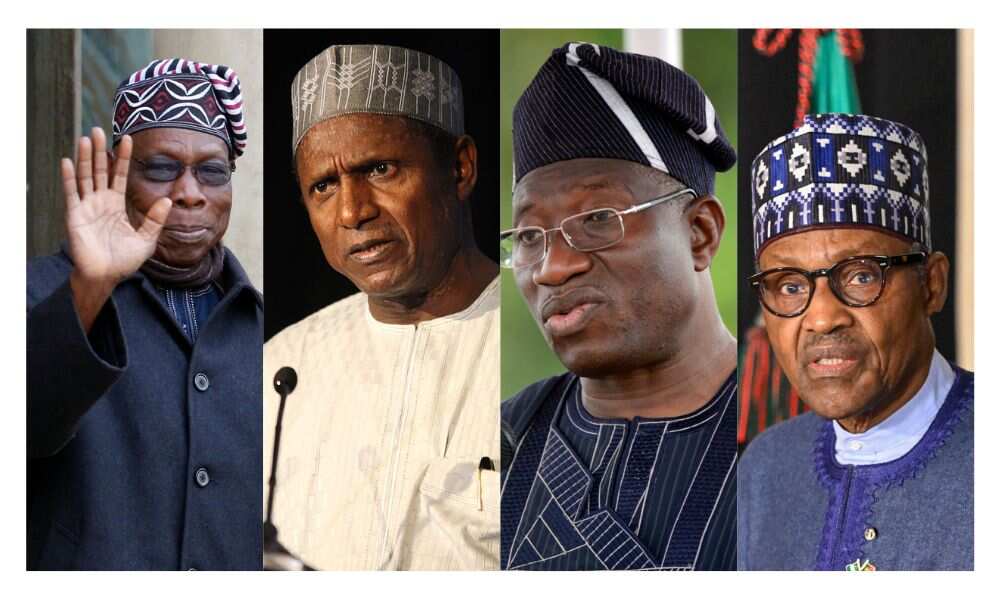 Buhari leaving petrol subsidy payments higher than he met it
Above all, Buhari will leave a legacy of humongous and controversial subsidy payments, which many say is another burden on the neck of the next administration.
PAY ATTENTION: Share your outstanding story with our editors! Please reach us through info@corp.legit.ng!
In an interview in 2011 with a Nigerian television station, Buhari, seeking to become Nigeria's next president, criticized petrol subsidy payments and called them a fraud.
Data on subsidy payments under Buhari compiled by the Nigeria Petroleum Company Limited (NNPC) and Nigeria Extractive Industries Transparency Initiative (NEITI) shows that his administration may have spent over N11 trillion subsidizing petrol.
BussinessDay reports that under former President Olusegun Obasanjo, subsidy payments were minimal and began to draw attention in 2005, causing NEITI to gather and report data.
Other data from the now-rested Petroleum Products and Pricing Regulatory Agency (PPRA) revealed that the Nigerian government spent about N8.94 trillion on petrol subsidies between 2006 and 2015.
The substantial expenditure on petrol subsidies highlights the government's commitment to ensuring affordable petrol prices for Nigerians. But it has raised doubts about the long-term sustainability and impact on the country's economy.
The Nigerian Midstream and Downstream Petroleum Regulatory Authority say Nigeria's average daily petrol consumption stood at 66 million litres in 2022.
Buhari outspends three presidents on petrol subsidy
Reports say that from 1999-2006, under Obasanjo, Nigeria spent about N812 billion on petrol subsidies.
From 2007 -2009 under President Umar Musa Yar'Adua, Nigeria spent about 794 billion on petrol subsidies.
From 2010 to 2014, petrol subsidies gulped about N3.9 trillion under President Goodluck Jonathan.
As Buhari exits Aso Rock on May 29, he would have spent about N11 trillion on petro subsidies.
From Obasanjo to Buhari: How Nigeria's Debt Ballooned 800% to N42.82 Trillion in Two Decades Read more: https://www.legit.ng/business-economy/economy/1499789-from-obasanjo-buhari-how-nigerias-debt-ballooned-800-n4282-trillion-decades/
From Obasanjo to Buhari: How Nigeria's debt Ballooned 800% to N42.82 trillion in two decades
Recall that Legit.ng reported that In the past 22 years, Nigeria's public debt has been on the increase.
Successive governments have embarked on a borrowing jamboree despite Nigeria securing debt relief under President Olusegun Obasanjo. Nigeria's public debt has soared more than 800 per cent to N42.82 trillion in 2022.
The International Monetary Fund (IMF) and the World Bank have been sounding the alarm at Nigeria's ballooning debt profile amid poor revenue, saying the country's huge appetite for borrowing is a time bomb.
Source: Legit.ng