NNPCL Takes Over OML 18 Oil Field, Sacks Eroton To Protect Investments
The Nigerian National Petroleum Company (NNPC) Limited has taken over OML 18 oil field over Eroton's failure to meet targets
Eroton Exploration and Production Limited has been the operator of the oil field located in Port Harcourt for nine years
OML 18 failed to produce enough crude oil in recent years, rendering assets and investments redundant
The Nigerian National Petroleum Corporation (NNPC) Limited has taken over the oil mining lease (OML) 18 from the former operator, Eroton Exploration and Production Ltd.
NNPC Eighteen Operating Limited, a subsidiary of NNPC Limited, will now operate the oil field.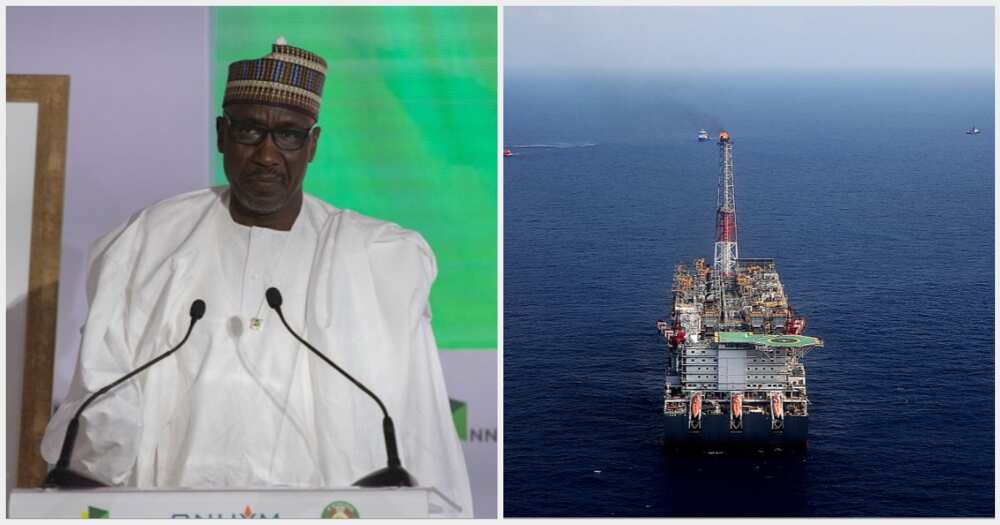 The change was announced by Garba Muhammad, NNPC spokesperson, in a statement, Punch reports.
According to NNPC, the change is aimed at curtailing further degradation of the asset and revamping the production of oil and gas.
Before the takeover, Eroton and NNPC owned stakes in OML 18 as a joint venture, with Eroton operating the oilfield.
Part of the NNPC statement reads:
"To protect the joint venture (JV) investment in OML 18, the non-operating partners, NNPC Limited (55 percent interest) and OML 18 Energy Limited ("OML 18 Energy" – 16.20 percent interest), jointly owning 71.20 percent equity, removed Eroton as operator of the JV in line with the provisions of the joint operating agreement (JOA).
NNPC Limited and OML 18 Energy further appointed NNPC Eighteen Operating Limited as operator of the JV."
NNPC gives reasons for sacking Eroton
Eroton became NNPC's partner in the OML18 JV and was designated as the Operator in 2014, but has been unable to execute the crude Oil Evacuation Process.
NNPC explained that in the two years, the oilfield has not been producing.
It explained:
"Although the key business reasons for the change in operatorship are compelling, it is public knowledge that production has dropped from 30,000 bpd to zero.
"Eroton's continued inability to satisfy the Federal Government's fiscal commitments resulted in the Federal Inland Revenue Service (FIRS) sealing Eroton's head office in Lagos for more than twelve months owing to non-payment of overdue taxes to the Government."
Where is OML 18 located
OML 18 is an oil-producing block covering 1,035 square kilometres located south of Port Harcourt and contains 11 oil and gas fields with about 714 Million Stock Tank Barrels (MMSTB) of oil and condensate and 4.7 trillion cubic feet (tf) of natural gas reserves.
NNPC, NMDPRA speak on staff recruitment exercise reports, warn Nigerians
Meanwhile, in another report, the Nigerian National Petroleum Corporation has said reports that it is recruiting are fake and should be ignored by Nigerians
The national oil company revealed that announcement of any recruitment would be made through the right channels
Similarly, the NMDPRA has also issued a warning to Nigerians that there is no ongoing recruitment reported
Source: Legit.ng