Petrol Price in Nigeria Jumps by 54% as Southern States Pay More Than Northern States
The National Bureau of Statistics (NBS) has reported that Nigerians bought petrol at higher prices
The report by NBS says that in January 2023, petrol sold above the N185 approved price
In most southern states and zones, petrol sold for as high as N300 per litre but was cheaper in northern states
The National Bureau of Statistics (NBS) has revealed that Nigerians paid an average of N206 per litre of fuel in January 2023.
NBS stated this in its latest PMS Price Watch Report published on its website and obtained by Legit.ng on Tuesday, 21 February 2023.
According to the report, the amount Nigerians paid in January 2023 is a 54.52% increase compared to the value recorded in January 2022 (N166.40).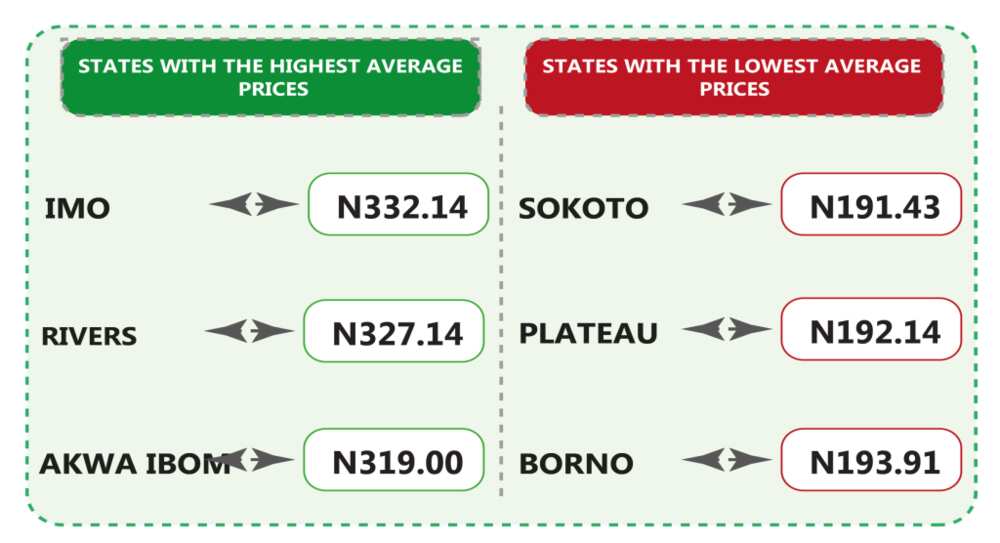 Also, the average price for fuel paid by Nigerians in January 2023 is a 24.7% increase compared to N206.19 paid in December 2022.
State-to-state breakdown of fuel price
According to Punch, residents of  Imo State paid the highest average retail price for fuel at N332.14 per litre, followed by Rivers at N327.14 and Akwa Ibom at N319.00.
While the average retail price in Sokoto was N191.43 per litre, the lowest in the state. Plateau state inhabitants paid N192.14, while Borno residents paid N193.91.
Breakdown of fuel price by zones
The report also showed that the South East region of the country recorded the highest average retail price for Premium Motor Spirit (PMS) in January 2023, while the North Central had the lowest.
North Central- N217.15
North East - N232.33
North West- N256.10
South East-N307.85
South-South -N 293.76
South West- N250.80
PoS operator, 5 petrol station managers arrested in Kano
In another report, about five petrol station managers allegedly selling petrol above government-regulated price have been arrested by Kano State Public Complaints and Anti-Corruption Commission.
The Acting Chairman of the Commission, Balarabe Mahmoud, stated this at a press briefing on Wednesday, February 15, 2023
Mahmoud said that the Commission got complaints from members of the public regarding the issue of new naira notes.
Source: Legit.ng