After Over a Month Aiteo Finally Shuts Leaking Oil Well In Nembe, Bayelsa Community Give God the Glory
Residents of Nembe community, in Bayelsa, can finally have a cause to rejoice as an oil spill that threatened to undermine their economic life have been stopped
In a late statement on Wednesday, December 8th, the oil company involved, Aiteo Eastern Exploration, announced the achievement
Experts from local and international firms worked together to help stop the spills, which began in early November
The Aiteo Eastern Exploration and Production Company on Wednesday announced it has succeeded in shutting down the leak on its wellhead in Nembe, Bayelsa state.
This is over a month since the company had reported a hydrocarbon wellhead leak on its facility to the Nigerian authorities.
The leak was first reported on Friday, November 5, 2021, while residents in several reports said it started three days earlier.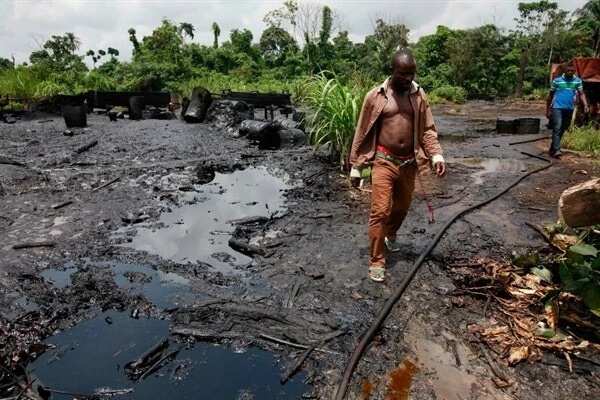 The spokesman for Aiteo Group, Mathew Ndianabasi, confirmed the development in a statement made available to Legit.ng noting the leak had been plugged.
Aiteo acquired the oilwell in 2015, but the facility have been mostly dormant isolated since then before the leak.
Several efforts were taken by the oil company to stop the leak which include the mobilisation of the Clean Nigeria Associates (CNA) and other companies.
The services of United States well-control firm, Boots and Coots, a Halliburton Company was also called in.
The statement from the company reads:
"To the glory of God, we have put out the leak at SBAS-1. We are grateful for all the support. We have successfully installed control packages on both arms.
" On the long string, there's a rigged up pump that opens the ball valve. We've also turned down the well flow and closed the control packages. Currently, the crew is prepared to inject 'death fluid' into the lengthy string. It's worth noting that the short string has already been murdered and killed with no pressure."
On the next number of steps, the indigenous oil firm said it will:
"Complete pumping of kill fluid into the long string (LS). Achieve zero psi on surface and rig down pump as well as rig up wireline."
In addition, it stated that another step was being taken to drift both 'tubings' and run in hole to install isolation plugs and non-return valves.
The statement also noted that
"it will do a thorough servicing on the wellhead , install new devices and secure the well. Following that, we'll clean up the wellhead platform and its environs."
Top international oil companies ignore Nigeria
Meanwhile, Legit.ng had earlier reported that Nigeria is facing strong opposition from Libya for oil investments.
According to the report, top oil companies recently expressed their desire to invest in Libya, barely months after the country ended its decade-long conflict.
Some international oil companies left in Nigeria are in fact leaving due to an increase in bunkering and vandalism of oil facilities.
Source: Legit.ng