Bayelsa Oil Spill Pollution Crosses Over a Month as Residents Fear for Their Future, Oil Company Offers Hope
Efforts to stop a leaking wellhead in Nembe community, in Bayelsa, have received a boost with the deployment of heavy equipment but fears remain
The wellhead blew up in the Santa Barbara South field in Nembe, blasting water, gas, and oil in the community
There are concerns if the high volume of crude oil being spilled continues it would spread to many more communities and undermine the economic life of residents
For residents of Nembe local government areas of Bayelsa state, the future is one with so much uncertainty following the pollution of their farmlands and rivers by an oil spillage from the explosion of a wellhead belonging to the Aiteo Eastern Exploration and Production Company(AEEPCO).
The spillage which began on Friday, November 5, 2021, is regarded as one of the biggest in recent times and the effect could continue for years.
However, according to ThisDay, AEEPCO is optimistic that the leaking wellhead at the Santa Barbara South field in Nembe, Bayelsa state, would be controlled within the next few days.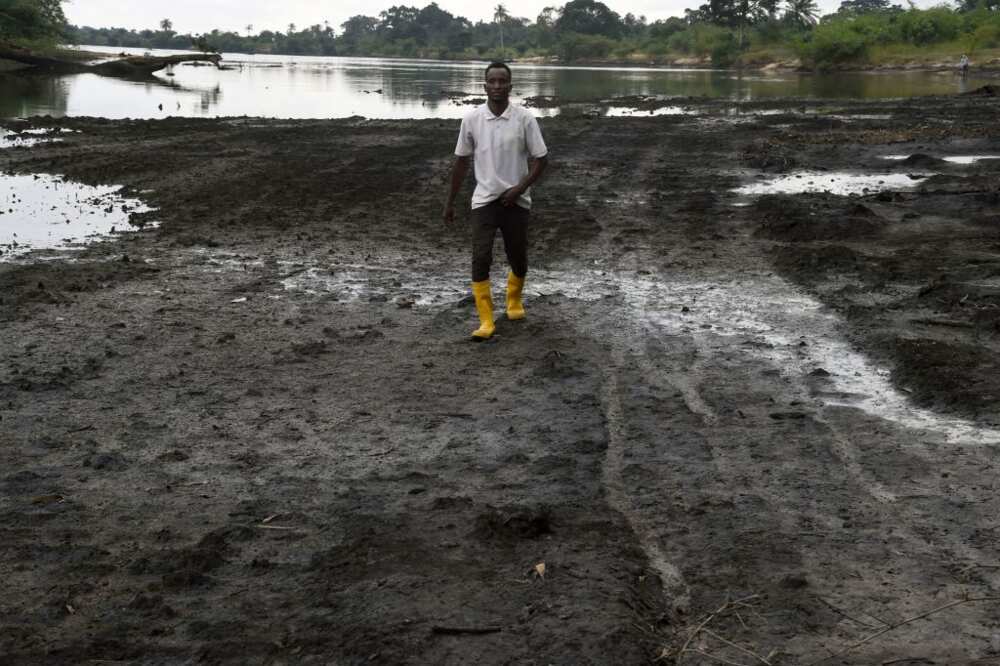 The independent oil company was also quoted by The Guardian as claiming that the wellhead, which blew out last month and has been pouring large amounts of oil, was being injected with chemicals that will prevent further leakage in one or two days.
Aiteo's Global Group Director/Coordinator, Mr Andrew Oru explained that the spill was a special type – a gas blowout – which involved 80% gas and 20% oil.
Oru said:
"The oil spillage was minimal as it was effectively contained both by what was known as the booms, adding that, that was contrary to the impression that the entire environment had been seriously polluted."
Oru also added:
""I can tell you authoritatively that the pressure in the well has already been significantly reduced, since all of the chemicals required to manage the pressure are being pumped in continually, and the pressure has begun to fall. This spill is one of a kind. It's more than an oil leak; it's a gas blast for whatever cause."
"It's more than an oil leak; it's a gas blast for whatever cause. It can be contained in two steps. The first step is to put a halt to the gas leak. The second option is to destroy the well. It is the gas leakage that causes and allows certain oil droplets to escape with the gas.
He however promised that in one or two days the leakages will be stopped.
Top international oil companies ignore Nigeria
Meanwhile, Legit.ng had earlier reported that Nigeria is facing strong opposition from Libya for oil investments.
According to the report, top oil companies recently expressed their desire to invest in Libya, barely months after the country ended its decade-long conflict.
Some international oil companies left in Nigeria are in fact leaving due to an increase in bunkering and vandalism of oil facilities.
Source: Legit.ng