Naira Loses More Buying Power Again as Inflation Rate Surges to 22.2%, 3 states Worst-Hit
Nigeria's inflation has once again increased throwing Nigerian into more economic challenges
Bayelsa state was the worst- hit, while residents of Sokoto were the least affected
The rising inflationary pressure indicates a worsening erosion of Nigerians' purchasing power
The National Bureau of Statistics on Monday, 15 May 2023 revealed that Nigeria's inflation rate which measures the changes in prices of goods and services as once again increased.
According to NBS in its latest Commodity Price Index report noted that Nigeria's inflation rate increased to 22.22 per cent in April from the 22.04 per cent recorded in March.
This is the fourth consecutive month Nigeria's inflation has increased in 2023, Punch reports.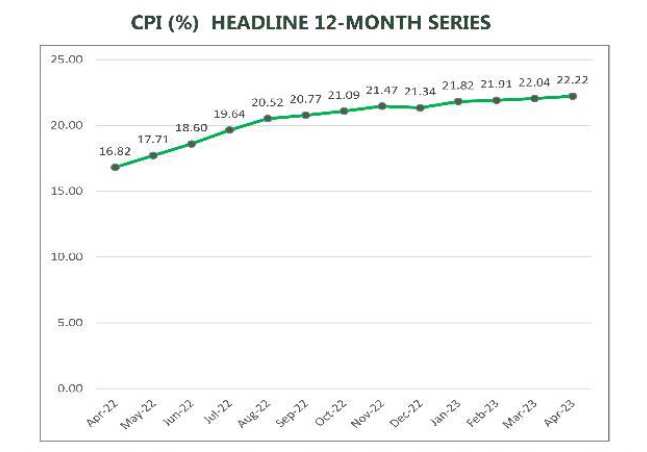 Why Nigeria's inflation increase in April
The increase in inflation figures is riding on the backs of the new naira note scarcity and uncertainties relating to the presidential election.
PAY ATTENTION: Share your outstanding story with our editors! Please reach us through info@corp.legit.ng!
Other details of the NBS inflation report
The NBS also disclosed that the food inflation rate, a significant factor in determining how difficult life is for Nigerians, climbed to 24.61% year-on-year in April 2023.
This represents a 6.24% points higher compared to the rate recorded in April 2022 (18.37%) and 24.35% recorded in the previous month.
The rise in food inflation on a year-on-year basis was caused by increases in prices of Oil and fat, Bread and cereals, Fish, Potatoes, Yam and other tubers, Fruits, Meat, Vegetable, and Spirits.
Breakdown of states' inflation figures
During the month under review, all items inflation rate (on a year-on-year basis) was highest in Bayelsa (26.14%), Kogi (25.57%), and Rivers (24.95%).
On the flip side, Borno (19.06%), Taraba (19.64%) and Sokoto (19.90%) recorded the slowest rise in headline inflation on a year-on-year basis.
On a month-on-month basis, however, April 2023 recorded the highest increases in Cross River (3.05%), Bayelsa (2.92%), Rivers (2.62%), while Katsina (0.52%), Jigawa (0.74%) and Osun (0.96%) recorded the slowest rise on.
Food inflation states breadown
In terms of food inflation on a year-on-year basis, it was highest in Kogi (29.50%), Kwara (29.48%), and Bayelsa (29.38%), while Sokoto (19.55%), Taraba (20.20%) and Jigawa (20.68%) recorded the slowest rise.
Private Sector Begs Buhari as FG Announces New Taxes
Meanwhile, in another report, Legit.ng revealed that Private sector players have requested the federal government suspend the implementation of new taxes.
They warned that the proposed taxes could lead to increased unemployment, smuggling, and decreased purchasing power of Nigerians.
The group suggests that the government should instead seek fiscal reforms and reduce wastage.
Source: Legit.ng