Nigeria's Public Debt Rises to N46.25 trillion, Lagos Leads List of 10 Most Indebted States
The Debt Management Office has announced that Nigeria's debt profile has increased to over N46trn
The arrears consists of domestic and external debt stocks of the Federal Government, 36 state governments, and the Federal Capital Territory
Lagos State is the most indebted state in Nigeria, with a total debt of N807.20bn, followed by Delta State
The Debt Management Office has revealed that Nigeria's total public debt stock was N46.25 trillion as of the end of December 2022.
This is a 14.46% increase compared to N39.56 trillion (95.77 billion USD) recorded on December 31, 2021.
The DMO made this public in a statement issued on Thursday, March 30, 2023, published on its website.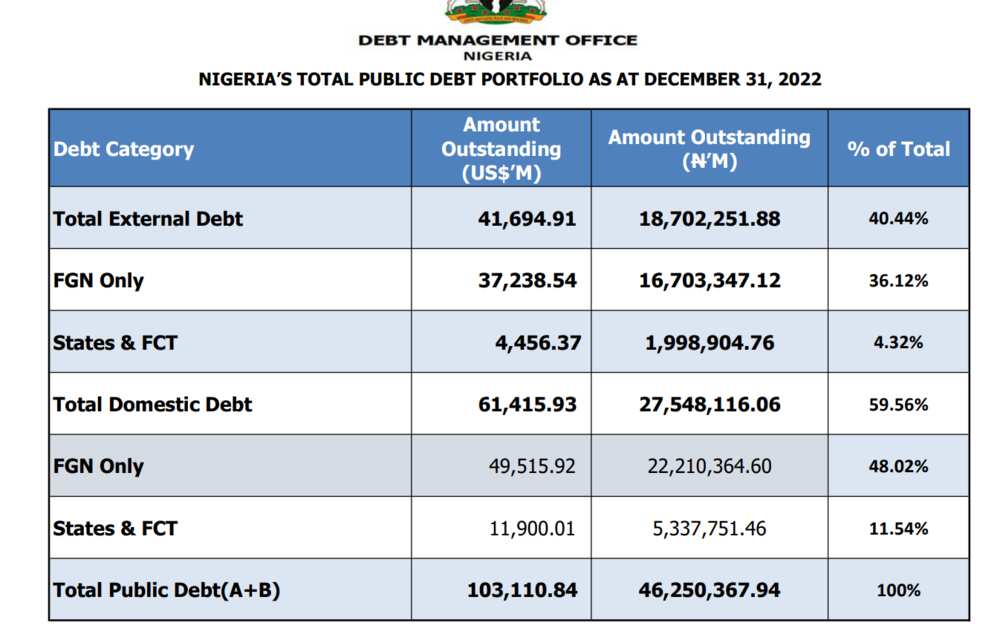 According to DMO, the total debt consisted of domestic and external debt stocks of the Federal Government, 36 state governments and the Federal Capital Territory.
The statement also added that in terms of composition, the total domestic debt stock was N27.55 trillion (61.42 billion USD), while the entire external debt stock was N18.70 trillion (USD 41.69 billion).
Amongst the reasons for the increase in the total public debt stock were new borrowings by the FGN and sub-national governments, primarily to fund Budget Deficits and execute projects.
Part of the statement reads:
"The issuance of Promissory Notes by the FGN to settle some liabilities also contributed to the growth in the Debt Stock.
"On-going efforts by the Government to increase revenues from oil and non-oil sources through initiatives such as the Finance Acts and the Strategic Revenue Mobilization initiative are expected to support debt sustainability."
The DMO also revealed that the total public debt to Gross Domestic Product (GDP) ratio for December 31, 2022, was 23.20%, which indicates a slight increase from the figure for December 31, 2022, at 22.47%.
It stated:
"The ratio of 23.20 percent is within the 40 percent limit self-imposed by Nigeria, the 55 percent limit recommended by the World Bank/International Monetary Fund, and the 70 percent limit recommended by the Economic Community of West African States,"
Top 10 states with the highest debts as of December 2022
Lagos- N807.20bn
Delta- N304.24bn
Ogun- N270.45bn
Rivers- N225.50bn
Akwa Ibom- N219.26bn
Imo- N204.22bn
Cross River- N197.21bn
Oyo- N161.18bn
Plateau - N149.01bn
Osun- N148.36bn
China rejects Nigeria's $22bn loan request, lawmakers approve counteroffer
Meanwhile, in another report, the Chinese Development Bank has rejected the Federal Government's request for a $22 billion loan
This prompted the House of Representatives to approve a counter-request for another loan
DMO data shows that the total debt Nigeria owes to China through the Exim Bank of China stands at $4.1 billion
Source: Legit.ng