US capital sputters as federal workers stay home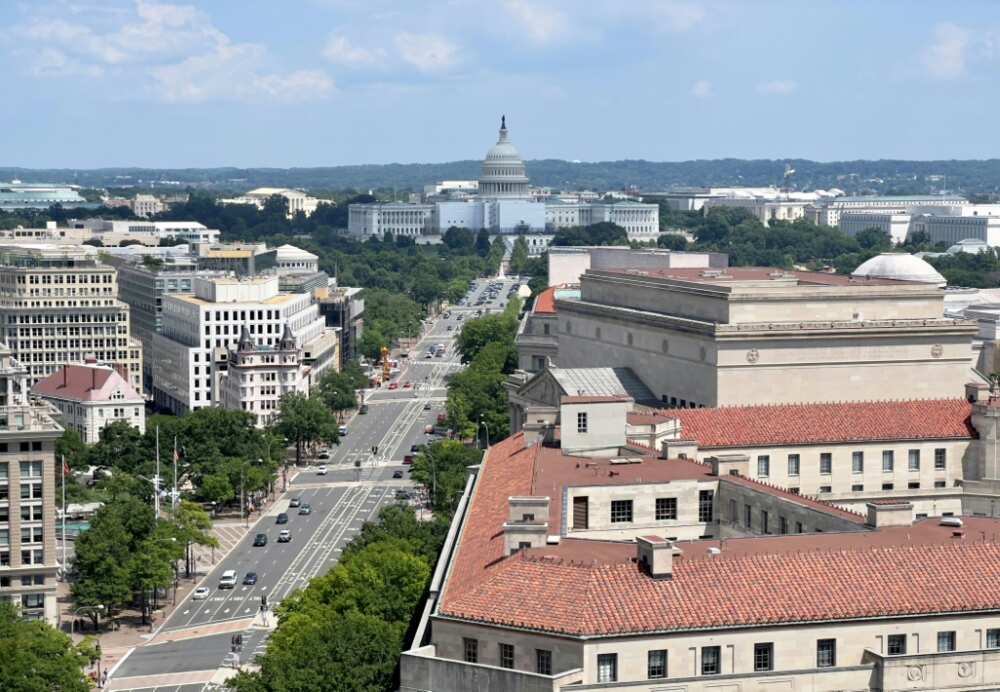 Washington's role as the US capital makes it reliant on government workers for its economic success -- and many are choosing to stay home, perhaps for good, leaving vast federal offices empty and the city struggling.
From restaurants hosting federal lobbyists to world-class cultural centers, the city's fortunes have long been tied to the government employees who operate the machinery of the state.
Now, more than three years after the Covid-19 pandemic forced the United States government to rely on telework, long-term remote work is having painful consequences for the local economy.
Washington's workers are coming into the office less than half what they were before the pandemic, according to Kastle, which manages entry badges for 40,000 companies across the country.
"The DC office market is dying," Chris LeBarton, director of market analytics at the real estate data company CoStar told AFP in an interview at the company's offices downtown.
"If you can't get the federal government back to Washington, DC, even at three days a week, good luck," he said.
PAY ATTENTION: Share your outstanding story with our editors! Please reach us through info@corp.legit.ng!
"Because the rest of this, largely, is offshoots of that," he added, waving at the city around him.
'Economic engine' falters
While many federal employees relish working from home, the impact on the city's commercial real estate sector -- also hit by a toxic combination of high interest rates and tighter bank lending -- has been severe.
The federal government occupies almost a quarter of commercial property in the downtown area, historically the "economic engine" of the city, the Office of the Deputy Mayor for Planning and Economic Development (DMPED) told AFP by email.
"Sustained remote work following the COVID-19 pandemic has translated into lower office utilization and Downtown commercial vacancy rates at record highs," of close to 18 percent, DMPED said in a statement. This is almost double the vacancy figure from 2018.
The city is forecast to lose close to half a billion dollars in revenue over the next three years due to "declines in property tax revenue from large office buildings, driven by enduring remote and hybrid work," according to an estimate from the office of Washington's chief financial officer, Glen Lee.
The city's newly-reelected Democratic Mayor, Muriel Bowser, has urged the White House to take "decisive action" to either bring federal workers back to their desks, or allow other businesses to make use of the office space the government currently uses.
In April, the White House's Office for Management and Budget called on federal agencies to substantially increase in-person work at federal offices while "still using flexible operational policies as an important tool in talent recruitment and retention."
But many federal workers argue that telework gives them an opportunity to support the neighborhoods where they live.
"It's not like I'm not getting lunch or spending money in my own community, I'm just not doing it in downtown DC," said Angela, 45, who goes to the office for her government job in the city just once or twice a month.
'Telework is a godsend'
Jason, who is also 45, still loves his job as a senior manager at a US federal government agency in downtown Washington, but he doesn't love the idea of going back to the office full-time.
"My people are happy, my boss is happy, my boss's boss is happy, and I'm happy," he told AFP.
Jason, who like Angela requested anonymity to discuss his work, works from home for four days a week -- a privilege also enjoyed by the small team he manages.
"For me, telework is a godsend," he said, adding that the quality of work has improved since his staff were forced to telework during the pandemic.
"I think people have spoken -- very loudly -- that they like telework, and they'd like to continue to the maximum extent possible," said Jacqueline Simon, policy director at the American Federal of Government Employees (AFGE), the largest union representing federal and local government workers.
"The obligation of federal employees is to carry out the mission of their agency and serve the American public, not to patronize restaurants in downtown DC," she told AFP.
Source: AFP