New OPC group storms Ogun to face militants
- At about 5000 members of the Reformed Oodua People's Congress stormed the Imushin community in Ogun State, to confront suspected militants in the area
- The President of the OPC group, Dare Adesope, said their presence in the community was to assure residents of their security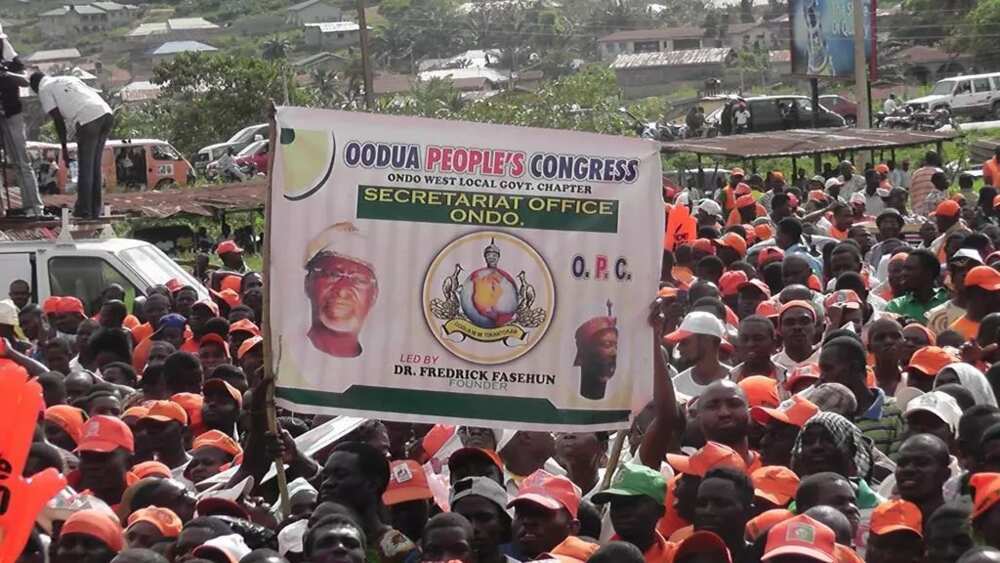 At about 5000 members of the Reformed Oodua People's Congress stormed the Imushin community in Ogun State, to confront suspected militants in the area, Punch is reporting.
According to the report, the OPC members, which did not carry any weapon, were only armed with charms, which they claimed had powers arrived the town from Lagos and Ogun states.
READ ALSO: Danger! UN reveals shocking evidence of how north, Niger Delta is ruining Nigeria
A palace source who was quoted said, "They were over 5,000 and they filled the whole community. They carried all kinds of charms and a few of them even carried placards, protesting militant's invasion of the South-West.
"They said they were ready to enter into the creeks to face the militants and kill them and all they needed was the permission of the traditional ruler. Some of them said they could transform to snakes and lions, once they get into the creeks.
"The traditional ruler, after thanking them for their concern, asked them to leave because he had not received authority from higher authorities to allow them fight the militants. He urged them to get approval from the government before doing anything in the community."
On his part, the President of the OPC group, Dare Adesope, said their presence in the community was to assure residents of their security.
"On July 19, we issued a 14-day ultimatum to the militants to end their activities in the South-West and we said if they didn't leave, we will challenge them and defend our people. That ultimatum elapsed yesterday (Monday).
"The recent military action against the militants might have been influenced by our ultimatum, because prior to the release, the Federal Government didn't do anything.
READ ALSO: The REAL reason there is an on-going military operation in Bayelsa – Army
"We decided to go to the community in 107 buses and some cars, to show that the Reformed OPC is still on the ground and our aim is to protect the lives and property of everyone that is residing within our area of jurisdiction.
"Our silence all this while is not an act of cowardice. It is because we believe in dialogue before action. It is wrong for anyone to be kidnapping, raping, robbing and killing our people. We say no to that and we don't want anything like that again in Yoruba land. After today, if we hear anything again in the area, we know what to do."
Source: Legit.ng