Kanu speaks from prison, sends message to Buhari
- Nnamdi Kanu reacts to the reports that government may free him if he denounces Biafra
- IPOB leader, who is in detention, claims that it is Biafra or death
- However, the group declares support for Niger Delta militant groups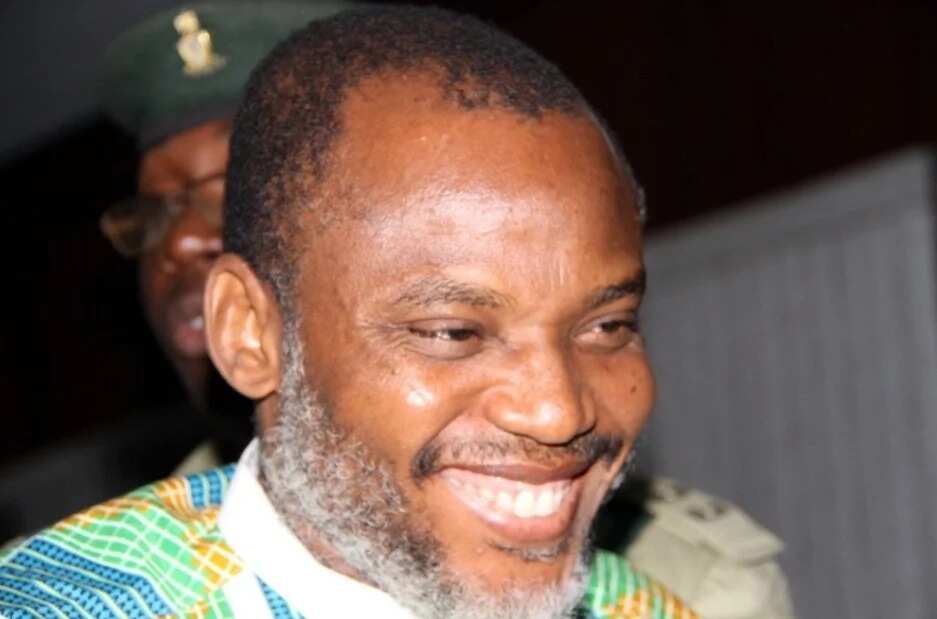 The leader of the Indigenous People of Biafra (IPOB) Nnamdi Kanu, who is currently in detention of the DSS, has reacted to the report about the negotiation of his release reportedly going on between the federal government and Movement for the Emancipation of the Niger Delta (MEND).
MEND has claimed on July 31 that it reached an agreement with the federal government to end the attacks in the Niger Delta region.
The group said that according to the deal the government may free Nnamdi Kanu and many other activists if they renounce Biafra.
READ ALSO: Nnamdi Kanu cannot renounce Biafra - MASSOB
However, in a response the Movement for the Actualization of the Sovereign State of Biafra says that Mr Kanu cannot renounce his group's demand for an independent state of Biafra.
IPOB in the latest statement said that the report is fake and its leader maintains it is either Biafra or death.
The statement reads in part:
"For the avoidance of doubt, Nnamdi Kanu never consented to any agreement nor did he at any time meet with MEND and their "Achitophel Team (Not Aaron)." It is understandable that MEND and their Ahithophel Team are scavenging for relevance from their moribund status but they should not use the sacred name of IPOB or its leader as a means of survival. MEND and their Ahithophel Team can conveniently carry out their "Operation Absalom (Not Moses)" without dragging the name of IPOB and Nnamdi Kanu into those shenanigans.
"On the other hand, IPOB and their leader Mazi Nnamdi Kanu are in full support of any group of dedicated and hardcore freedom fighters such as the Niger Delta Avengers (NDA). We have stated unequivocally and without any fear of contradiction that we are fully in support of the NDA as they embark on freeing themselves from the British criminality called Nigeria, a contraption led by a man who committed treason on December 31, 1983."
READ ALSO: MEND claims deal with government on Niger Delta (DETAILS)
"The restoration of the nation of Biafra is not subject to negotiation. If there should be any form of negotiation at all, it must be centered on asset sharing between Nigeria and Biafra and on the payment of reparations for money stolen from Biafrans by Nigeria through the 1970 twenty pounds deal and other subsequent acts of thievery by Nigeria against Biafrans. We want to make it categorically clear that MEND and their Achitophel Team are strictly on their own and do not in any way, shape or form represent IPOB or the leader of IPOB, Mazi Nnamdi Kanu. When we say "Biafra or Death", we meant every syllable of that phrase."
Watch Legit.ng exclusive video:
Source: Legit