Unilorin dropout Abdulahi Olatoyan offered a job as a model
Just like the fortune of Olajumoke the 'bread seller' changed after a picture of her went viral on social media, this young man is about to experience something similar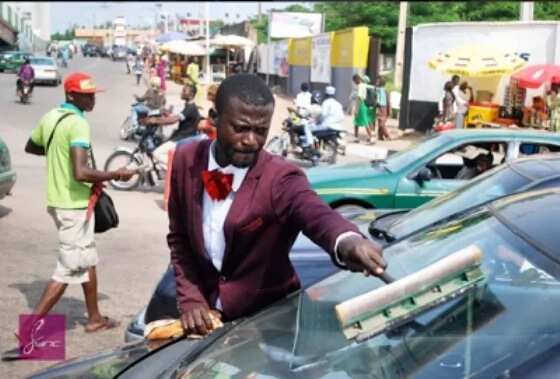 Following the death of his father, Unilorin undergraduate Abdulahi Olatoyan dropped out of school due to lack of funds. Deciding not to wallow in self-pity, the young man took to the streets and picked up windscreen cleaning as a means of survival.
What caught the attention of photographer Daniel Sync, was the 'unique' way he went about his job. Olatoyan dressed up in suits to tackle his job, and that differentiated him from all the others.
PAY ATTENTION: Get the latest gossips on Naij Gossip App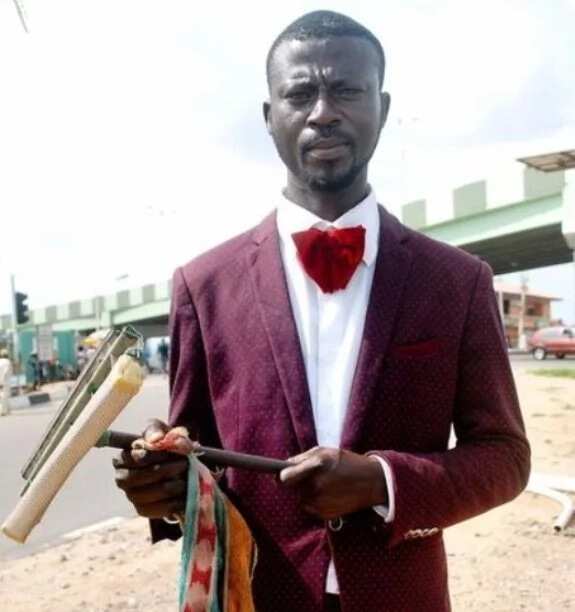 Following the virality of his pictures on social media, just like Olajumoke Orisaguna (the bread-seller-turned-model) Olatoyan has now caught the attention of top Nigerian designer, Uche Nnaji (OUCH).
Uche Nnaji took to his Instagram page to announce his interest in Olatoyan. Read what he wrote below:
"Pls TAG him or send us his number we have a JOB waiting for him at OUCH: ?. I WOKE up to see this image and wondering...How can a young-man make an effort to DRESS this way to CLEAN car windshield in TRAFFIC and be LEFT to continue with this? ..God Forbid Bad Thing .
7 Reasons why this Man deserves a JOB at OUCH...
1: He made an effort to DRESS better than his present SITUATION shows/tells me that this is a Man with a VISION who needs a PUSH.
2: He could have decided to DRESS in a T-shirt and Jeans like others in the same TRADE,but HEY! He won't have stood out and be noticed ...#SellYourSelf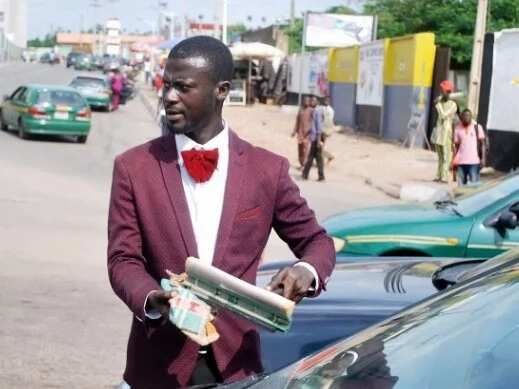 3: He could have STAYED at home living in self delusion that he is better than this kind of JOB.
4: He saw a NEED and DECIDED to provide a SOLUTION #SolveAProblem 
5: He understood the IMPORTANCE of wearing a SUIT. I have said this countless TIMEs to Fresh graduates and JOB hunters to #DRESS4SUCCESS
6: He had a CHOICE of sitting at HOME, Living in SELF-Pity and BLAMING the Govt for his WOES in Life.but he decided to MAKE A MOVE and get his hands BUSY
7: For a bit I thought about what SOME people may say about this Gesture , but I quickly realized that even JobSEEKERs and those who have NEVER added VALUE TO SOCIETY or another human LIFE would ALWAYS talk as they NEVER see the brighter side of things...So let them TALK...
PLEASE All I want is his nos as he deserves BETTER from life. #Dress4Success #MCM #SartoriallyCorrect #StyleInfluencer #OUCHman #Menswear #Suitgang #suits #Bowties #dappperlydone"
Olatoyan hopes to return to UniIlorin to complete his education once he raises enough money to start.
Source: Legit.ng