Biafra: Federal government moves against Nnamdi Kanu
- The federal government urged the Court of Appeal sitting in Abuja, the nation's capital to dismiss the suit instituted by Nnamdi Kanu
- Nnamdi Kanu, the leader of the Indigenous People of Biafra, along with other agitators instituted a suit against the federal government calling their release
- The detention of the Biafra agitators has generated mixed reactions among Nigerians
It was about three days ago, that the former Niger Delta militant leader Asari Dokubo, called on the government of President Muhammadu Buhari to free the leader of Indigenous People of Biafra (IPOB), Nnamdi Kanu.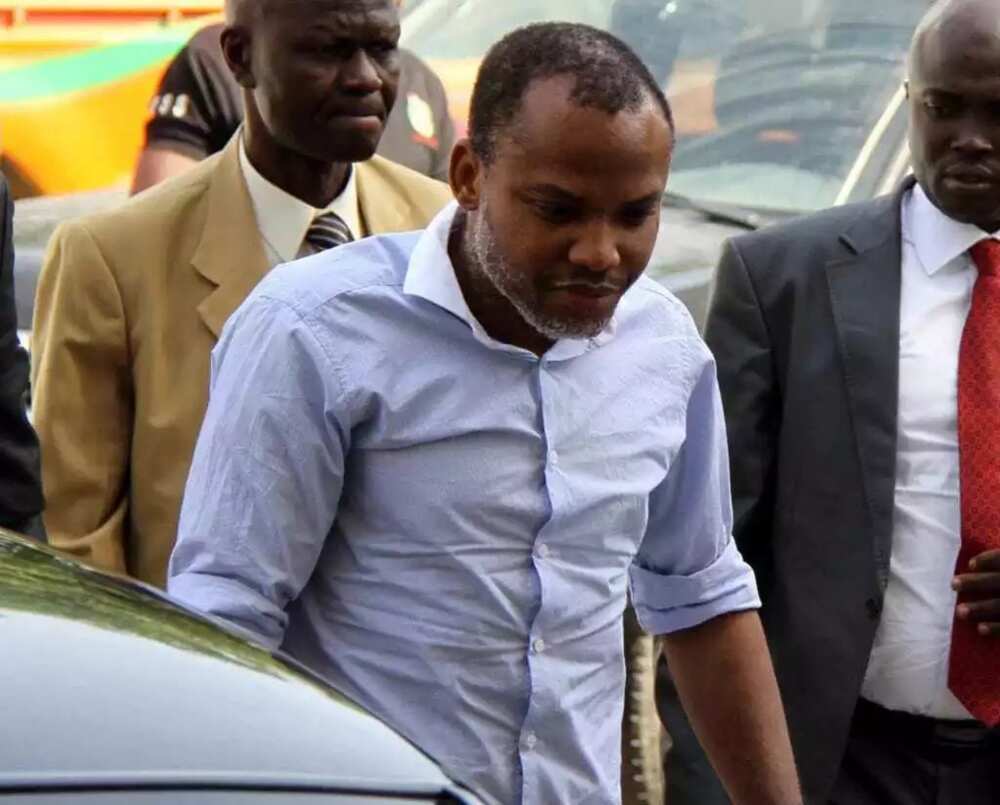 The leader of the Indigenous People of Biafra and Director of Radio Biafra, Nnamdi Kanu, with two other agitators named David Nwawusi and Benjamin Madubugwu, went to the Court of Appeal challenging  their detention in what they called, "strange procedure."
The three Biafra agitators are facing a six-count treason charge. They asked the Federal High Court, sitting in Abuja, not to continue with their trial, until the determination of their consolidated appeal.
READ ALSO: Army investigating killing of pro-Biafra agitators - Buratai
The three men said that Justice John Tsoho did not accept hearing the trial. He only allowed the prosecution council to shield the identity of the eight witnesses, that would testify in the case.
Justice Tsoho at the same time, refused to discharge and acquit the three men, citing the prayer under section 351(1) of the Administration of Criminal Justice Act, 2015.‎ ‎
The three agitators' lawyer, Chief Chuks Muoma, SAN, opined that the trial judge, Justice Tsoho, made some mistakes, "when having refused the application for the witnesses of the prosecution to testified behind screens, or masked," on February 19, "suddenly varied the said order in the ruling delivered on March 7, 2016, on a mere oral application by the respondent." They said this was on what was in tandem with the mere oral application by the Director of Public Prosecution (DPP), Mr. Mohammed Diri. ‎
In the DPP's submission, he said: "My lord this is because they are already receiving threats from associates of the defendants that they will be dealt with. The witnesses said they love their lives and requested that their identities be shielded from people who are coming to witness the proceeding."
Source: Legit.ng