Ohanaeze blames IPOB for Nnamdi Kanu's lengthy detention
- Ohanaeze accuses IPOB of prolonging Nnamdi Kanu's detention
- Okechukwu Isiguzoro, the national president of Ohanaeze Ndigbo Youth Council says he has been receiving threats
The leader of the Indigenous People of Biafra (IPOB) Nnamdi Kanu's prolonged detention is as a result of constant fights between his members and individuals and groups working for his release.
This assertion was made by Mazi Okechukwu Isiguzoro, the national president of Ohanaeze Ndigbo Youth Council, in a chat with Vanguard.
According to Isiguzoro, Ohanaeze's efforts in consulting with relevant stakeholders on the Biafra, has been misconstrue by IPOB.
Isiguzoro said he had received threats while his group has been labeled saboteurs by those who are supposed to work with relevant stakeholders to ensure Kanu's release from detention.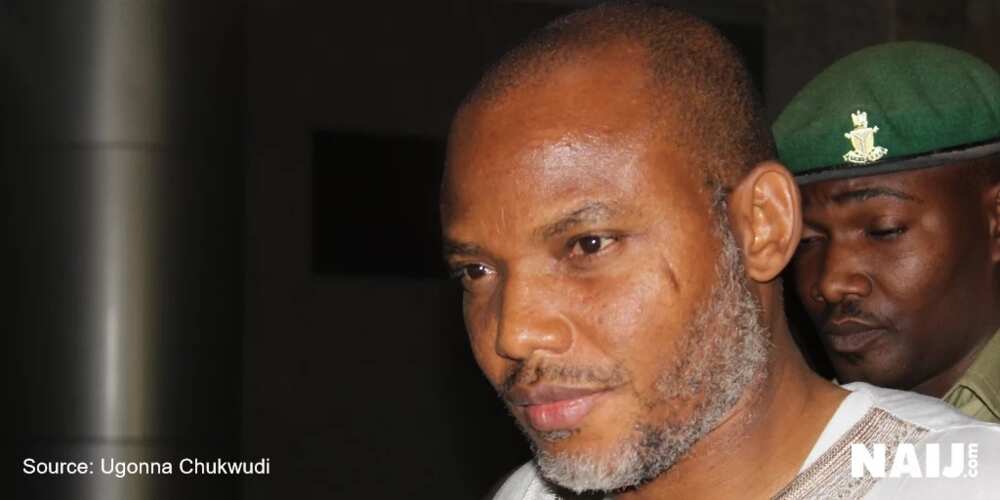 READ ALSO: Ohaneze Ndigbo insists leadership crisis continues
The IPOB had recently blamed the Ohanaeze for trading off Biafra when a US team held a meeting with the group in Enugu.
Following the meeting the reports appeared that some of the group's members suspected to be Ohanaeze Ndigbo and their youth wing were allegedly impersonating IPOB leaders in Enugu, claiming to be representing IPOB in meeting with some American officials who were in Nigeria to have a meeting with the group on the release of their leader.
But in a swift response, Ohanaeze Ndigbo has slammed promoters of Radio Biafra, and IPOB for what it described as "their penchant for telling lies and causing disaffection among the people."
READ ALSO: MASSOB attacks Ohanaeze youths
Reacting to allegations that Ohanaeze leadership had aborted the actualization of Biafra in a meeting with delegates from the United Nations, Dr. Joe Nworgu, the secretary general of the group, said the meeting the leadership of the body held in Enugu had nothing to do with the independence of Biafra.
"Since a few days ago when Radio Biafra carried the news item that the Ohaaneze Ndigbo had aborted the actualisation of Biafra as a country, numerous text messages and telephone calls have been received by the Secretary General of Ohanaeze Ndigbo worldwide, Dr Joe Nworgu.
"The alleged visit by some white people from America to hold a meeting with Ndigbo, through Ohanaeze, with the intent of delivering a United Nation's certificate of recognition and independence of the Republic of Biafra is a ruse. The news item is a mere fabrication and ill-motivated," the read in part.
Ohanaeze explained that on Friday, February 26, "The new United States Consul General in Nigeria, His Excellency John Bray and his team had a meeting with Ohaneze Ndigbo at Nike lake hotel; this was part of His Excellency's familiarisation tour of the country. He had meetings with the governors in the various states. In Enugu, the headquarters of Ohanaeze, he had a meeting with us on Igbo perception of Nigeria. This meeting is what has been distorted to be 'some white men from America came to give Biafrans independence.' Of course, this cannot be the process of granting anybody independence."
Source: Legit.ng