Rivers: Patience Jonathan fingered in gruesome election killings
- Group says Dame Patience Jonathan may have influenced the killings in Rivers state
- Former AIG Mbu also mentioned alongside ex-militant
- Nigeria's former sports minister noted to be among perpetrators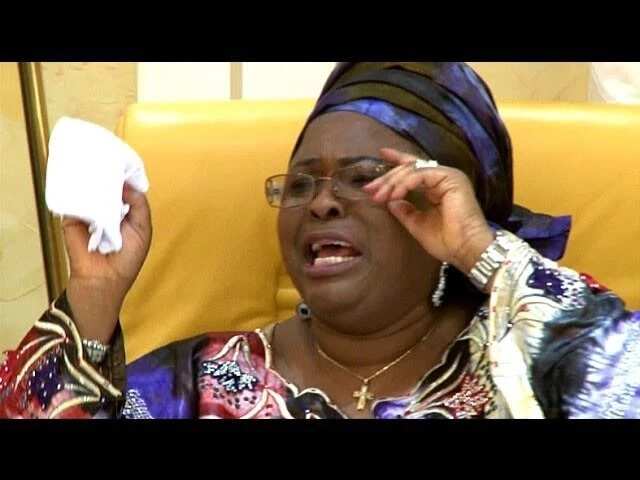 Dame Patience Jonathan, Nigeria's immediate past First Lady, has been named alongside many others in the killings that rocked Rivers state during the 2015 general elections.
This much was disclosed by the Civil Society Network Against Corruption (CSNAC) via a petition sent to the International Criminal Court (ICC) prosecutor, Madam Amie Bensouda.
According to Sahara Reporters, the group is urging the court to investigate, arrest and prosecute persons connected with the gruesome murders, grievous bodily harm and assault of indigenes of Rivers State during the election.
The petition signed by its chairman, Olanrewaju Suraju, showed that the Nigerian government has consistently failed to carry out its constitutional role in fishing out criminals and ensuring that they are adequately punished.
READ ALSO: Hillary Clinton inspires me - Patience Jonathan
The petition reads: "The wife of the former president, Mrs. Patience Jonathan, was fingered in misuse of state apparatuses and abuse of power during campaigns, resulting in the wanton killings and infliction of grievous bodily harm on several citizens in Rivers State.
"Journalists on professional assignment were not spared in a wanton destruction of properties, disruption of campaigns and attack on human persons.
"The various criminal acts were perpetrated with the alleged support of Dame Patience Jonathan, wife of the former president. The said onslaught was allegedly coordinated by AIG Mbu Joseph Mbu, the Assistant Inspector General of Police (then Commissioner of Police of Rivers State Command) and Deputy Commissioner of Police John Amadi, now posted to Nigerian Railways Corporation, Lagos (then the Deputy Commissioner of Operations in Rivers State)."
The statement also revealed that over one hundred people were brutally murdered. Some were inflicted with grievous bodily harm while others were unlawfully arrested and detained by the Nigerian Police in collusion with the perpetrators of these crimes.
READ ALSO: Jonathan was an exceptional child, mother reveals
The group's list of perpetrators in the criminal acts are Chief Felix Amaechi Obuah, state chairman of the Peoples Democratic Party (PDP); Chief Chris Onyiri, Henry Ogiri, executive director finance, Niger Delta Development Commission (NDDC); Dr Tammy Danagogo, former minster of Sports; Senator Olaka Johnson Nwogu, representing Rivers South East, among others.
The list also includes:
1. Mr. Ejor Ejor of Onne Eleme
2. Betty Apiafi, member, House of Representatives
3. Evans Bipi, member, Rivers State House of Assembly
4. Mashall Uwom, member, Rivers State House of Assembly
5. Mr. Monday Ngbor
6. Major Jack Rowland Sekibo
7. Austin Opara, Former Speaker, House of Representatives
8. Ibiba Walter
9. Mr. Kenneth Kobani, Secretary to Rivers State Government
10. Comrade Ateke Tom
11. Soboma Jackress, member, Rivers State House of Assembly
12. EjimaIgwedibia aka Don Wanni
13. Chi – Boy
14. Bright Ernest Ake
15. Nkasi, alias Italian Soldier or Italian, aka Isiokpo Italian
16. Omono – a Oliver aka Doin Doin
17. Boma Daobu
18. Senibo Woah
19. Samuel Nwanosike, alias Ishi
20. Sunny Bekanwa
21. Solomon Ndigbara
22. Barile Jack
23. Israel Mgboele, Rivers State House of Assembly
According to the group, many people lost their lives in the political violence before, during and after the election in the state.
They include:
1. Mr. Kingsley Emenike
2. Corporal Ifeanyi Okorie
3. Charles Eruku
4. Mr. Mebaka Opuogoliya
5. Chief John Adube
6. Joy Adube
7. Mr. Lucky Adube
8. Mr. Ebuka Mbamalu
9. Mr. Ikechukwu Ogarebe
10. Mr. Ezekiel
11. Mr. Sampson Chinnah
12. Mr. Kerian Wobodo
13. Mr. Charles Wobodo
The statement added: "Sadly, the Nigerian government has displayed nonchalant commitment to seeking redress for the victims and punishment for the perpetrators of the crimes. More than 10 months after the election, no individual or group has been reportedly investigated, arrested or prosecuted for these grievous crimes."
In another development, reports surfaced that the Economic and Financial Crimes Commission (EFCC) may soon invite Goodluck Jonathan's wife to explain her role in the sourcing and disbursement of huge funds spent by the presidency during the last two weeks before the general elections.
The fund, estimated at over a trillion naira, was reportedly disbursed through the Amnesty office to some political bigwigs in the PDP.
According to investigators of the disbursement, the release of about 40% of the funds was authorized by the former First Lady.
Source: Legit.ng