BREAKING: Buhari alters trip to three countries
- A slight modification has been made to President Buhari's itinerary for forthcoming trips which will see him visit three countries.
- President Buhari will spend just one night in Cairo, Egypt when his three-nation tour starts on February 20
- He will also make stops at Riyadh in Saudi Arabia before moving on to Doha in Qatar
- The presidency has made emphasis on the essence of Buhari's foreign trips
Emerging reports suggest that there is a modification in President Muhammadu Buhari's itinerary for his forthcoming visits to three different countries.
According to Sahara Reporters, the modified program will now see the president spending just one night in Cairo, Egypt when the three-nation tour starts on Saturday, February 20.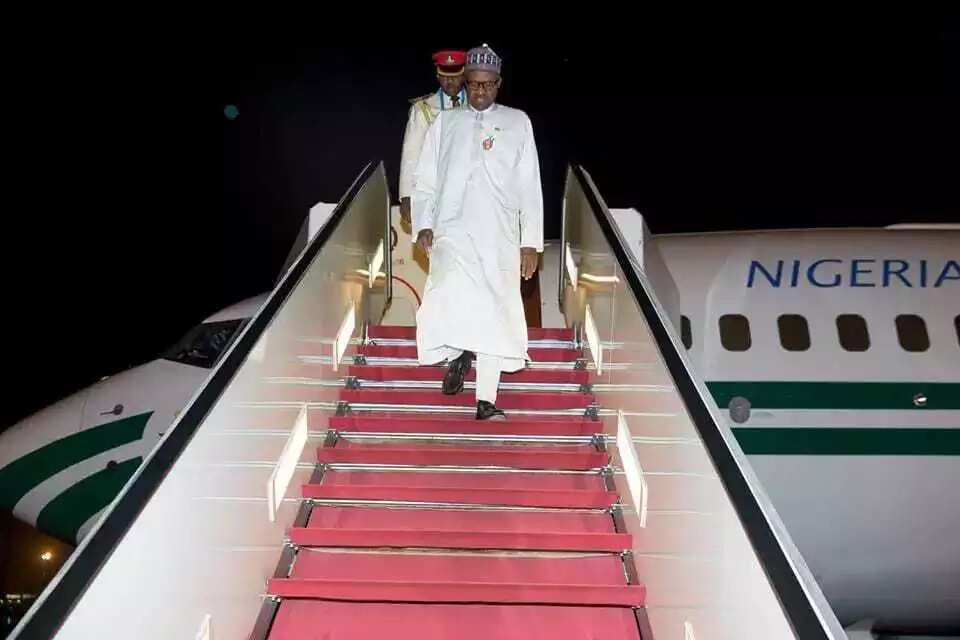 READ ALSO: NIPR President reacts to Buhari's anti-corruption war
President Buhari will then dash back to Abuja on February 21 for a 24-hour stopover before traveling to Riyadh in Saudi Arabia on Monday, February 22.
On Tuesday, February 23, the Nigerian president will fly from Riyadh to Madinah, while on Wednesday, February 24, he is scheduled to travel by road from Madinah to Makkah.
It is gathered that President Buhari is scheduled to travel from Jeddah to Doha, Qatar before returning to Abuja on Saturday, February 27.
Meanwhile, the presidency has reacted to the insinuation that President Buhari's frequent oversea trips are mere jamborees.
Garba Shehu, the senior special assistant to Buhari on media and publicity, recently told reporters at the State House that the foreign trips were necessitated by the president's desire to block and recover funds looted out of Nigeria.
Source: Legit.ng