- The incident occurred while President Buhari is in Kenya
- 10 people have been confirmed dead
- 30 others have been reportedly injured in the explosion
No fewer than 10 people have been confirmed dead while 30 others were injured following triple explosions that rocked the Chibok town of Borno state.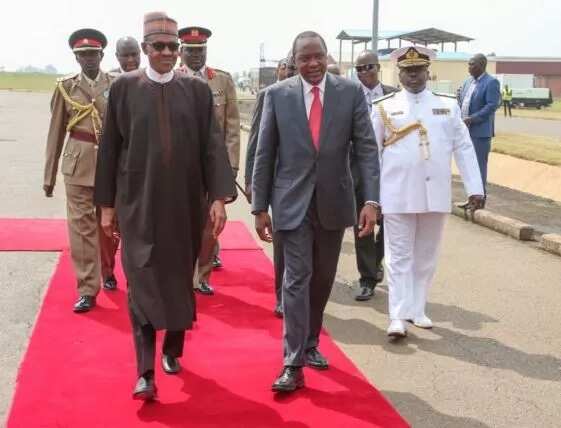 This explosion is coming as President Muhammadu Buhari is on a three-day visit to Kenya where he is expected to discuss with his counterpart in the East African country on how to tackle terrorism.
[article_adwert]
According to Ayuba Chibok who spoke with AFP  on Wednesday, the three bombers blew themselves up on a market day.
He said: "The casualty toll is not conclusive but so far at least 10 people have been confirmed dead and over 30 injured."
According to the head of a town, the first bomber detonated his explosives at the checkpoint where people entering the town were being searched while the second bomber blew himself up in Chibok's weekly market.
The third suicide bomber set off his explosives near the market when he was about to be apprehended
As at the time of filing this report, no group or individual has claimed responsibility for the multiple blasts but the manner of the mishap is synonymous to those of Islamist extremists, Boko Haram.
Dazzban Buba, another resident who reportedly volunteered to take care of some victims, confirmed that ten bodies were sighted while about 30 people suffered injuries from burns and freactures.
He said: "Twenty-one were seriously injured on admission. Nine have been treated and discharged."
There was no immediate claim of responsibility but the attack bore the hallmarks of Boko Haram, which has been using suicide bombers since the army expelled the group from much of the northern territory it had captured previously.
A police official told Reuters that: Two veiled girls suspected to be suicide bombers entered Chibok market at about 12.54 pm today.
"Afterwards we heard an explosion at the heart of the market and people fled. Some minutes later another blast came just at the edge of the market."