Nnamdi Kanu's Sister Raises Alarm
The sister of detained director of Radio Biafra, Princess Chinwe Kanu, has cried out about how the Department of State Services (DSS) plans to kill his brother, Nnamdi Kanu, in detention.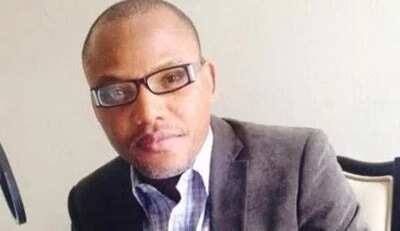 Speaking to Daily Sun, at her father's compound in Afara Ukwu, Umuahia in Abia state recently, Princess Kanu said the way she saw her brother on Monday during the trial blatantly displayed that the DSS wants to kill him while in their custody. She said:
[article_adwert]
"Honestly, the way they are going about this case I'm not comfortable with it because when I saw my brother, he looked like a shadow of his former self. He looked pale and anaemic and he has physical pain as a result of torture, starvation and the hardship he is going through in the hands of the DSS operatives.
READ ALSO: Prophet Makes Terrifying Revelations About Biafra, Nigeria's Break Up
"After the court session, when he (Nnamdi) came out, as the IPOB members and the Biafrans were outside the gate while some were in the court premises hailing him and chanting: "Nnamdi, Nnamdi ka anyi ga-eso", the way the DSS man roughhandled him, he almost fell down. I don't know what his reasons were, but I'm happy Nnamdi never challenged him.
"They held him so tight that he screamed and I felt bad. Because his health is deteriorating by the day, I am calling on rights activists, the international crime code, the Amnesty International, the UN and the British commission to come and rescue their citizen in the hands of the DSS. They are so mean and wicked, they will kill him if care is not taken.
"I have confidence in what Eze Chukwuokike Abiama (God) will do because He is not a man that He will lie neither is He a man that He can disappoint us or deceive us and because His word is yea and Amen and because He is the one that brought His son out, He will not abandon or leave him that's what I believe in.
 "My brother was assaulted publicly in the court premises and I'm standing here with an evidence to show the world what is going on the injustice and nepotism that is going on in Nigeria. I'm afraid of my live and that of my family with the way things are going. Will someone help tell President Muhammadu Buhari that this is a democratic dispensation, not autocratic government where he was the General?''
Meanwhile, Igbo leaders had a meeting in Enugu some days ago and decided to set up a delegation of elders to meet President Muhammadu Buhari concerning the marginalisation of Igbos in Nigeria.
Source: Legit.ng